Did Kate Middleton Curtsy to the Queen at Her Wedding? Fun Facts About the Royal Wedding
Curtsying is a big deal in the royal family, and Kate Middleton never misses an opportunity to show her respect to the queen. But, her royal wedding was a different story. On perhaps the one day people across the world were more excited about Kate than the Queen of England, the duchess was still expected to curtsy to the queen at her wedding. But, did she actually do it?
We answer the burning question, plus look back on Kate and William's big day with fun facts about the royal wedding, below.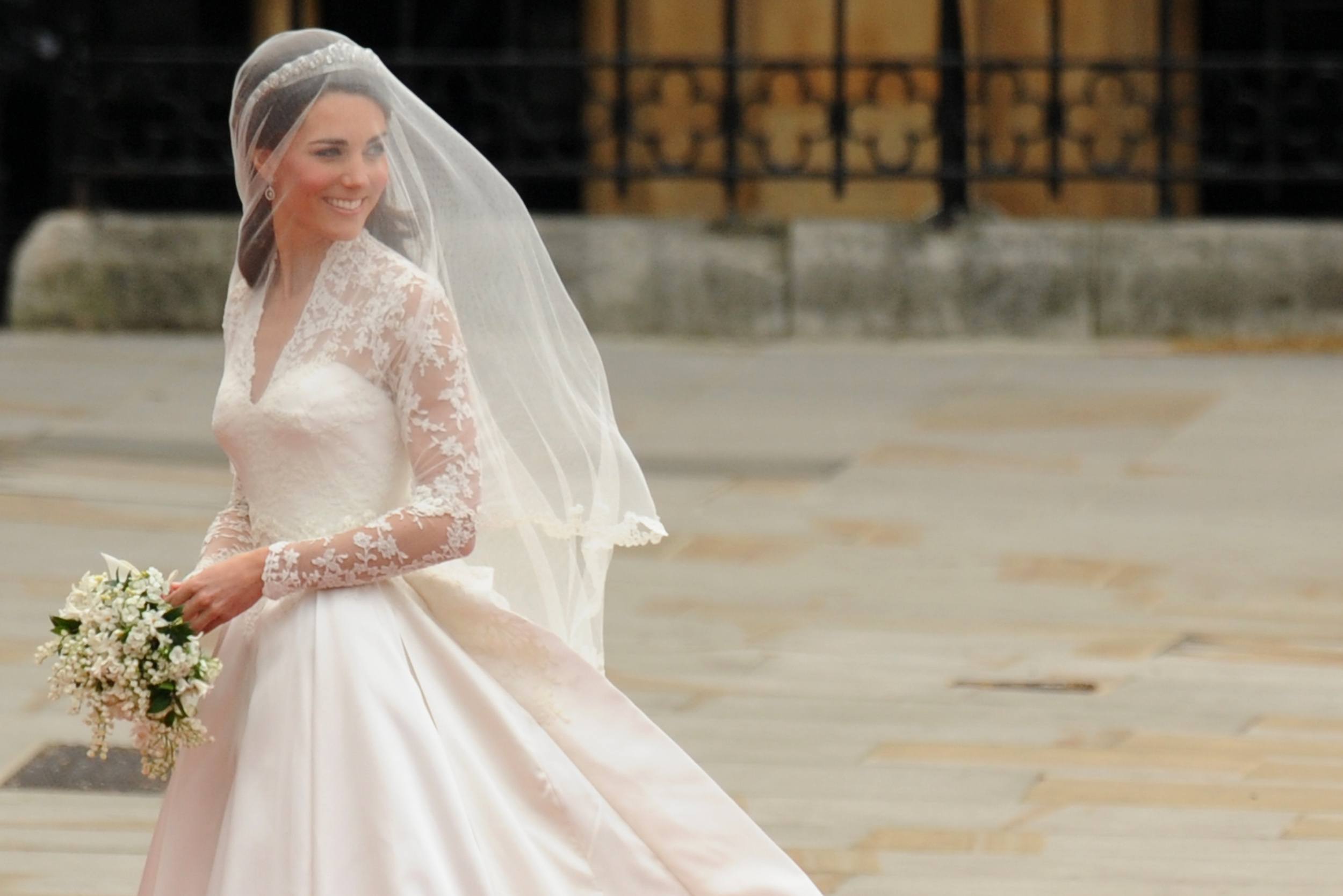 Did Kate Middleton curtsy to the queen at her wedding?
It's no secret that royals live their lives through the lens of tradition. And, like many other things, royal weddings are chock full of rules and rituals that must be followed. According to royal family rules, one must always bow to the queen, especially in ceremonies and on big events, such as a royal wedding.
On their royal wedding day, William and Kate did not forget their place and collectively bowed and curtsied to the queen inside Westminster Abbey. The queen, who had just witnessed her eldest grandson and future king get married, grinned as the couple faced her, marking a touching moment between the couple and their grandmother.
Fun facts about the royal wedding
From the venue to the dress, William and Kate's wedding was one for the books. See fun facts about the royal wedding — including the insane floral budget — below.
Their wedding date is a national holiday
Not every royal couple gets a national holiday. However, William and Kate are not like other royal couples. Because they are set to be the future king and queen of England, the couple's wedding date is considered a national holiday in the United Kingdom.
They invited nearly 2,000 people to the royal wedding
The duke and duchess know a lot of people. According to several reports, they invited 1,900 guests to the ceremony. That said, many of them left after, as only 300 had invites to the reception.
The floral budget was $800,000
Florals were a big deal at William and Kate's wedding — so much so that they allegedly spent $800,000 on them. Six 25-foot field maple trees lined the aisle in Westminster Abbey (Prince Charles later took them home and planted them at his Wales estate), and Kate's bridal bouquet featured myrtle — a royal family tradition — lily of the valley, and sweet William as a nod to her husband.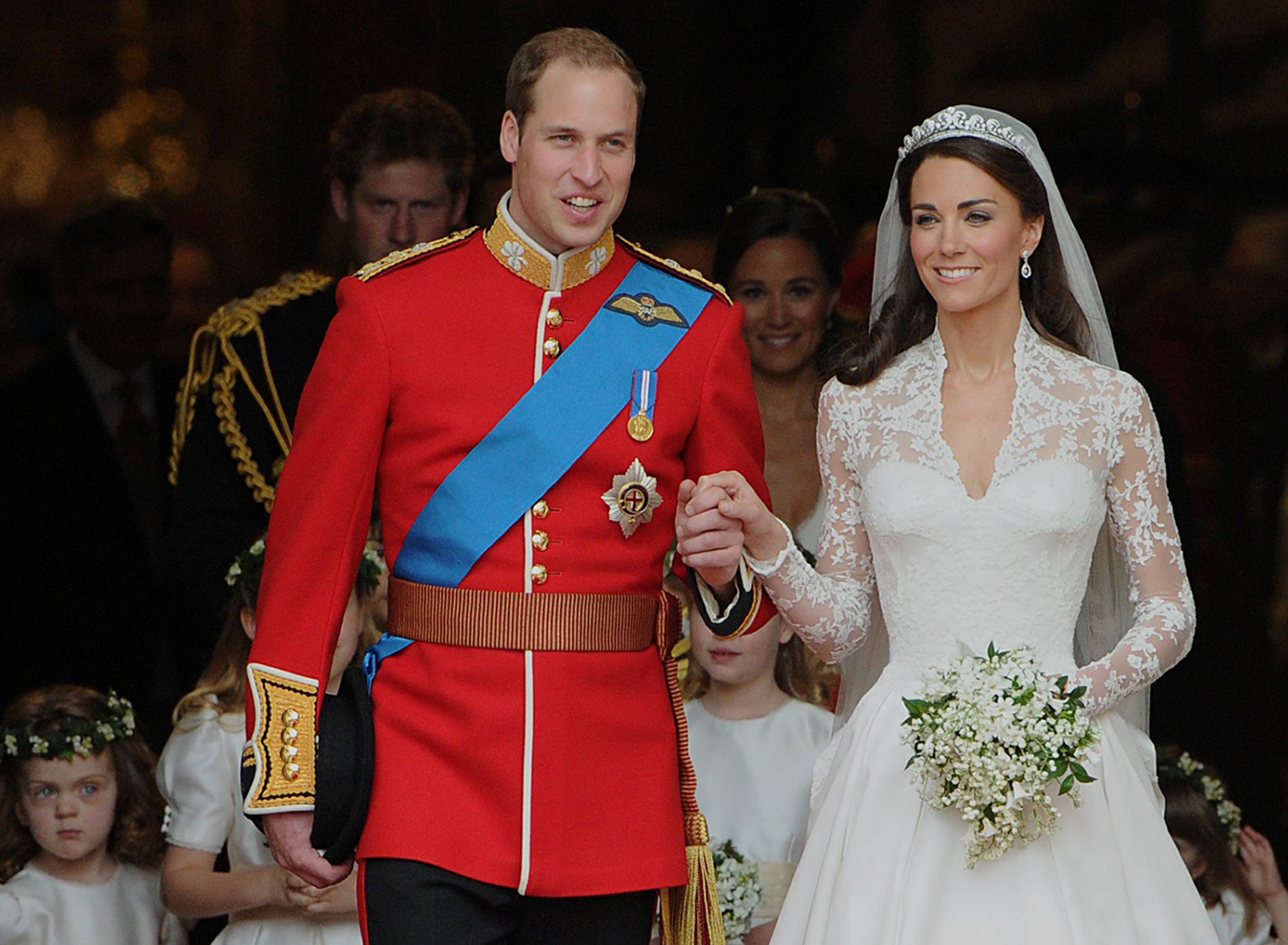 William didn't receive a ring
Unlike his brother, William doesn't wear a wedding band. In fact, he didn't even receive one on his wedding day. During the ceremony, Kate received a gold band made of Welsh gold, but the couple decided William wouldn't receive a matching one.
Kate did her own makeup
The duchess has always been about mixing high and low when it comes to fashion and beauty. And she didn't forget that on her royal wedding day. To offset the price of her designer gown — which cost around $400,000 — the duchess did her own makeup.
William wore a sweat-proof uniform
Nervous sweats are a real thing, and William made sure he wouldn't fall victim to perspiration his big day. The duke had sweat pads added to his Irish Guards uniform to avoid sweating through his uniform.
The queen was in charge of the reception menu
After their ceremony, William and Kate headed back to Buckingham Palace for brunch, hosted by the queen. According to some reports, it took 21 chefs to prepare 10,000 canapés.
They saved three wedding cake tiers for 'the future'
The royal couple had two wedding cakes at their reception. One was a chocolate biscuit cake — a favorite of the family — and the other was an eight-tier fruit cake featuring subtle nods to the United Kingdom. The couple did not serve the cake at their actual wedding and instead mailed slices to guests later on as a thank you. Also, they saved three tiers for their children's christenings.
Ellie Goulding performed
Kate and William are big fans of Ellie Goulding — who was at the height of her career at the time — and asked the pop star to perform at their reception. She reportedly performed for two hours, and the duke and duchess danced to "Starry Eyed."
Check out The Cheat Sheet on Facebook!