Did Kourtney Kardashian Have Plastic Surgery?
Many of the Kardashian-Jenners have had work done. But what about Kourtney Kardashian? Has she had plastic surgery?
If you've kept up with the Kardashian-Jenners since they hit airwaves back in 2007, you probably know how much they've changed over the years — and we're not just talking about the natural aging process. We're talking about the work they've done on themselves.
There's Kylie Jenner, who now has plump lips after getting temporary fillers due to a years-long insecurity about her small they were. Then there's Khloé Kardashian, who also got similar work done. And who could forget about how Kim Kardashian West enhanced her bone structure with Botox and other procedures?
But one person who doesn't seem to change her appearance much is Kourtney Kardashian. The eldest Kardashian is known for her fresh-face looks and sculpted physique. But is it good genes or the result of plastic surgery?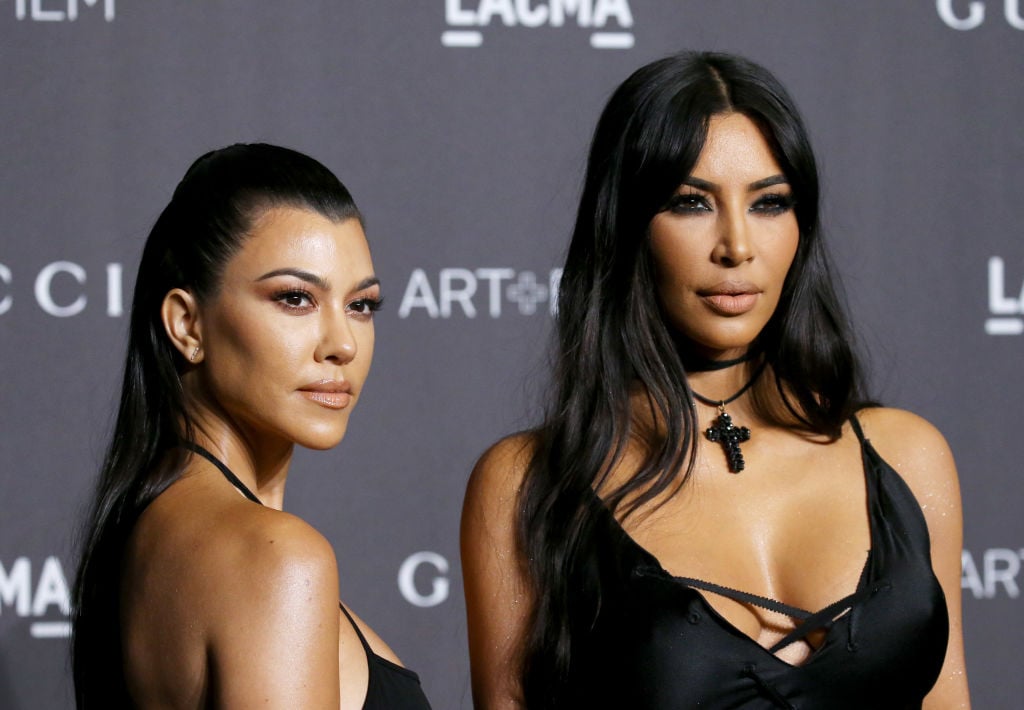 So, did Kourtney Kardashian have plastic surgery?
Get ready to be surprised. Life & Style reports that the Poosh founder, 40, got breast implants while she was in college. Kardashian attended Southern Methodist University before transferring to the University of Arizona, from which she graduated with a degree in Theatre Arts and a minor in Spanish.
But it's not something that she's proud of. In a 2011 interview with Showbiz Sky, Kardashian expressed regret about the procedure.
"I had my boobs done but if I could go back, I wouldn't have done it. I was so cute before," she explained to the outlet (via People). "I've realized that I was made to look a certain way and I'm considering removing them."
Kardashian isn't the only one in her family to get implants, either.
"I had a boob job in the '80s after four kids because gravity took over," her mom, Kris Jenner, said in a 2015 episode of Good Work. "It was great for about 25 years or 30 and then a couple of years ago I felt like they were too big and I felt matronly and nothing fit anymore and suddenly it was like, 'Get them out!'"
Rumors say she got more than breast implants
Several media outlets claim that Kardashian has received way more than just one cosmetic procedure. Radar Online reported back in March that the reality star likely had "a nose job, eyebrow lift, cheek lift, lips enlarged, fillers, lasers, botox and more."
"Kourtney doesn't look like she's aging and I suspect that she's had the help of a skillful plastic surgeon," a celebrity plastic surgeon told the outlet.
As of writing, Kardashian has not commented on the reports. But her ageless figure could have a lot to do with her healthy lifestyle. She's dedicated to clean eating and maintaining an exercise schedule. So, it makes sense that she looks so great at her age.
Are there any Kardashian-Jenners who haven't gotten work done?
It appears that there are at least two family members who are totally natural: Kendall Jenner and Rob Kardashian.
Though she's often faced plastic surgery rumors, Kendall has vehemently denied changing her appearance.
"As a model, why would I have my face reconstructed? It doesn't even make sense," Jenner once told People. 
Rob, on the other hand, reportedly hasn't had work done, either. He tends to stay out of the spotlight more than his sisters, though, so we probably wouldn't even find out if he did.
Either way, we're glad that the family does what makes them happy.