Did 'Law & Order: SVU' Characters Elliot Stabler and Olivia Benson Ever Date in Real Life?
Anyone who has ever watched Law & order: Special Victims Unit most likely hoped that Detectives Olivia Benson and Elliot Stabler would end up together. While we all know that didn't happen, since actor Chris Meloni (who played Stabler) left the show after season 12, it makes us wonder if the two ever did have a relationship off-camera. The chemistry on screen was so apparent, but did Benson and Stabler ever date in real life?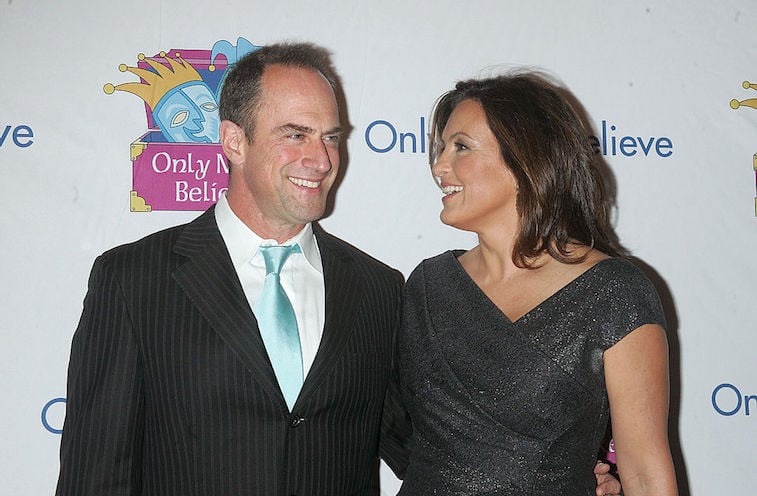 Benson and Stabler were always extremely close on screen
Although Benson and Stabler were technically only partners because the precinct paired them up, their relationship went far beyond their work day. The two detectives struck up an incredible friendship, and whenever either one was in danger, the other always did everything possible to get them out of it. Viewers loved the chemistry between the two, and plenty of SVU fans hoped the couple would someday end up together, but the two were always in different relationships on the show (Stabler was actually married, though it was a volatile relationship to say the least). There wasn't time in the script for a relationship to blossom, because due to a contract dispute, Meloni left the show in 2011. Benson was assigned a new partner, and the potential for a love affair was over.
Though the two always got along very well, they never actually dated
Meloni and Hargitay became extremely close friends throughout filming the show. However, the same way their characters never dated on screen, the two never became anything more than friends off screen. They worked well as coworkers, but Hargitay married actor Peter Hermann in 2004, and they have three children. Meloni has been married to his wife, Doris Sherman Williams, since 1995 — before SVU even started filming; they have two kids.
After Meloni left the show in 2011, he and Hargitay still remained close
Although Meloni couldn't make things work with the executives of the series and had to leave the show, he and Hargitay always remained best friends. In 2016, the two friends met up around the holidays to spend some time together, and they documented the get-together with an Instagram photo. They've met up several times since 2011, including most recently this past spring when Hargitay spent a night out with Meloni (a platonic night out, of course). "Every picture tells a story," she captioned the photo. More than seven years later, the two are still just as close as they were during filming.
Hargitay joked about Meloni being her Valentine back in 2017
When Hargitay posted a photo of Meloni kissing her on the cheek back in 2017, fans couldn't get enough of it. "And then that happened… Just when I thought Valentine's Day was over," she captioned the photo. People reported that the picture got 118,000 likes in its first 14 hours. Although the two were never in a relationship, some fans can't help but think there's more to their romance story than they've let on. They might not work together anymore, but it's clear that Benson and Stabler formed a bond that no amount of time apart could break.
Check out The Cheat Sheet on Facebook!