Did NBA Star Manute Bol Coin the Common Phrase, 'My Bad?'
Manute Bol was never a star in the NBA, but he still turned himself into a household name. The Sudanese giant stood an astound 7'7″ tall and had to work extra hard to become a role player in the NBA. As an African-born player in an American league, Bol had to adjust to the American ways and learn their language.
This led to several rumors about his early days. One particularly notable example of this has the former NBA center coining a common phrase. However, the integrity of the claim is questionable at best.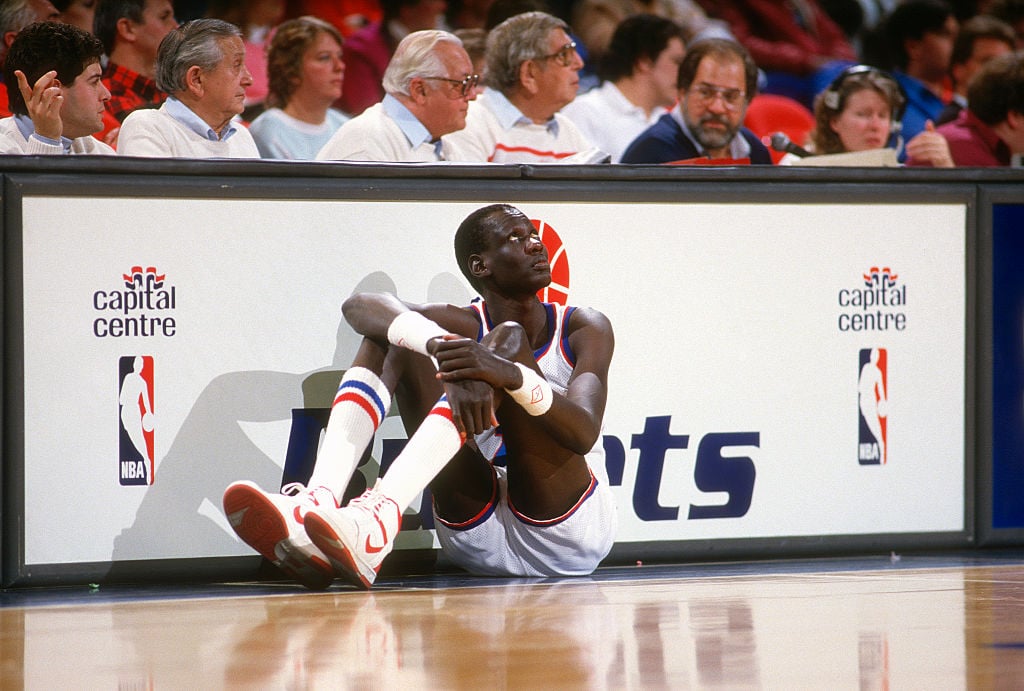 The Manute Bol story
According to Encyclopædia Britannica, Bol grew up in Sudan. Although he towered over his friends and was born into a basketball family, basketball was not on his radar until his late teens.
Growing up in an impoverished community, Bol played soccer with the local children before realizing that his height could be a ticket out of poverty. He began attending basketball camps put on by American groups and fell in love with the game. 
Eventually, Bol's talent grew, and he was offered several opportunities to go play basketball in America. Although he didn't want to leave his family, he had a dream of getting them out of poverty and helping out the community that he was born into.
He joined the military and played for the Sudanese National team. There, he caught the eye of scouts from across the country and was advised to move overseas to pursue a career in the NBA
Culture shock
When Bol moved to America to pursue his hoop dreams, he knew almost nothing about the American way, and he didn't speak English. He came from a secluded part of the world that few Americans could ever relate to. While Hakeem Olajuwon was starting to make his name in America, the NBA was not filled with people like he and Bol. 
Bol eventually worked through several hurdles to make it into the NBA. His first attempt at college, Cleveland State, ended after an admissions scandal. He later played for a Division II school, the University of Bridgeport.
The first time that Bol declared for the NBA Draft, he was drafted by the Clippers in 1983. After realizing that Bol did not declare in time, however, the pic was voided, according to Sports Illustrated. 
Bol spent a year playing semi-professionally in Rhode Island before trying his hands at the NBA again. This time, he was drafted by the Washington Bullets in the 1985 NBA Draft.
Although questions about his childhood, age, and journey to the NBA persisted, Bol enjoyed a decade-long career in the NBA, where he became one of the best shot-blockers ever. He passed away in 2010 after years of issues with his kidneys. 
"My bad"
As Manute Bol grew into an NBA player, he had to learn new ways to communicate. Still learning English, he often had to ask people to repeat things or didn't quite understand what they were saying. His typical response to these instances was, "My bad."
Now a part of the English lexicon, at the time, the phrase was not as widely heard. In 1989, several newspapers began to report Bol's favorite catchphrase and how it spread through the Golden State Warriors locker room. After several players started to pick it up, Bol began getting credited as the source of the common phrase. 
Washington Post writer Dan Steinberg decided to look at this claim in 2010. Consulting with experts on language, he found that while Bol may have played a part in making the phrase go mainstream, he likely heard it somewhere else. Fellow NBA star Rex Chapman was quoted using the words three years before Bol's first attributed usage. 
Bol's story is a fascinating combination of half-truths, lies, and the way that somebody used these to his advantage. He was quickly one of the most generous players in NBA history, and his acclimation to the American way occasionally made him a source of humor, too. While he may not have coined the phrase that so many believe he did, they think it makes it an interesting dynamic to the rest of his story.