'Jersey Shore: Family Vacation': Did Pauly D and Jenni 'JWoww' Farley Really Hook Up?
This season of Jersey Shore: Family Vacation has been a wild ride, but it's not over yet! There's still the drama that seemingly ensues during Angelina Pivarnick's wedding and the penultimate moment of the season — Jenni "JWoww" Farley and Pauly DelVecchio's New Orleans hookup.
Is there any truth to the Jersey Shore romance? Here's what we know.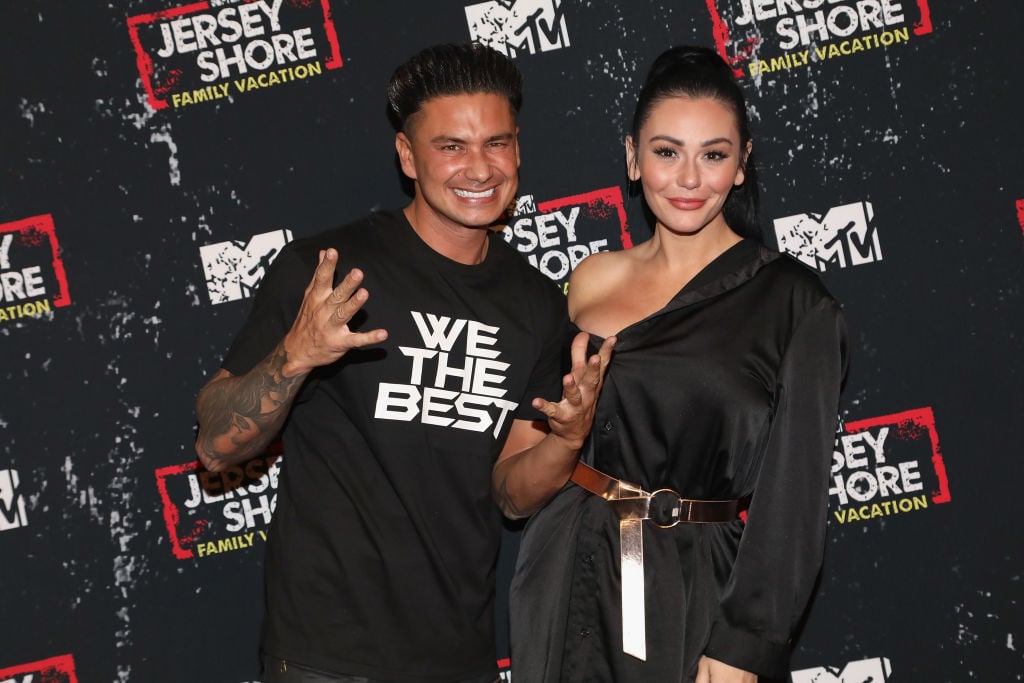 Pauly D and 'JWoww' have a history
When Jersey Shore premiered in 2009, MTV audiences watched as a group of strangers quickly developed unbreakable ties that would last a lifetime. Of course, there were a few hookups and outrageous arguments peppered throughout the original series.
One of the most memorable Jersey Shore hookups was between DelVecchio and Farley. Cuddled close in one of the twin-size beds the shore house was known for, Farley marveled at the explicit piercing on DelVecchio's body. Naturally, a hot-and-heavy hookup occurred, but the two never pursued each other romantically. 
'JWoww's adventures in love
Farley would go on to marry Roger Mathews and share two children with him, Meilani and Greyson. Thanks to social media and Jersey Shore: Family Vacation, fans were clued into Farley's marriage and eventual divorce from Mathews. Additionally, fans got to see Farley fall in love all over again with a much younger suitor.
Despite being nervous about Zack "24" Carpinello meeting her roommates, Farley brought him along for the ride and into the world that is Jersey Shore. Unfortunately, it didn't go so well. Carpinello had his fair share of disagreements with Angelina Pivarnick, then made some questionable moves on her during a night out in Las Vegas.
This season of Jersey Shore: Family Vacation, fans are learning how Farley felt after seeing the episode. At this point in the season, Farley has called it off with Carpinello and will seemingly hookup with DelVecchio once again after a night out in New Orleans.
Did Pauly D and 'JWoww' hook up?
Despite what the teaser for the episode shows, DelVecchio and Farley probably don't hookup. They have always had a familial relationship with each other, but MTV knows how to entice the Jersey Shore audience. The footage is likely edited to draw fans in — as MTV has done in the past.
"JWoww and Pauly have nothing but love for one another and are very dear friends and would do anything for one another," an insider close to Farley told Hollywood Life. The source also shared that Farley doesn't look at DelVecchio through a romantic lense. "They are both laughing over the fact that people are romantically linking them together again. There's absolutely no truth to any of it. They love each other dearly as friends, but that's it."
As if that weren't enough evidence that the two aren't romantically involved, it looks like Carpinello and Farley have worked on their relationship. Farley recently shared a photo on her Instagram Stories of a planner Carpinello purchased for her as a gift. "When you become a teacher, therapist, chef, referee overnight…you need a book to keep it together," Farley wrote over a photo of an organizer titled "Organized Chaos." She tagged Carpinello, thanking him for the gift with a purple heart emoji. Additionally, Carpinello was seen helping paint Meilani's bedroom in a video Farley posted on May 1.
What's more, DelVecchio and his partner in crime, Vinny Guadagnino, are gearing up for another season of Double Shot at Love. So, while the cameras may have made it seem like Farley was pulling DelVecchio in for an intimate kiss, it's likely she lands one on his cheek instead.
Tune in to Jersey Shore: Family Vacation Thursday, May 7 to find out what happens.
Related: Pauly D Confirmed Another Season of 'Double Shot At Love' — Here's What Fans Can Expect in Season 2