Did Prince Harry and Meghan Markle Have an Agenda All Along? Royal Expert Weighs In
Did Prince Harry and Meghan, Duchess of Sussex have an agenda from the start? One royal expert believes that the Sussexes may have always had an exit plan in the works from the beginning.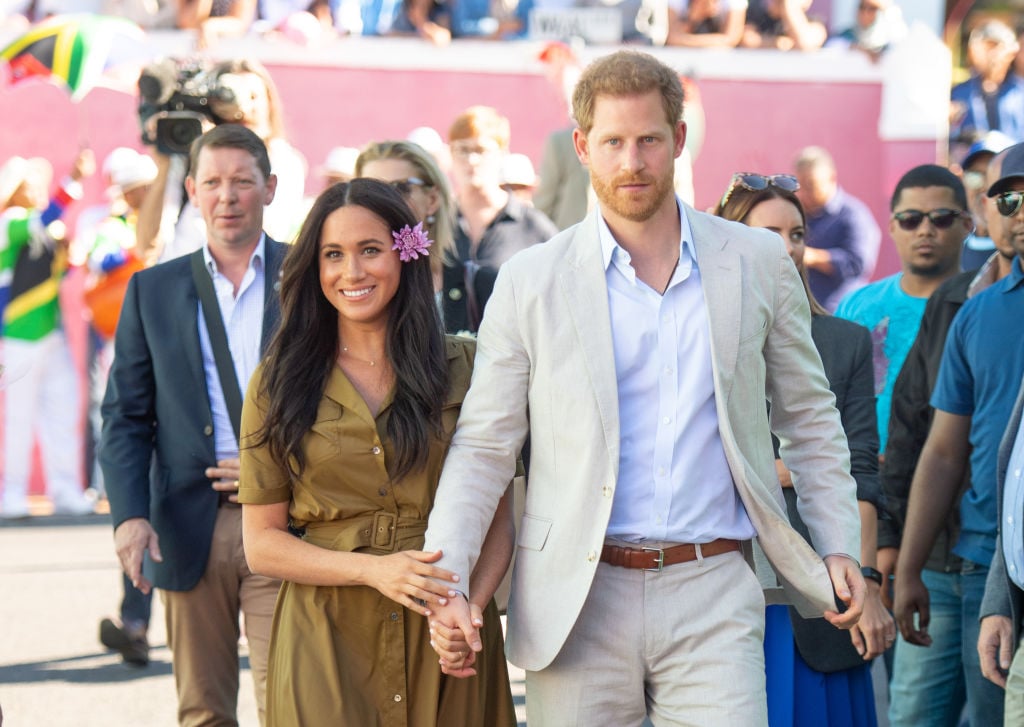 Prince Harry and Meghan suffered in the spotlight
Things were not easy for Prince Harry and Meghan, as they faced nonstop scrutiny from the public and media. In January, they announced a plan to step back from their royal duties in order to live a more normal life out of the spotlight.
Queen Elizabeth supported their proposal and worked to finalize the details, with the Sussexes' royal duties ending on March 31. At the time, the queen released a statement of support.
"Following many months of conversations and more recent discussions, I am pleased that together we have found a constructive and supportive way forward for my grandson and his family," the queen shared in her statement. "Harry, Meghan and Archie will always be much loved members of my family. I recognise the challenges they have experienced as a result of intense scrutiny over the last two years and support their wish for a more independent life."
The statement continued: "I want to thank them for all their dedicated work across this country, the Commonwealth and beyond, and am particularly proud of how Meghan has so quickly become one of the family. It is my whole family's hope that today's agreement allows them to start building a happy and peaceful new life."
RELATED: Prince Harry and Meghan Markle's Exit Is 'Sad for the Queen' and a 'Letdown for the British People,' Says Expert
Was their exit surprising?
Prince Harry and Meghan's bombshell announcement came as a surprise to many royal watchers, but one expert believes there were clues that indicated an exit was in the cards for some time.
Royal expert Katie Nicholl pointed to "the speed" of the Sussexes' plan that surprised so many people. "The speed at which the Sussexes have turned their lives around has surprised everybody," Nicholl told Australian site 9Honey. "I don't think it's a huge surprise they moved overseas, that was inevitable."
She added, "I think the speed at which it's happened has surprised people."
Expert believes they may have 'had an agenda' for a while
Nicholl further shared how the Sussexes' behavior from the start indicated they wouldn't act as other royals and had different aspirations.
"They had an agenda from the outset — to be international royals," Nicholl shared, adding, "They didn't want to just be stuck in one place."
"Part of their vision is to be making a difference on the world stage and that entails being international," she explained. "I was told from a very early stage in their courtship, they had told a friend of Harry's that Meghan met quite early on that they wanted to be international roving royals and that was going to be their focus."
Given that information, Nicholl pieced together the theory that because the Sussexes had a different vision for themselves that their exit plan was always a possibility. "So I think this idea that they were going to move away and work overseas was always on the cards but as I say, the speed at which it's happened has definitely been surprising," she noted.
Nicholl further spoke about how the Sussexes have made this move away from the royal family and moved twice. "This is not a couple who like to sit around and twiddle their thumbs. They move quickly and they do seem in quite a hurry to do their thing," she noted.