Did Prince William Approve of His Mother Princess Diana's Relationship With Dodi Fayed?
Prince Charles and Princess Diana were married in 1981 and welcomed their first child Prince William a year later. But their marriage began to crumble publicly and privately and the Prince and Princess of Wales separated in 1992.
RELATED: Was Prince William Angry With His Mother, Princess Diana, After Her Tell-All Interview?
Two years later, when William was 14 his parents divorced. And before Diana was involved in that fatal car accident on Aug. 31, 1997, she was dating Dodi Fayed. Given that William was a teenager at that time, many have wondered what he thought of his mother's new relationship.
Here's more on if the prince approved of Diana and Fayed's relationship. Plus, what William thought of his father's relationship with Camilla Parker Bowles.
What Prince William thought of his mother's relationship with Dodi Fayed
When Diana went on a holiday with the Fayed family she brought William as well as her younger son Prince Harry along.
The Express noted that royal editor Robert Jobson wrote about their trip in his book titled William's Princess.
"In July 1997, Diana and the boys enjoyed what was to be their last holiday together," Jobson stated. "They spent it in the South of France. They stayed at the villa Castel Ste Therese, set high on the cliffs above St. Tropez, in a 10-acre estate complete with its own private beach and the Conical, a luxury yacht, at their constant disposal. Diana and her boys had been at the Castel Ste Therese for a few days when Dodi arrived, and it wasn't long before the chemistry kicked in."
Jobson added, "If it was William's blessing for her relationship with Dodi that [Diana] wanted, then she got it. Dodi made his mother laugh; he seemed to make her genuinely happy…And William, so keen to see his mother happy, witnessed it. It was, according to those close to the young prince, a source of some comfort to him in the dark days that followed."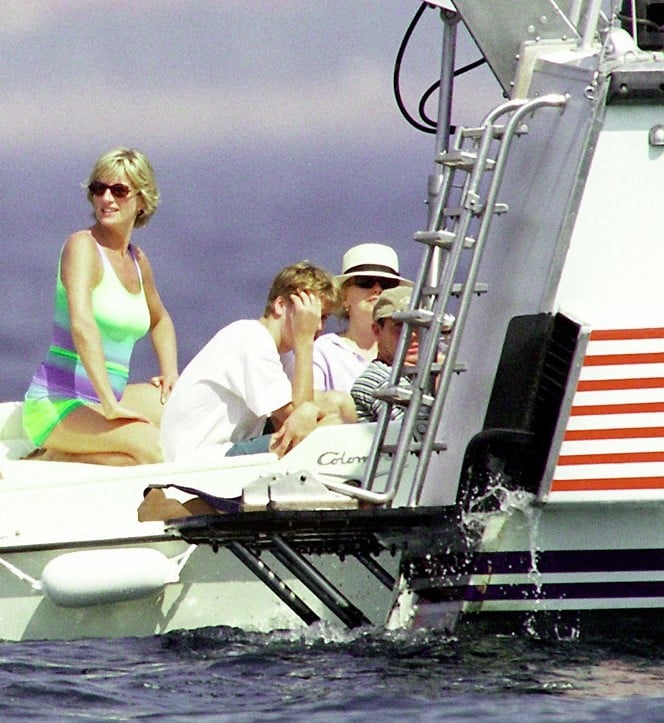 A month after William's stamp of approval for Fayed, he died along with the prince's mother following a car crash at the entrance of Paris' Pont de l'Alma tunnel.
What William thought of his father's relationship with Camilla Parker Bowles
Prior to Princess Diana's death, Prince Charles planned on introducing his sons to Camilla. But that plan was put on hold when Diana passed away.
William was especially resistant to meet Camilla and reportedly did not want anything to do with the lady his mother referred to as "Charles' woman."
Over the years, however, both William and Harry began to accept her. And ahead of Charles and Camilla's 2005 wedding, Harry even said that he and his brother "loved her to bits."
At some point though, many noticed that their relationship with her seemed to change. In 2017, the brothers were expected to say a few nice things about their stepmother at her 70th birthday party. But instead chose not to speak at all.
In 2019, royal biographer Christopher Wilson claimed that things between the princes and Camilla have always been a bit icy despite how they act toward each other in public.
"Dealing with the family she married into hasn't always been plain sailing," Wilson wrote in the Daily Mail. "Though to all outward appearances she has the support and friendship of Prince William and Prince Harry, privately there is a distance."