Did Queen Latifah and Her Rumored Fiancé Eboni Nichols Have a Baby?
Queen Latifah has been rumored to be dating dancer Eboni Nichols since 2013. Reports surfaced that Latifah and Nichols are now parents.
Singer, actress and rapper Queen Latifah has a new title to add to her resume…mommy! Various media outlets are reporting that the Emmy and Oscar-nominated actress and her rumored longtime love, Eboni Nichols, are the proud parents of a baby boy.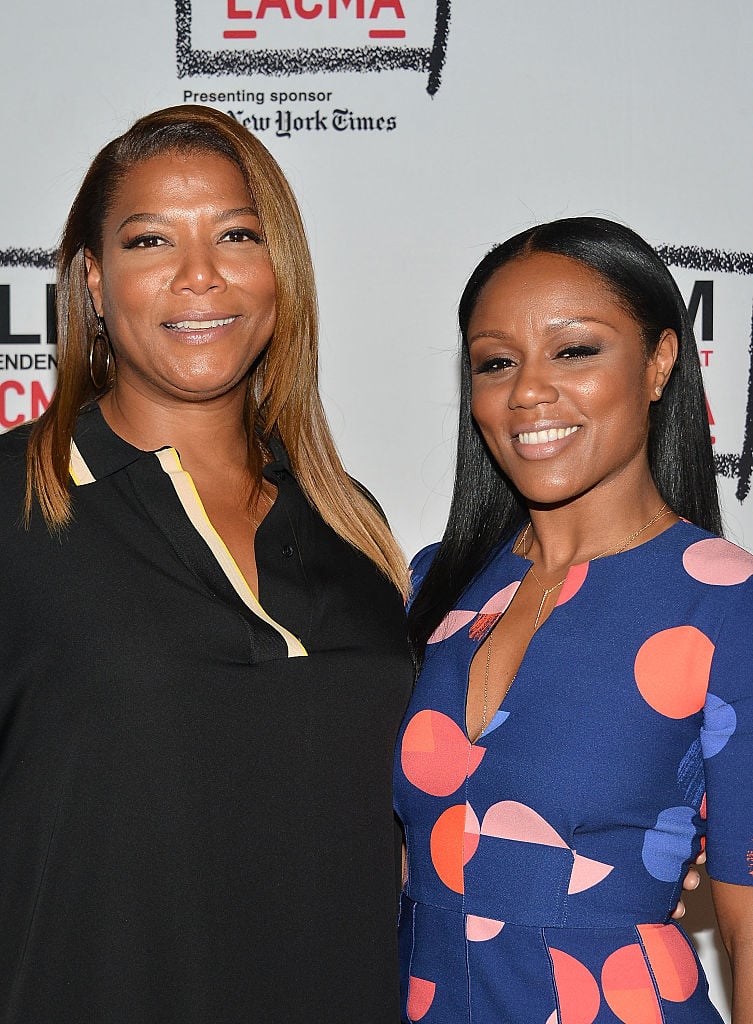 Latifah has been extremely quiet and protective about her personal life. She's never confirmed that she's dated anyone but that hasn't stopped people from prying. 
Nichols has been in the entertainment industry for years as a professional dancer and has been seen with Latifah at multiple events throughout the years. She also keeps her personal life out of the spotlight.
Queen Latifah rumored to be engaged to Eboni Nichols
Latifah is said to have met Nichols at a taping of Dancing With The Stars in 2009. Sources claim the two have been dating since 2013. 
Nichols is a former Los Angeles Lakers cheerleader and works as a choreographer. Before transitioning to teaching dance, she toured with various artists and has performed in music videos with Aaliyah, Jennifer Lopez, Will Smith, Beyoncé and Mary J. Blige. Nichols also holds a Bachelors of Fine Arts in Theater and Dance. 
According to her online bio, she also mentors aspiring dancers, serves on the Television Academy's Board of Governors, and is Co-Governor of the Choreography Peer Group of the Television Academy.
Latifah and Nichols have been spotted and photographed out and about, sometimes arm and arm. They've walked red carpets and have attended awards shows, including the 2019 MTV Video Music Awards. Latifah gave Nichols a shout out during her acceptance speech at the VH1 Hip Hop Honors In 2016. They were rumored to be engaged in late 2017. 
Queen Latifah and Eboni Nichols rumored to have welcomed a baby
Latifah first spoke of the possibility of becoming a mother in October 2017, saying, "I had to get a lot of partying out of my system early in life. Now, I'm ready." 
Radar Online revealed in October 2018, the Latifah was being treated regularly at a Beverly Hills medical facility for a medical condition related to a blood disorder. At the same time, Nichols was spotted at the facility sporting a baby bump.
Popular blogger Love B Scott exclusively confirmed on Jan. 7 that the Nichols gave birth to a son named Rebel.
Radar Online caught Nichols and Latifah with baby Rebel who appears to be a few months old. 
A source told the site that Latifah has been overjoyed since Rebel's birth, which has been a bright light since her mother's death in 2018. Her mom, Rita Owens, died of a heart condition. The two were extremely close, with Owens being right by Latifah's side throughout her career. Their relationship grew stronger after Latifah's brother died in a motorcycle accident in 1992. She battled depression following her brother's death and was close to doing so again after losing her mother. Thankfully, she has a baby to keep her focused.
"Latifah has never been so full of life," they gushed. "Eboni and the baby have given Latifah something very special to live for."
Congrats on their new addition!