Did Steve-O Duct Tape Himself to a Billboard for 'Jackass'?
Steve-O got the attention he wanted on Aug. 13 when he duct taped himself to a billboard. He posted selfies of himself on the billboard on Instagram, with some video stories about the stunt. Ultimately, the fire department came and took Steve-O down. If it seemed like the sort of stunt Steve-O would do on Jackass, there is a connection. Here's the reason Steve-O did the billboard duct tape stunt.
Steve-O did not want to be "rescued" from the billboard
In a stunt worthy of Jackass, Steve-O bought a billboard and then duct taped himself to it. Or, rather, he hired professionals to duct tape him. He assured followers that he was in no danger and did not wish to be removed.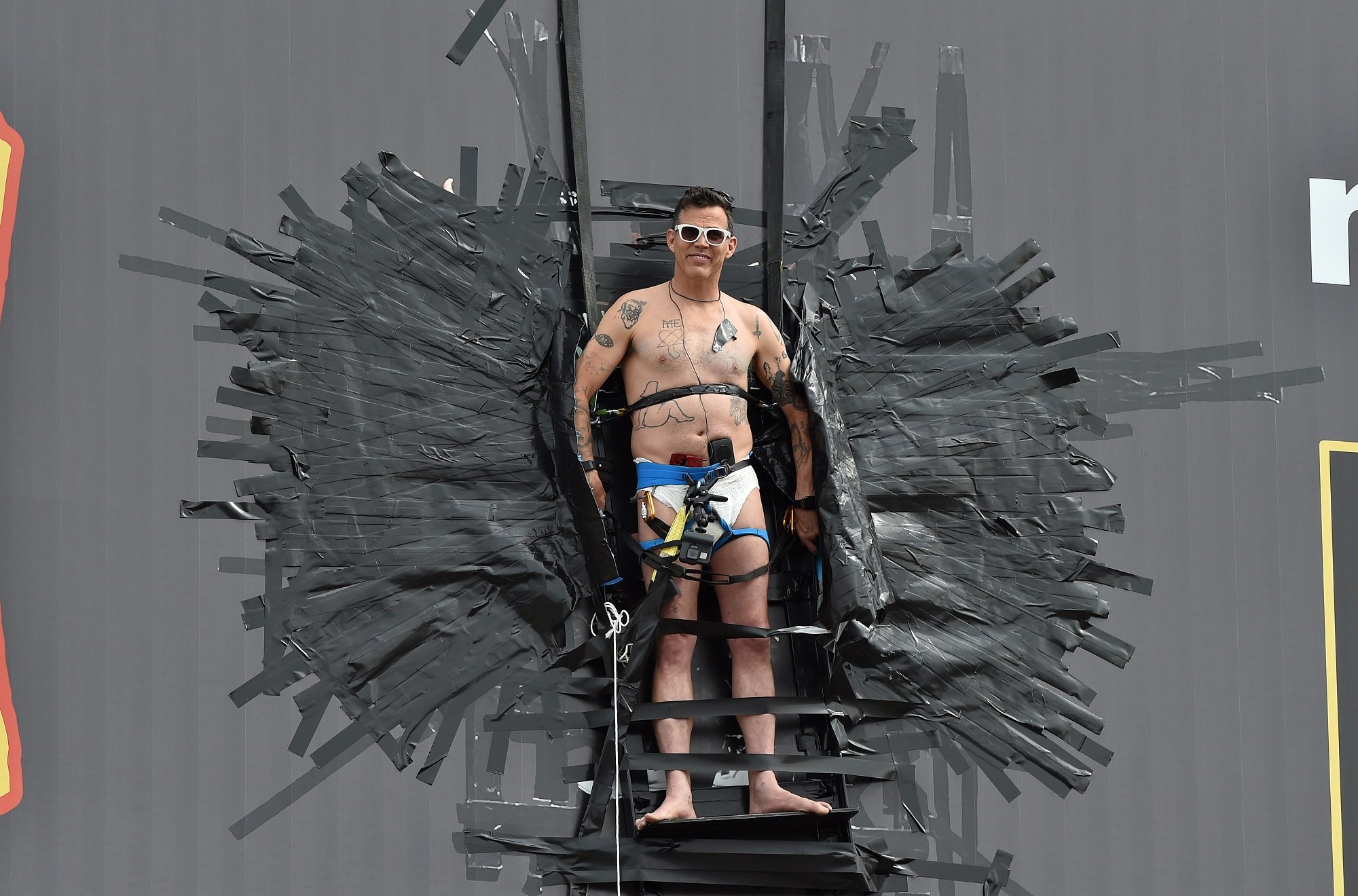 "I'm attached to a billboard right now (swipe to see the whole thing) and want to emphasize that a team of real professionals rigged everything safely," Steve-O wrote. "There is zero chance of me falling, and it's important to me that we not waste any valuable city resources on this."
Steve-O was promoting his special, 'Gnarly'
If you swipe right to see the wide shot, you'll see Steve-O in the middle of a billboard for his new special, Gnarly. The special streams for $9.99 from his website, Steveo.com.
"I'm happy to just hang out, and really want the world to know about this project I worked so hard on," he wrote. "It's called Gnarly and, If you're over 18, check it out at steveo.com! Thanks!"
What does 'Gnarly' have to do with 'Jackass'?
Well, any Steve-O comedy special is going to have ties to Jackass just because he's involved. However, the Jackass crew joined him on stage and for some stunts. There is a fourth Jackass movie in the works. Paramount postponed it until 2021 due to the coronavirus (COVID-19) pandemic. 
Johnny Knoxville, Jason "Wee Man" Acuña, Chris Pontius, Preston Lacy, Danger Ehren appear in the minute-long trailer on the website. In some of the clips, Knoxville bats baseballs at Steve-O duct taped to a Gnarly truck and directly kicks Steve-O in the crotch (while the victim is naked). The truck drives its duct taped cargo around the freeway too. 
Preview some of the 'Jackass' stunts in 'Gnarly'
The trailer gives Jackass fans an enticing peak at what Steve-O has in store for Gnarly. You must be 18 to purchase and the site also includes the following warning.
"WARNING: The following features terrible behavior, graphic nudity, and stunts going horribly wrong while under the supervision of professionals. Accordingly, the producers must insist that no one attempt to recreate or re-enact any stunt or activity performed on this show."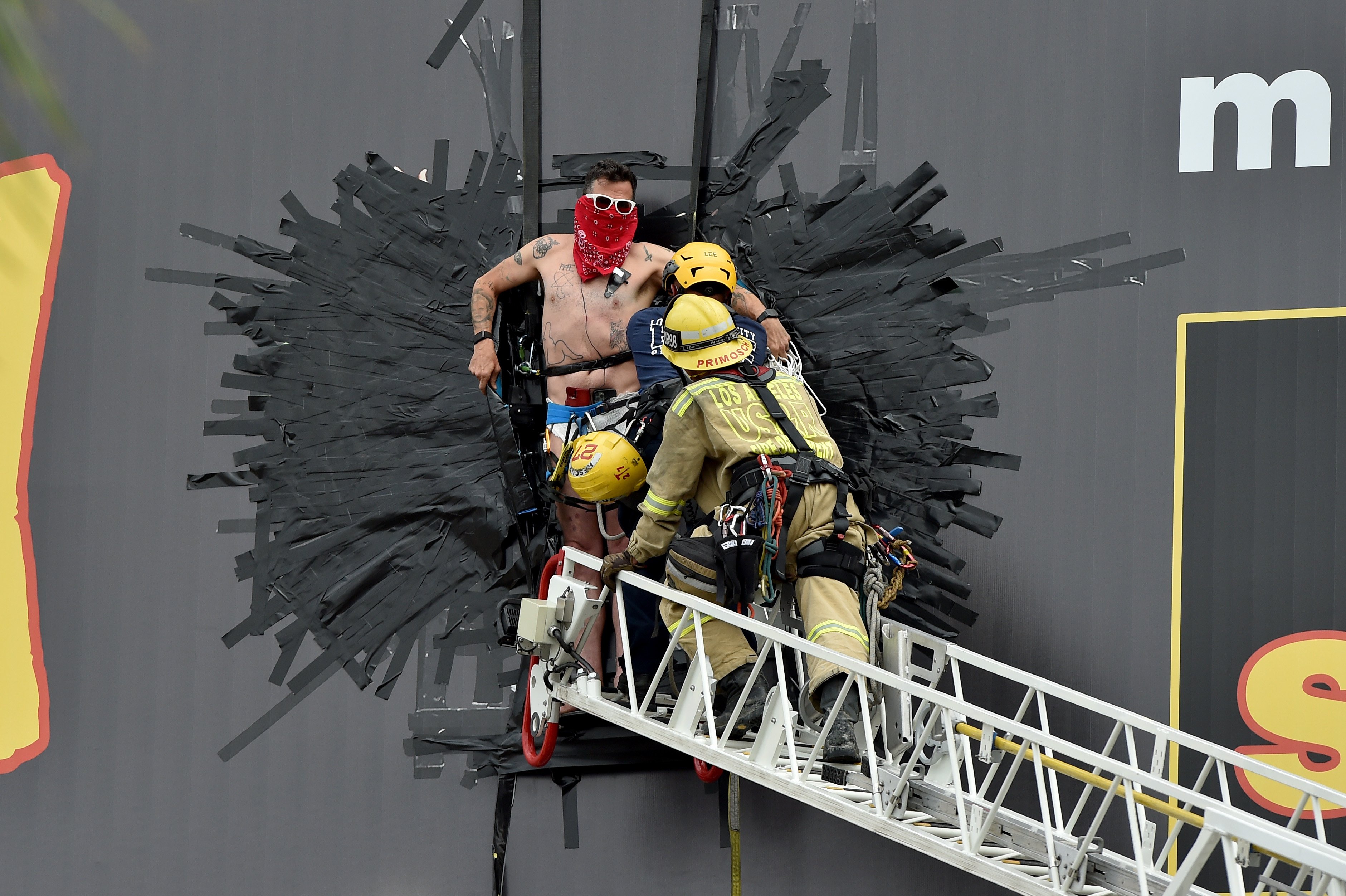 There's more nudity involved as Steve-O laments that "women can paint their boobs and show them on instagram, so I figure I should be able to paint my d*ck and do whatever I want."
So he paints bicycle shorts and crashes a bike down stairs. The trailer also brags about his "most painful stunt ever" which involves fire.
"When my buddies lit that stuff, right away I knew I f*cked up," Steve-O says.
The trailer ends with Steve-O about to swallow a condom, assuring his father, "I'm not doing this to hurt you, Dad."
Mr. Steve-O gets the last line of the trailer: "It ain't gonna hurt me. You're gonna piss me off."