Did The Beatles Really Plagiarize Chuck Berry's Music?
Every musician borrows, and The Beatles were no different. They were the first to acknowledge that to anyone who asked.
Paul McCartney once said the band would simply "pinch as much from other people as they would pinch from us." However, few no bands were ever as successful as The Beatles.
In other words, if you had a legitimate copyright claim against the Fab Four, you had had thousands of reasons to lawyer up and try to sue. That's how George Harrison got caught "pinching" another song on "My Sweet Lord," a solo track he recorded later.
Since that song was one of Harrison's No. 1 hits, he ended up paying out a six-figure settlement. By then, John Lennon had run into his own share of legal trouble over a Chuck Berry song. Lawyers for The Beatles realized right away that Berry's publisher had a case.
Berry's influence on — and John's legal trouble with — 'Come Together'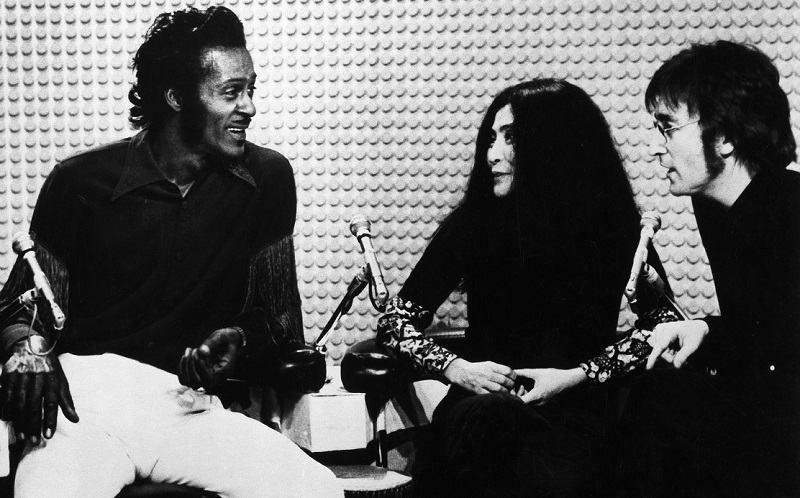 When Lennon first played "Come Together" in rehearsal, the band members thought it resembled Berry's "You Can't Catch Me" too much. Paul proposed adding a unique bass figure and Lennon figured out how to make it court-proof.
However, he included the "Here come old flat-top" line that made it easy for Berry's music publisher (not Berry) to sue. Beatles lawyers proposed a settlement, and it ended with Lennon recording some covers of Berry's tunes to settle the account.
Rolling Stone quoted Lennon saying it was the way he learned songs (i.e., by ear) that led him to carry around tunes in his head. It wasn't until he put a new song on record and listened to it that he realized there would be a problem.
So it became a problem with "Come Together," though few would call that stealing or plagiarizing. It's more a clear case of heavy influence, and Lennon freely admitted that Berry influenced him. Other cases involved actual copying of the music.
Paul's direct copy of a Berry bass line on 'I Saw Her Standing There
Please Please Me, the first Beatles full (LP) record, came out in 1963. The first track of the A side was "I Saw Her Standing There," a song with a driving bass line by Paul, who sings the lead vocal. There was more than a heavy influence by Berry on this track. Paul said it himself.
"I used the bass riff from 'Talkin' About You' by Chuck Berry in 'I Saw Her Standing There,'" he is quoted saying in a biography. "I played exactly the same notes as he did and it fitted our number perfectly."
While that would seem to be a clear case of plagiarism, The Beatles learned that you could lift bass lines without running afoul of the law. (Apparently, the same goes for drum beats.)
"Back in the U.S.S.R.," another tune by McCartney, goes into the category of direct homage to the rock 'n' roll great. (The lyrics to "I Saw Her Standing There" also resemble those to "Little Queenie.")
Overall, The Beatles plagiarized some small slices of Chuck Berry's music, but in most cases you would say they wore their influence on their sleeve.
Check out The Cheat Sheet on Facebook!