Did the 'Riverdale' Creator Just Drop a Hint About Souphead?
From the very beginning, Riverdale fans have speculated the appearance of Jughead's identical cousin, Souphead. Considering Cole Sprouse has a twin brother — Dylan Sprouse — the idea isn't at all far-fetched. Now, ahead of the March 4 episode, fans believe showrunner Roberto Aguirre-Sacasa finally dropped a clue about Souphead's arrival.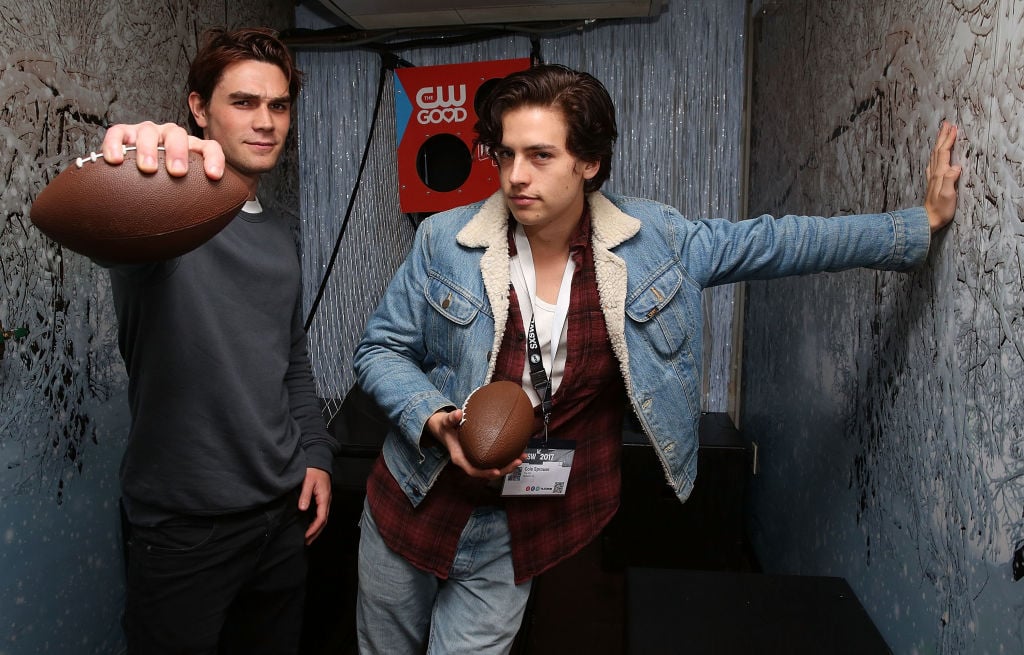 Who is Souphead in the Archie Comics?
Souphead Jones first appeared in Archie Comics in 1943 and was introduced as Jughead's cousin. He looks almost exactly like Jughead and wears the same crown and clothes. The only major difference between the two is their height — Souphead is much shorter than Jughead. 
As far as his character traits in the comics, Souphead loves to eat soup, and because of that, he almost always smells like it. He has a knack for annoying Jughead every chance he gets, but for the most part, he gets along with Archie and the gang. 
But it's also important to note that Jughead also has a truly identical cousin in the Archie Comics. Souphead's older brother, Nathan Jones, is facially identical to Jughead. And in the comics, he often ruins Jughead's reputation by going after numerous girls, passing himself off as Jug. 
What the 'Riverdale' showrunner's tweet reveals
Riverdale creator and showrunner Robert Aguirre-Sacasa has always been vague about introducing Souphead as a character. And this ambiguity has kept fans guessing and speculating every season. But in a tweet teasing what's to come in the March 4 episode, Aguirre-Sacasa might have dropped a big clue. 
"A very special episode of #Riverdale tomorrow night," tweeted Aguirre-Sacasa. "Watch it with some comfort food. Tomato soup, perhaps."
The tweet has fans wondering if the "tomato soup" reference as anything to do with Souphead's arrival on the show. "Is this foreshadowing Souphead?," wrote one Twitter user.  
"WAIT a MINUTE!" tweeted another fan. "Tomato soup? Soup…. Souphead??? Is Roberto just messing with us here, or does this hint at what we think he does?" 
What would Souphead's appearance on 'Riverdale' mean for Jughead
Jughead is seemingly dead, and the appearance of Souphead could explain the mystery surrounding his murder. Some viewers think that the dead body is actually Souphead and that Jughead is just letting everyone believe it's him. "It could lead to a possible theory that Jug is still dead and Souphead has taken his place for a little," one fan theorized on Twitter.
There are other clues that point to the dead body being someone other than Jughead. In a tweet, one fan pointed out that it looks like dead Jughead is wearing an earring, something his character doesn't ever wear. 
"What was the point of making us think it's Jughead when his dead body is wearing earrings," wrote the Twitter user. "So we're going to end up meeting Souphead or something (also played by Cole because that is not Dylan's face) I'm just… if you didn't show the earrings we would actually be scared."
If this fan theory is true, Souphead's character would technically be dead on arrival. However, literally anything is possible on Riverdale, and it's only a matter of time before fans learn what Aguirre-Sacasa's mysterious  "tomato soup" clue really means.