Did The Weeknd Get Plastic Surgery?
Although he wasn't nominated for a Grammy this year, celebrity performer The Weeknd is still one of the biggest pop artists on the airwaves today.
Although he wasn't nominated for a Grammy this year, celebrity performer The Weeknd is still one of the biggest pop artists on the airwaves today.
He is a hit maker whose star is on the rise. The Canadian born artist has even dabbled in acting. He played himself in Adam Sandler's Uncut Gems. He's a good-looking guy, with a lot of musical talent. But his recent behavior has fans wondering if he tried to change his appearance. 
The Weeknd's look in the "Save Your Tears" video is likely just prosthetics 
In his latest music video, The Weeknd appears on screen with his face drastically changed. That was part of the reason fans started wondering if he had plastic surgery. If The Weeknd did go under the knife, his look in "Save Your Tears" isn't likely to be a good representation of the work he got done. In it, the singer's face is incredibly bloated, with big cheeks and lips. There's also scarring around his face. 
Everyone else in the video is wearing some kind of mask. According to The Weeknd's team, the facial differences in his new video are due to prosthetics.
That would make sense, given the video is obviously trying to touch on physical appearance by hiding all the other faces, and making the only visible one shockingly ugly. It's unlikely that the new music video is a representation of any work The Weeknd may or may not have gotten done, because it doesn't seem like something anyone would do to themselves on purpose. People usually get plastic surgery to look better, not worse.
But just because his new music video look is fake, that doesn't mean The Weeknd didn't have any work done. 
The Weeknd was spotted with bandages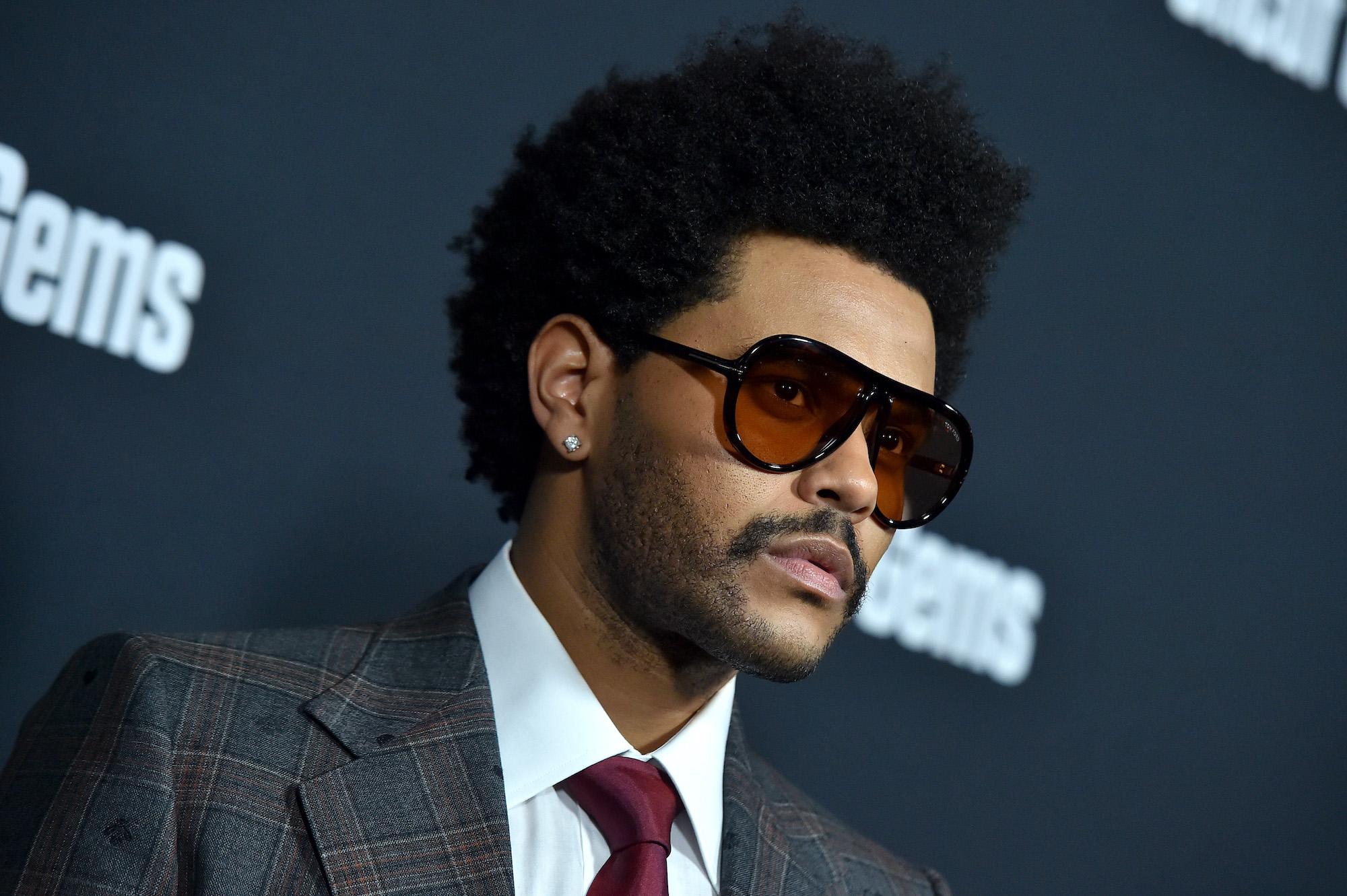 One of the reasons some fans think The Weeknd got plastic surgery is that he's been hiding his face for a few months now. In November of last year, he wore bandages to the American Music Awards.
He's been obscuring his appearance in one way or another since his fourth album came out. His face was covered in blood in the video for "Blinding Lights," and has been bandaged or hidden in some way for most if not all of his public appearances since then. 
If The Weeknd did get plastic surgery, hiding his face may be his way of keeping people from realizing it. The bandages likely aren't necessary, since he would have healed in the time since he started wearing them.
But he may be embarrassed and trying to keep the internet trolls at bay by covering up. Or he could be doing all this for publicity.
Was The Weeknd using his music video prosthetics to get attention?
It's unclear if The Weeknd got plastic surgery or not. But the most likely reason for all the chatter about his face is self-promotion. Creating controversy to drum up press for a new music video is totally a thing in the music biz. Cardi B recently featured Kylie Jenner in her "WAP" music video, which got her a lot of backlash from fans.
But the video was all over the internet thanks to that controversy, and Cardi's song became a hit as a result. It could be that The Weeknd wanted some publicity for his new video, so he played up his crazy look. 
After all, it was The Weeknd himself that started some of the plastic surgery rumors by posting a pic of himself in his prosthetics on Instagram. Social media is abuzz with people talking about the look. Some diehard fans say it doesn't matter what he looks like.
Others compared him to plastic surgery addict Lil' Kim. Either way, people are watching the video, which is a good thing for The Weeknd.