Did Whitney Houston and Tupac Shakur Have a Secret Affair?
Tupac Shakur was one of the greatest rappers of all time and Whitney Houston was one of the greatest vocalists of all time. It's been several years since we lost each of these stars but their fans still have questions today about those affair rumors and where the story originated.
Here's more on that and who else the rapper and pop diva were secretly involved with.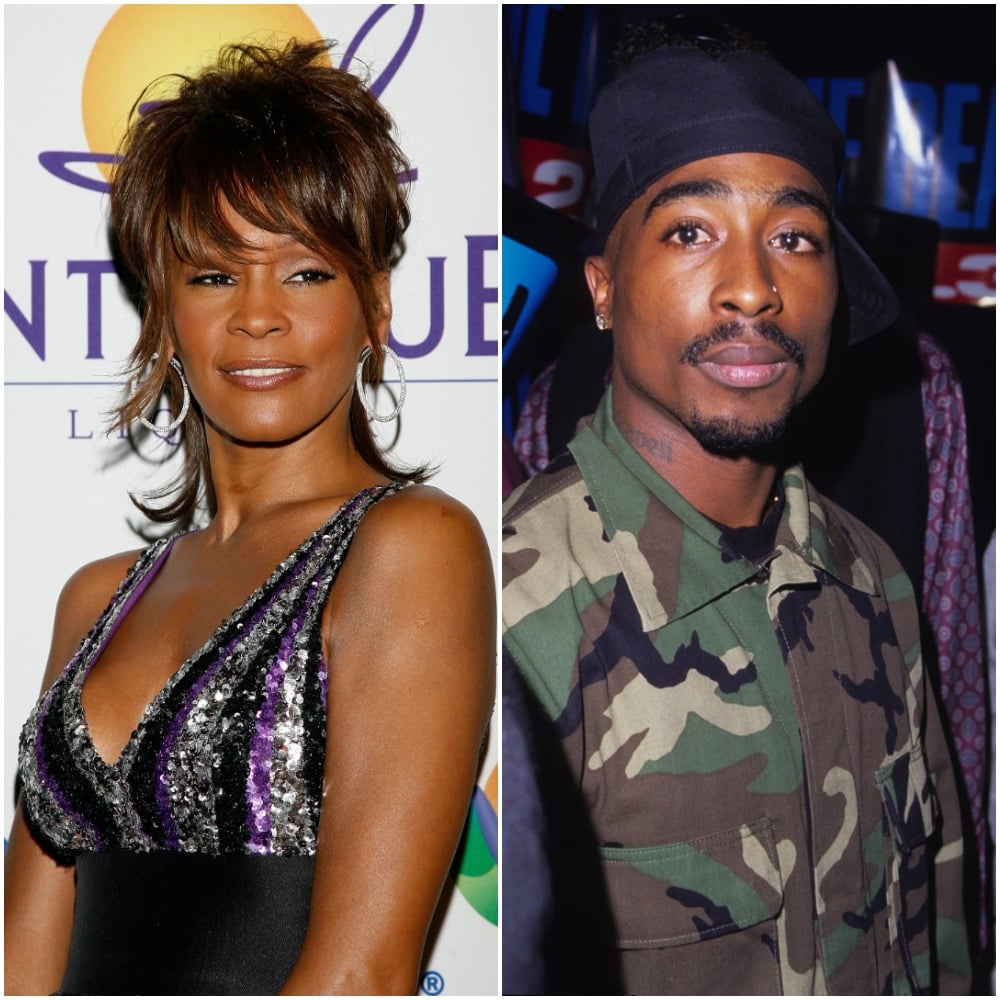 RELATED: What Was Tupac Shakur's Net Worth At the Time of His Death?
Tupac had a relationship with another famous singer
Tupac met Madonna at the Soul Train Awards in 1993. They started seeing each other and while incarcerated at the Clinton Correctional Facility the "Keep Ya Head Up" lyricist broke up with the Queen of Pop via a letter dated Jan. 15, 1995. TMZ published portions of that letter in 2017.
Tupac explained his reasoning for ending things writing, "For you to be seen with a black man wouldn't in any way jeopardize your career if anything it would make you seem that much more open and exciting. But for me at least in my previous perception, I felt due to my 'image' I would be letting down half of the people who made me what I thought I was… It no longer matters how I'm perceived. Please understand my previous position as that of a young man with limited experience with an extremely famous sex symbol."
He apologized for hurting Madge but said he needed to tell her at that time writing, "I would like to further discuss this with you but some of it couldn't wait. I felt compelled to tell you… just in case anything happened to me."
Who claims Houston and Tupac had an affair?
So was the rapper also romantically involved with the "I Will Always Love You" songbird when she was married to Bobby Brown? Well according to Houston's ex-husband, yes.
The Associated Press noted that in his 2016 memoir Every Little Step, Brown wrote that "[Houston] did her 'share of cheating' with 'quite a few of the producers and artists' she worked with, and names one ex-lover, the late Tupac Shakur."
The New Edition member also claims that he had affairs with a number of other singers as well including Janet Jackson and Tupac's ex, Madonna.
Houston and Brown's divorce was finalized in 2007. They had one daughter, Bobbi Kristina, who died on July 26, 2015, after being found face down in a bathtub.
Houston's other rumored lover
Another one of Houston's rumored lovers was her best friend, Robyn Crawford. The two women met in 1980 when they were teenagers and both lived in New Jersey. In her book A Song For You: My Life With Whitney Houston, Crawford said that she and Houston had a romantic relationship at one point.
"Our friendship was a deep friendship," Crawford told Dateline. "In the early part of that friendship, it was physical. And it wasn't anything planned, it just happened. And it felt wonderful. And then not long after that we spent the night together. And that evening was the night that we touched. And that just brought us closer."
Crawford added that the singer ended their physical relationship soon after she signed a record deal.
Houston died on Feb. 11, 2012. Her cause of death was "drowning and effects of atherosclerotic heart disease and cocaine use."
Tupac died after being shot in Las Vegas in 1996.