Did Tupac Shakur Secretly Dedicate a Song to 1 Member of a Famous Girl Group?
More than two decades after his death Tupac Shakur is still considered one of the greatest rappers of all time. And to this day, his fans are interested in many aspects of his life and as the conspiracy theories that surround his death.
Who Tupac dated has always been a hot topic as well but there is one famous woman he had a special bond with who the public didn't know about. After this revelation came to light in 2020, many began questioning if Pac wrote a song on his Me Against The World album for her. Read on to find out who she is and whether or not the tune is about her.
RELATED: What Was Tupac's Relationship Really Like With Biggie's Former Wife, Faith Evans?
Tupac's relationship with member of TLC
In the Lifetime docuseries Hopelessly in Love, viewers learned that Tupac had a close relationship with Lisa "Left Eye" Lopes of the iconic girl group TLC.
They met in 1991 and quickly became friends. The following year, Lopes started dating NFL star Andre Rison. Those who knew Pac and Lopes stated that they were never romantically involved but Rison was jealous of their connection.
"I think Andre probably assumed that Lisa and Tupac slept together or had sex, but actually, Tupac told Lisa in the very beginning, 'Never let me sleep with you.' And they stood by that, so no, they never had sex," Lopes' sister, Reigndrop, revealed.
Lopes' best friend, Trena Smith, agreed adding, "I think that Andre knew how Lisa felt about Pac. They had this strong connection and I do mean it was strong. They completed each other's sentences."
Many fans were shocked to learn just how tight Pac and Lopes were.
"Raise your hand if you don't remember (or never knew) about this whole Tupac and Lisa relationship because WTF," one Twitter user wrote.
"Now the Left Eye & Tupac thing is something I didn't know about. I knew they were friends but….," another said.
"Just now catching the HopelesslyInLove Lisa Left Eye Lopez and Andre Rison episode and between what went on with her and Andre Treach Tupac and Suge I was like if social media was around back then the tea honey the tea," a third person commented.
Is 'Can U Get Away' about Lopes?
After the documentary aired, fans tried to connect the dots and started questioning if Tupac's song "Can U Get Away" is for Lopes. They noted that some of the beginning lyrics could be a reference to their relationship.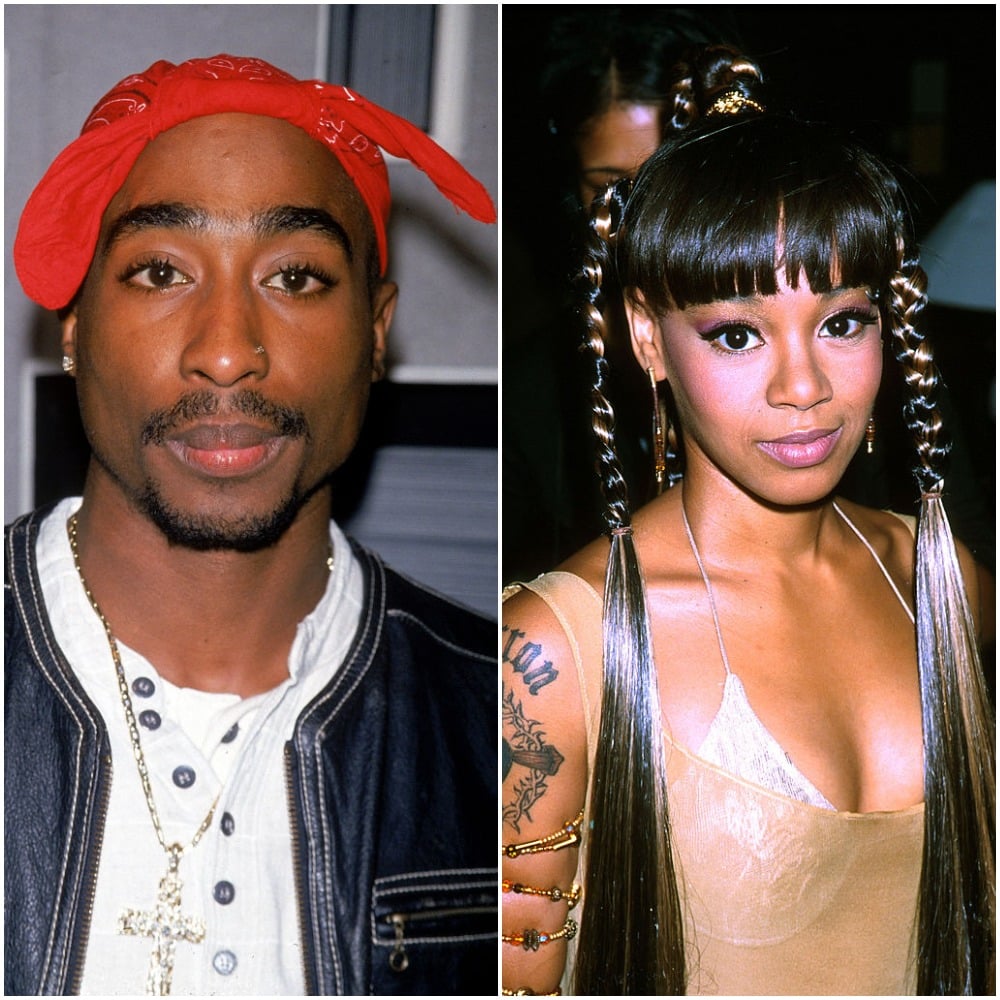 RELATED: Why Did Tupac Shakur and Madonna Break Up?
"It's like your man don't understand, all he does is stress ya/ I can see your state of misery from the introduction/ Ain't 'bout no sucking and touching, just harmless discussion/ Maybe we can see a better way, find a brighter day/ Late night phone conversations — would that be OK?" Pac raps.
Producer Mike Mosely, who worked with Tupac on the track in question, said he isn't sure if the song is about Lopes but another producer is pretty certain.
In an episode of Art of Dialogue, Sky Keeton described Tupac and Lopes' friendship saying that "they were really cool you know…vibing, love each other to death." But when asked if "Can U Get Away" is about the TLC member, Keeton didn't hesitate and answered with an emphatic "NO."
On Sept. 7, 1996, Tupac was gunned down in a drive-by shooting at a Las Vegas intersection. He was rushed to a nearby hospital where he died six days later at the age of 25.
On April 25, 2002, Lopes was killed in a car accident in Honduras when the vehicle she was traveling in lost control. She was 30.
RELATED: What Was Tupac Shakur's Net Worth At the Time of His Death?