Diddy's Son Finally Speaks on His Father Dating His Ex-Girlfriend, Lori Harvey
Diddy has reportedly been dating his son's ex-girlfriend, Lori Harvey. Is Christian Combs okay with his father's relationship or are there hard feelings between them?
There are a few things that you expect will happen when you start dating someone new. One, you'll fall in love, eventually get married, and live happily ever after. Two, you break up.
What you don't expect is for your father to swoop in and steal your girl. But that is exactly the situation that Sean "Diddy" Combs' son, Christian Combs, found himself in.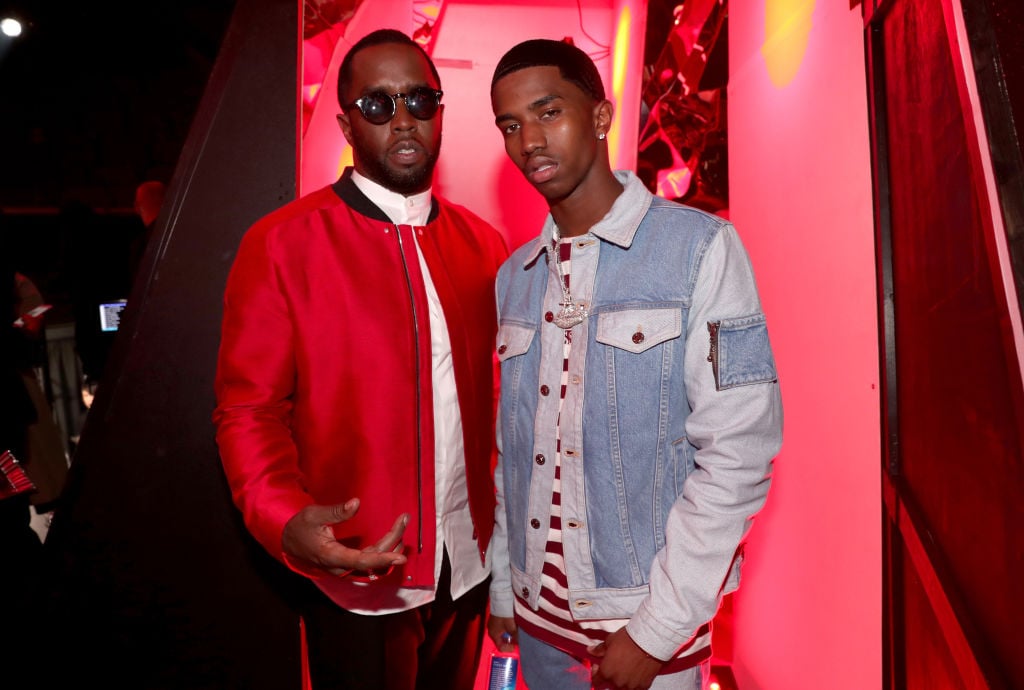 Diddy, Lori Harvey, and Christian Combs
Lori Harvey, stepdaughter of comedian Steve Harvey, has been connected with Diddy and his family for years. She was reportedly close to the mother of Diddy's children, Kim Porter.
For a while, Harvey was linked romantically to Christian, but the two must have gone their separate ways because Harvey and Diddy eventually began dating.
The rumors about Harvey and Diddy dating started in July. Though there has been photographic evidence of the two spending time together, neither celebrity has commented on their relationship.
How does Christian Combs feel about Diddy's relationship?
Though it must not be easy watching your dad date your ex, Christian recently spoke to HollywoodLife about his father and Harvey's relationship and said that everything was good.
"They [are] good," he said. "They're just being … Private time. That's up to them. So …"
Diddy cheating rumors
Christian might have said that everything between Diddy and Harvey was good, but the music mogul was recently spotted getting close to another woman.
Over the weekend, Diddy was seen having dinner with Nicole Olivera at Nobu in Los Angeles. The two reportedly arrived in Diddy's car but exited the vehicle separately.
Diddy has not commented on the outing.
Who is Nicole Olivera, the woman Diddy was spotted with?
Olivera doesn't just spend her time going out with millionaires. She also works from time to time. According to her IMDB page, she was on four episodes of Bad Escorts, one episode of The Situation, and appeared as an extra on Glee. She was also in the short film Hollywood Misconceptions.
Weirdly enough, one of her most recent Instagram photos was of her hanging out with Diddy's twin daughters, D'Lila Star and Jessie James.
"My heart is so full right now," she captioned the photo of her cuddling up with the girls.
Diddy's former relationships
Diddy is no stranger to public relationships.
In the 90's, he began dating Porter. They had Christian together in 1998.
The two broke up for a short period and Diddy began dating Jennifer Lopez before eventually getting back together with Porter in 2003. In 2006, Porter gave birth to her and Diddy's twin daughters.
 In an interview with Essence in 2006, the rapper said that he didn't plan on marrying Porter.
"I know she deserves to get married, but I'm just not ready," he said. "It's not a reflection on how much I love Kim. It's that I'm just learning how to be a good boyfriend. When I'm finished with this step, I'll move on to the next."
A few months later, the pair split for good. Porter died in 2018.
Diddy's next long-term relationship was with singer, Cassie Ventura. After meeting in the early 2000s, Ventura and Diddy went public with their relationship in 2012. They eventually called it quits last year and Ventura is now married to trainer Alex Fine. The couple is expecting their first child.