'Difficult' Meghan Markle Had a 'Dangerous Level of Self-Belief' That Baffled Queen Elizabeth Expert Claims
Meghan, Duchess of Sussex didn't make a great first impression when she met Queen Elizabeth, according to a new book. Royal expert Robert Lacey claims in his new royal biography Battle of Brothers that Meghan came across as "difficult" when Prince Harry introduced her to the royal family. Lacey also claims the former Suits star had such a "dangerous level of self-belief" that it baffled her future in-laws.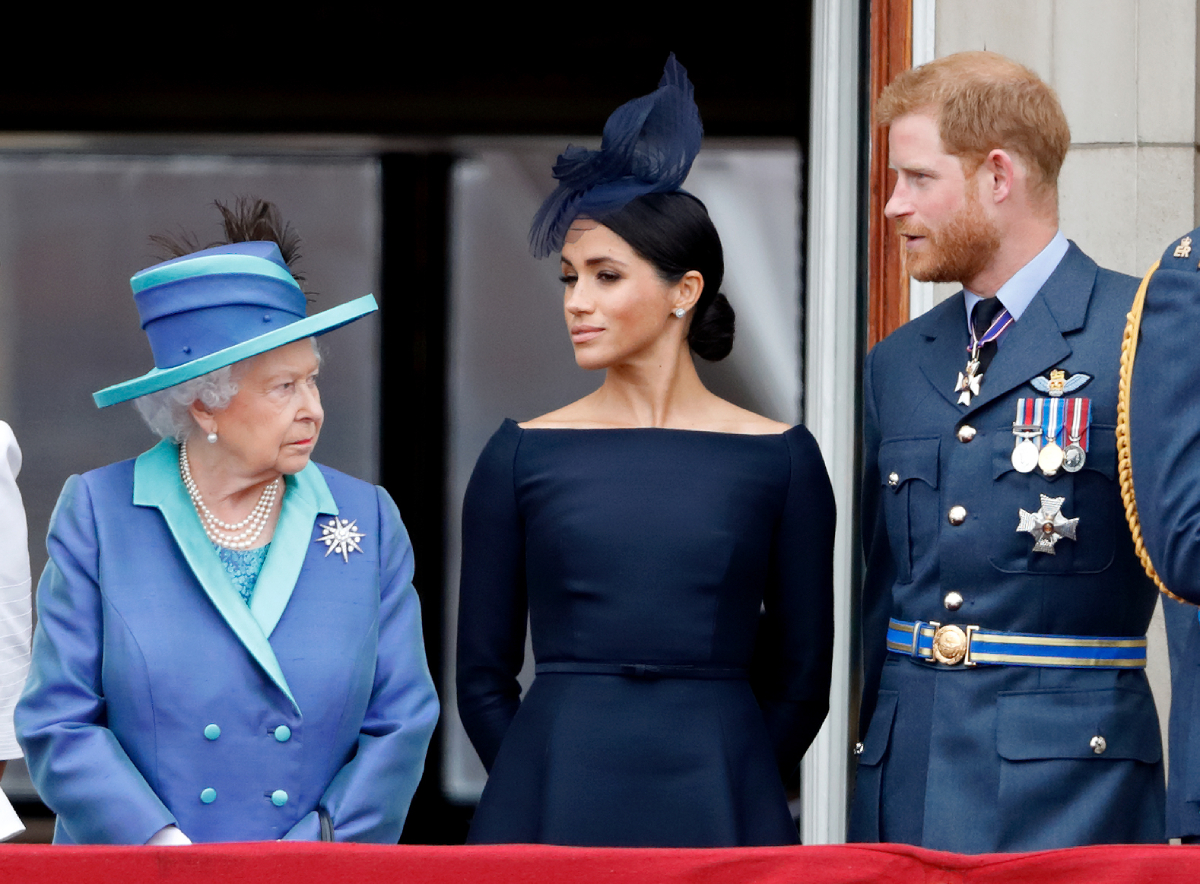 Queen Elizabeth had a secret plan for Meghan Markle and Prince Harry
Prince Harry and Meghan, Duchess of Sussex didn't discuss their Megxit plans with the royal family before they made their shocking announcement in January. Together in private, they dreamed of a future independent of the royal family. They also put together a plan to make it happen.
However, Lacey writes in his book that the queen was very aware that Harry and Meghan weren't happy. Because of this, she was going to offer the couple a year or two in Africa. Queen Elizabeth's plan was to allow her grandson and his wife to take some time off from their duties as senior royals.
Because of Harry and Meghan's interest in Africa, Queen Elizabeth thought this would be the perfect solution. She also drew upon her own personal experience. As Express notes, Her Majesty had a similar desire to live a normal life during her stay in Malta between 1949 and 1951.
During that time, the then-Princess Elizabeth enjoyed some private time on the Island when Prince Philip was stationed there as an officer in the Royal Navy.
Queen Elizabeth's to help Meghan Markle and Prince Harry because of her own adventure
According to the documentary The Royal House of Windsor, Queen Elizabeth enjoyed her time on the island. Author Philip Eade explained that Her Majesty was able to do what she wanted for the very first time.
"She could be like a normal young woman. She could go to the hairdresser on her own. She could drive around the island. She could go to restaurants with her husband, go on picnics, and all the while the Maltese people left them alone," Eade said.
He added that for Queen Elizabeth, Malta represents a "great feeling of freedom." Native Guzeppi Formosa explained in an old interview that the Maltese people loved the monarch. He said that people would wave to her and the future queen would wave back.
Formosa also remembers Prince Philip and his uncle, Lord Louis Mountbatten. He described the Duke of Edinburgh as "very smart." He also remembers Philip driving toward the Drydocks and nearly hitting someone carrying big beams.
Meghan Markle baffled the queen with her 'dangerous level of self-belief'
Before Queen Elizabeth had the chance to offer Meghan and Harry a trip to Africa, they stepped down as senior working royals. But long before the Sussexes ran away to America, Meghan made a terrible first impression when Harry introduced her to his family.
Lacey writes that Meghan came across as "difficult." She also had a "dangerous level of self-belief" that the royal family "didn't know what to do with." The royal author explained that the "whole strategy of the monarchy" was based on the family sticking together.
"Meghan changed all that. She is difficult," Lacey writes. "She has an incredible and dangerous level of self-belief."
Lacey also pointed out that Prince Harry's place in the line of succession to the throne meant that his family didn't know what to do with him. He claimed that the palace treats "second-borns badly." Lacey explained that they don't know what to do with the spare heir. He added that they "certainly don't know what to do with the spare's wife."
Prince Harry opted to follow his "new destiny" with Meghan after he came to a realization. Lacey writes that Harry made his decision when he discovered there was "something rotten" at the "heart of royalness." Ultimately, he decided it wasn't for him.