'Diners, Drive-Ins, and Dives': The 1 Secret Phrase Guy Fieri Uses When He Hates the Food
There aren't too many things in the world that Food Network star Guy Fieri won't eat. The self-proclaimed Mayor of Flavortown has been spotted chowing down on all sorts of bizarre concoctions, from grasshopper tacos to a pig's head platter. But even though Fieri is willing to try almost anything, that doesn't mean he always enjoys it.
The Guy's Grocery Games host has an extremely polarizing personality, it's true. But no one can fault his enthusiasm and good manners. Even when Fieri doesn't care for something he's eating, he doesn't typically spit it out and start spewing foul language. Instead, he conveys displeasure with a very subtle code phrase.
Find out the secret to figuring out if Fieri really enjoys what he's eating, ahead.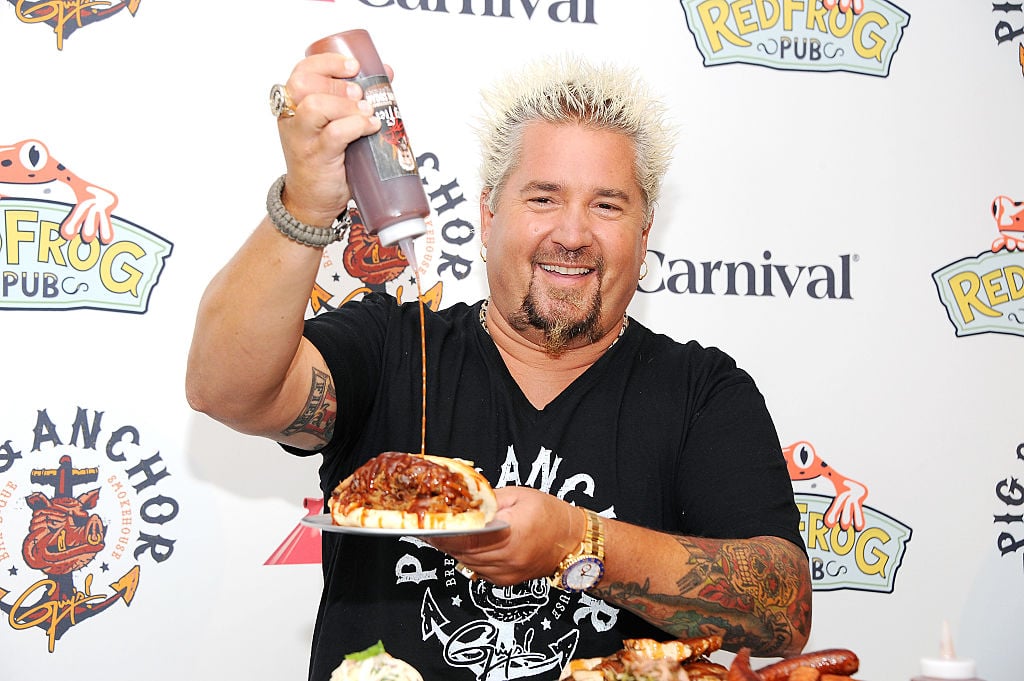 Fieri doesn't consider himself a food critic
Even though he spends his life eating food, the 51-year-old chef doesn't consider himself a critic. Because that just sounds so negative. "That's the furthest thing from what I am," he explained during a podcast interview, via People. "I'm a food highlighter. I'm bringing the greatest hits."
But not every dish Fieri samples on Diners, Drive-Ins, and Dives is amazing, and even though he doesn't lie, he's not comfortable making these small-town chefs feel bad about themselves. That's why he came up with a secret way of showing he's just not that into whatever he's eating.
His reaction to the food is key
Fieri is well-known for his over-the-top personality and quirky phrases. Those are the precise elements that will help chefs figure out if Fieri is a fan of their creation or not.
"A close watcher of the show can tell the difference from when you're genuinely blown away, and when it's just like, 'Good, nice job, I can see why people like it,'" podcast host Brian Koppelman observed. Fieri was quick to confirm his true intentions.
"Some chefs that'll see it… will do their investigation," Fieri explained. "And, you know, they've watched the show for years. We'll go to commercial, and they'll go, "Well, did you like that?" And I'm like, "Yeah it was good." And they'll go, "Well you didn't go, like, 'This is off the hook.'" And I'm like, 'Well, it was good."
He continued, saying, "And I'm like, "Don't be offended, I don't like every song that's on the Rolling Stones album. There's ones that you like."
Fieri sometimes helps the chefs make improvements
While Fieri is in town, he only has time to sample the best of the best that restaurant chefs have to offer. But he's always willing to give advice while he's there.
If the chef asks for tips, Fieri shows them how to do it better.
He explained during the interview (via Eater):
If they ask, I'll tell 'em. I'll say, "Listen, here's the deal. You've got to treat the bun. You can't take a bun out of the package [and] put it down. You've done all this work. You've got this fresh, local beef. You've grown the vegetables yourself. You make this fantastic aioli. And then you slap it on a bun out of a plastic bag and you didn't toast it? You didn't butter it? You've got to give it treatment." And they'll look at me [and say], "Really?" And I'll go, "Yeah, let's do this. Let's make it." And then sometimes before we even leave the restaurant, we'll go and bust it out a couple times.
Fieri isn't trying to make enemies. He just wants to make everyone's recipes a lot tastier, and we can respect that.