'Diners, Drive-Ins, and Dives:' The 1 Warning Producers Give Restaurants Before They Film
Diners, Drive-Ins, and Dives has become one of Food Network's most popular shows. The network broadcasts marathons of "Triple D" constantly, and that's mostly because its host, Guy Fieri, has made the show wildly popular with his outgoing personality.
It seems like an incredible honor for restaurateurs to have their restaurants highlighted on the show, but there reportedly is one warning producers give owners before filming starts.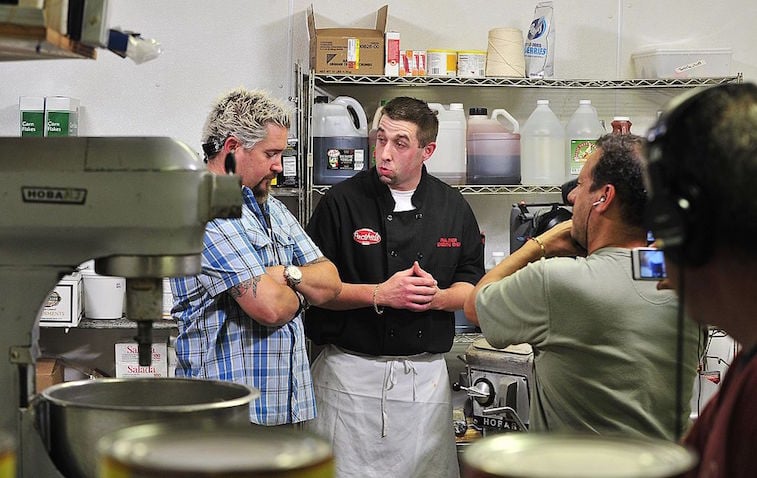 'Diners, Drive Ins, and Dives' is the show no one can look away from
It's hard to find someone who has never heard of the iconic Food Network show. Since 2006, host Guy Fieri has been visiting various restaurants across North America and showcasing the best dishes, per reviews from both customers and local foodies. And the show is enough to make someone hungry even if they've just indulged in a five-course meal.
Once Fieri's show starts showing off those tasty dishes, it's hard to peel our eyes away. Besides recognizing the finished product (insanely delicious food), each episode also lets fans see how much work actually goes into a restaurant's best dishes.
Guy Fieri has made a massive name for himself as the host
Fieri didn't join Food Network with the intention of hosting a show like this. Rather, he ended up winning The Next Food Network Star in 2006, which led to him hosting his own cooking show, Guy's Big Bite.
The network then realized that Fieri was the perfect fit for a new show that was in the works: Diners, Drive-Ins, and Dives. He ended up becoming the host, and the show started filming in 2006 and premiered in 2007. Now, more than a dozen years later, the show is still in full swing and is arguably the most notable program on the network.
Producers reportedly warn about an influx of traffic after filming
It's a high honor for a restaurant to be showcased on such a popular show, and most restaurants would likely jump at the chance to be featured. But as fun as it is, there is something producers reportedly warn restaurant owners about prior to filming: There will be a massive influx of customers once the show airs.
"When you get the call that they are going through with it, they warn you: This will change your business forever," one restaurant owner said of the show. It sounds silly, but it makes sense. Restaurants need to be prepared for how popular their business will become once its featured on the show. The network reportedly predicts a 200% increase in business once the episode premieres, which will require more food and likely more help to keep things running smoothly.
Filming isn't quite as it seems on the show
On the show, it appears that Fieri simply strolls into a restaurant, chats with diners, and makes his way into the kitchen. Of course, filming is a bit more intense, and that is to be expected. According to Mashed, restaurants must be willing to close for a few days to film. And the show reportedly seeks out those who visit the restaurant most often to give their opinion of its dishes.
Fieri is the face of the show, but the restaurants' hard work doesn't go unnoticed. It seems they've certainly earned that influx of new customers.