Dionne Warwick Doubles Down on Opposition to Whitney Houston Hologram Tour
A Whitney Houston hologram tour is in progress. The tour was first announced as an international one in 2015 before plans stalled.
It's been 10 years since Whitney Houston's death and her estate has not slowed down on any projects in her likeness. There's a highly anticipated biopic and a Broadway adaptation coming in the near future. While fans are happy about it, others are not, including members of Houston's own family. Dionne Warwick is not happy about the release of the biopic nor a hologram tour that's in the works.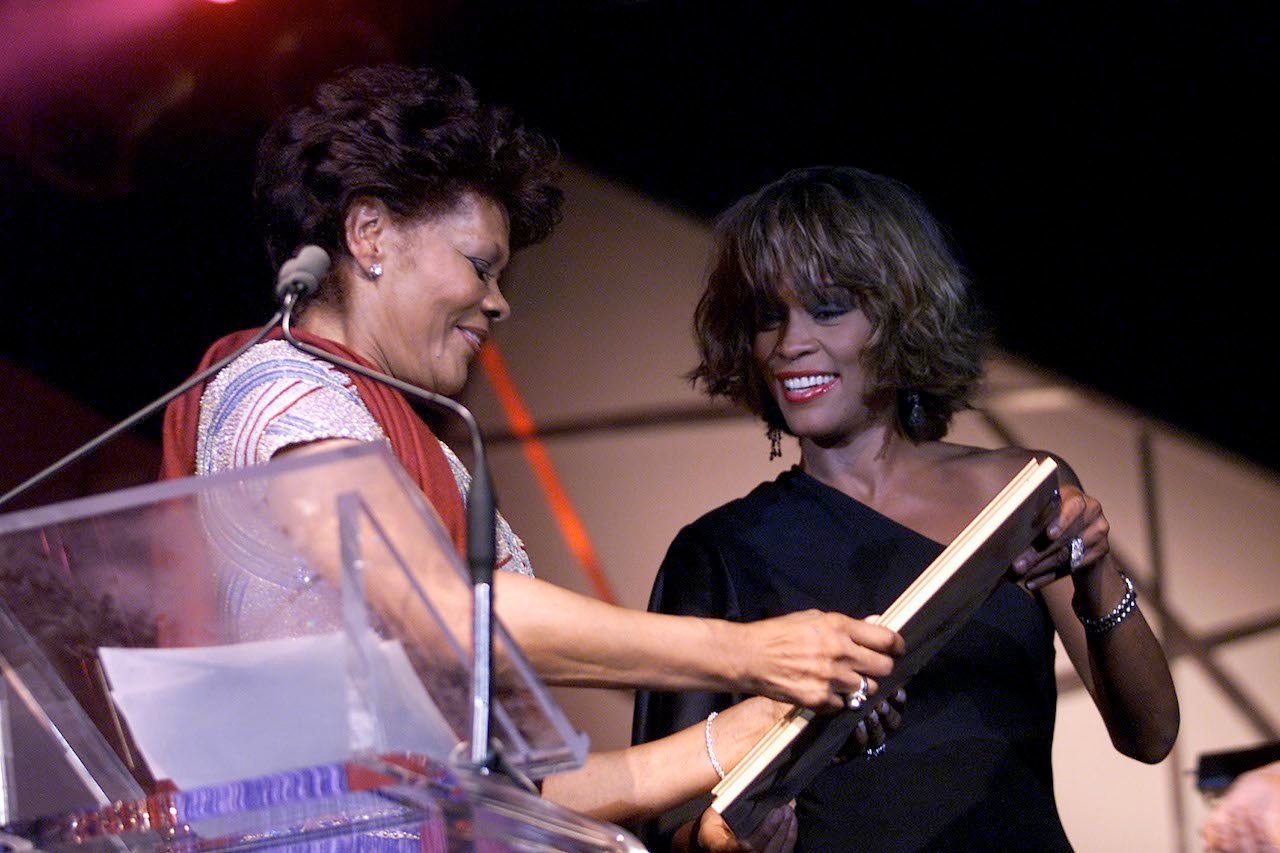 Dionne Warwick is no fan of the Hologram tour
Houston's executor of her estate, her sister-in-law Pat Houston, told Entertainment Tonight that there were plans for hologram performances in the singer's likeness. Pat made the announcement in 2015.
"It's a great opportunity for her fans to see a reinvention of one the most celebrated female artists in history and to continue a legacy of performances that will not be forgotten in years to come," she said at the time.
No hologram performance ever took place. But in 2019, additional plans for an international hologram tour would begin the following year.  "An Evening With Whitney" launches January 23rd, 2020 in Mexico and wraps April 3rd in Minsk, Belarus. There are plans to bring the tour to the US in the fall of 2020," the estate said. Now, more shows have been added.
Warwick, Houston's cousin, recently appeared on Watch What Happens Live With Andy Cohen and made it known that she is against the hologram tour. "I am not a fan of the fact that they decided to do that," Warwick said frankly. "That doesn't please me at all…They need to let Whitney rest. Leave her alone." 
When Cohen asked whether it's a good idea for fans of the late singer who never had the chance to see her perform live, Warwick didn't change her mind. "No," she said. "You can never recreate Whitney."
She also is opposed to the forthcoming biopic
The first ever authorized biopic on Houston is set to be released this Christmas. Per Deadline, an official description from the film explains it as "joyous, emotional and heart-breaking celebration of the life and music of the greatest female R&B pop vocalist of all time, tracking her journey from obscurity to musical superstardom. While being very frank about the price that super-stardom exacted, it will be both the rich and complex saga of the search for the perfect marriage between song and singer and audience, and at the same time the moving tale of a simple Jersey girl trying to find her way back home."
Warwick would also prefer that this project not be in place. Per The Jasmine Brand, Warwick was questioned about whether or not she contributed to the film. "Not one thing," Warwick said, adding, "I want them to let Whitney rest in peace. Leave her alone. Ten years [since she died] — it's time to let her sleep."
The estate has major plans in celebration of Houston's 60th birthday
In addition to the biopic and hologram tour, the estate is gearing up for a major campaign in celebration of what would have been Houston's 60th birthday. There's a doll line currently available in some Target stores, a T-Shirt line in Forever 21 stores, as well as a makeup collaboration with MAC Cosmetics.
The estate also plans for the release of two albums and a Broadway musical. The musical will be based on the biopic.