Diplo Has a Surprising Dating History That Includes Pop Superstar Katy Perry
Thomas Wesley Pentz, better known as Diplo, may be a wiz for uniquely blending E.D.M. sounds with a variety of different music genres, but spinning on the ones and twos isn't the only thing he's skilled in.
Not only is the famed DJ an accomplished record producer and songwriter, but he's also pretty experienced in the romance department as he's dated several well-known women. Some of whom might even come as a surprise.
The D.J. had a rocky relationship with rapper M.I.A
Pentz has never been married, but he does have a long list of high-profile girlfriends. In 2003, he began dating rapper M.I.A. after meeting her at the Fabric Club in London.
During their relationship, the pair collaborated on M.I.A.'s second album Kala, which included the hit song "Paper Planes" that helped launch both their careers when it was featured in T.V. and movies, including Pineapple Express.
Although their love blossomed in the studio, Diplo and M.I.A.'s romance ultimately faded as it reportedly involved emotional abuse and infidelity at the hands of the D.J., according to the rapper.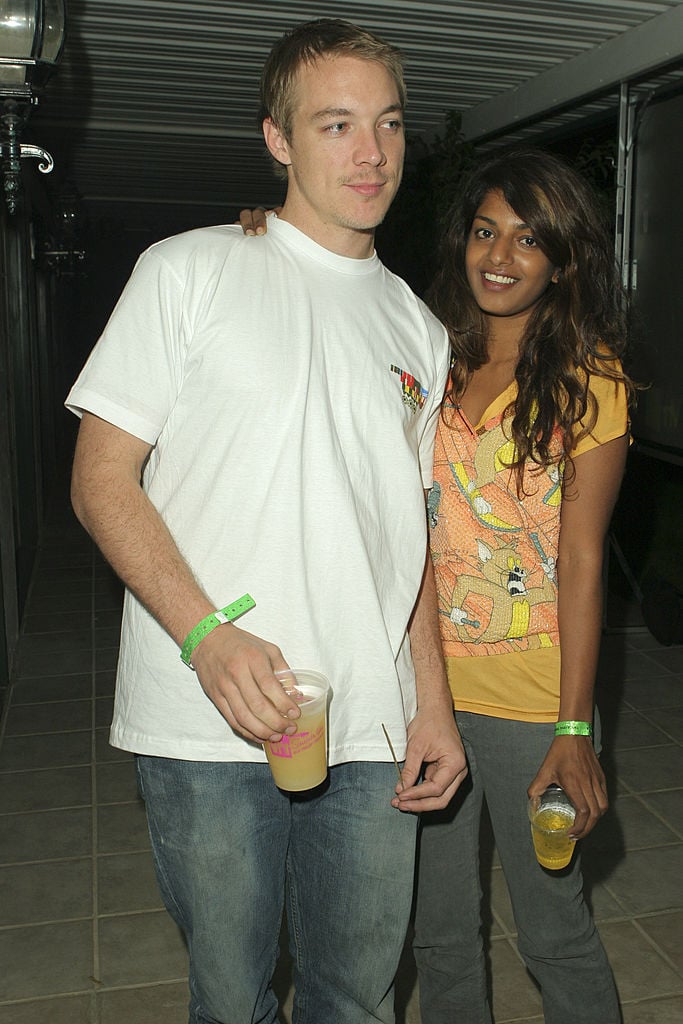 After spending five years together, the pair split in 2008. Seven years later, the rapper accused her ex of controlling her career during an interview with Rolling Stone.
Diplo and Katy Perry
In 2014, rumors circulated that Diplo was dating singer Katy Perry after the two were spotted hanging out together at Coachella and the Amazing Spider-Man 2 premiere party.
While it was speculated the A-listers had split a month later, those rumored turned out to be false. However, in 2015, it was reported that Wentz and Perry had officially called it quits.
Two years later, the "Firework" singer was asked to rank her exes — Diplo, John Mayer, and Orlando Bloom — by how good they are in bed, from worst to best while filming her "Witness World Wide" YouTube live stream.
Though she ranked Diplo as the worst, Perry noted, "They're all amazing lovers, and I would have sex with all of them when I get out of this place!"
News of this still traveled to Diplo, who responded to the singer's diss in the most Diplo way possible, tweeting, "I don't even remember having sex." 
Diplo reportedly hooked up with Kate Hudson
Following his short-lived romance with Perry, Diplo appeared to have moved on with actress Kate Hudson after the pair were spotted holding hands at the 2017 Vanity Fair Oscars' after-party.
Though it seemed like a relationship was brewing between the two, a source at the time revealed that the A-listers were just "hanging out," adding that their relationship is "casual and fun."
He had a long-standing fling with 'Too Hot To Handle's Francesca
Before Francesca Farago found love with Harry Jowsy on Too Hot To Handle, she was in a casual, on-and-off-again relationship with Pentz.
In April 2020, the reality star confirmed to Entertainment Tonight via Zoom that she dated Diplo "off and on for a very prolonged period of time."
Though she didn't go into the details of their relationship, Farago revealed that she and the DJ remain close friends and that he's supportive of her finding love with Harry.
"We've been friends for, like, six, seven years. We've hung out on and off over that period of time," she explained. "We are friends, we are close friends."
Diplo has two children with ex Kathryn Lockhart
Back in 2010, Diplo welcomed his first child — a son named Lockett Pentz —with then-girlfriend Kathryn Lockhart.
According to Daily Entertainment News, the couple began dating earlier that very same year while she was working as a bartender. Though they didn't plan to have a baby together, Diplo and Lockhart tried to make the most out of this exciting milestone by giving cohabitation a try.
However, the two called it quits soon after but remained dedicated co-parents to their son.
Four years later, the exes welcomed their second child, Lazer Lee Louis Pentz; around the same time Diplo was striking up a romance with Katy Perry.
Diplo just welcomed his third son with Jevon King
The famed DJ is now officially a father of three.
On May 10, the recording artist announced on Instagram that he welcomed his third son with model and former Miss Universe contestant, Jevon King.
Though it remains unclear how long the couple's been linked together, King revealed on Instagram back in October that she was expecting her first child, though she kept the identity of her father's baby private.
As for whether or not the pair are still romantically involved, that still remains a mystery, but even if they're not together, it seems like they're staying in touch for the well-being of their son.