Disgraced 'Today' Host Matt Lauer Had His Eye On Pippa Middleton
Matt Lauer - who was fired from 'Today' over multiple sexual misconduct charges - once had his eye on Kate Middleton's little sister Pippa Middleton.
Disgraced Today host Matt Lauer allegedly pushed hard to get Kate Middleton's younger sister, Pippa Middleton, on the show. Lauer, who is facing more backlash in light of Brooke Nevils' rape allegations, reportedly wanted Middleton to appear regularly on his segment. Although the deal never worked out, NBC staffers were worried about Lauer's apparent obsession with the Duchess of Cambridge's sister.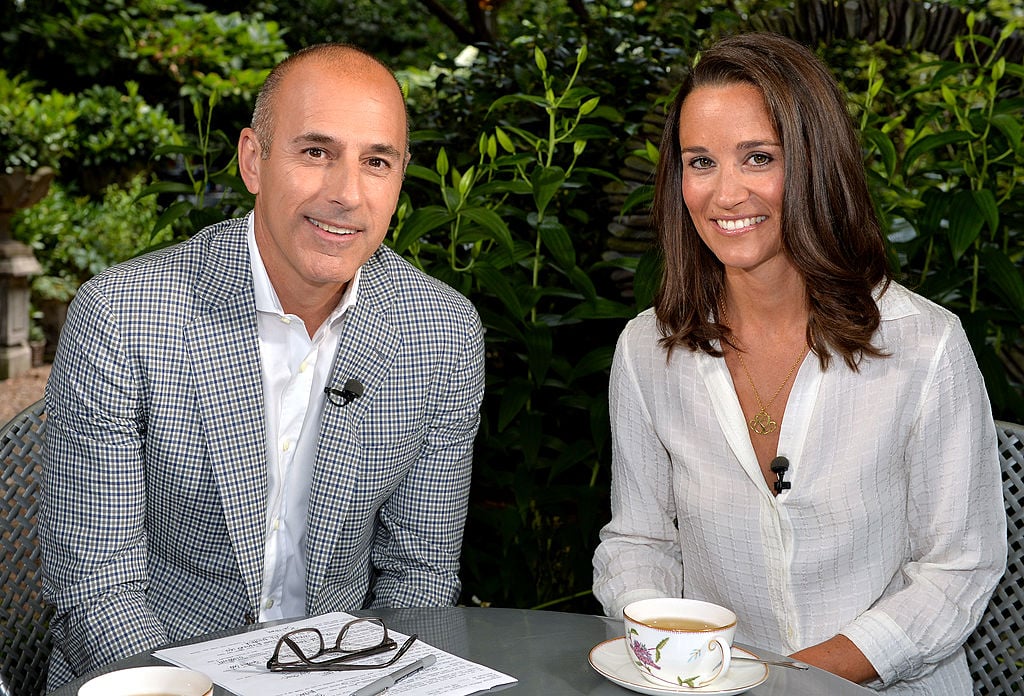 Lauer had his eyes on Middleton
Matt Lauer did his best to get Middleton on the show and even rented out an entire restaurant to lure her in.
The dinner was held at a venue in the Upper East Side of New York City called Donohue's Steak House. Middleton's publicist, Simon Kelner, attended the dinner, as did several senior staff members from Today.
This includes the show's executive producer, Don Nash, who was fully on board with hiring Middleton.
According to Page Six, Middleton took part in an interview with Lauer, who also set up a test shoot at a Montana ranch. The shoot, however, did not go as planned and sources say Middleton thought it was a fairly "excruciating" experience.
"Pippa wasn't comfortable with any of it," the insider added.
The source also noted that Buckingham Palace counseled Middleton against taking the position. Royal staffers were apparently worried that she might be an embarrassment to the family and urged her to turn the offer down.
Luckily for Middleton, she was never left alone with Matt Lauer. And after NBC staffers grew concerned about his obsession with her, his boss, Deborah Turness, shot down the idea.
Considering all of the allegations against Lauer in recent years, everything turned out for the best.
Did Matt Lauer have an affair with a well-respected broadcaster?
With his position as a host of Today, Lauer held a lot of power and sway within the ranks of NBC.
Inside sources claim that Lauer used this power to get with women who fell under him in the network's hierarchy. In his new book, Catch and Kill, Ronan Farrow claims that Lauer had an affair will a well-respected broadcaster for NBC, who has chosen to remain anonymous.
"Matt had influence over everyone's career — one word and your career would be sunk," the source dished. "I know there was a clear imbalance of power in this woman's relationship with Matt."
Farrow added that the woman in question signed a very restrictive NDA when she left the network in 2012.
Matt Lauer has denied the allegations in Farrow's book and recently took to social media to defend his public image.
As far as the network is concerned, the president of NBC News, Noah Oppenheim, released a memo to staff members in the wake of Farrow's book.
Oppenheim told his employees that they did not uncover any inappropriate interactions between the woman and Lauer during their time together. He then added that she signed a standard NDA that everyone does and was not forced to remain anonymous.
Lauer's attorneys have come out against Farrow's book as well. NBC also stated that the first time they heard about Lauer's questionable behavior was when Nevils came forward with the rape allegations in 2017.
As fans will recall, the scandal led to Matt Lauer's exit from the show and his subsequent divorce. He has since remained out of the public eye.
Farrow blasts Lauer's behavior on 'Today'
Farrow offered more details about Lauer's behavior towards the well-respected broadcaster in his book. The author claims that the woman felt like she was "meat on a hook" whenever she walked into work.
She also says that she would go home and cry every time she had an encounter with Lauer. And when she turned down his advances, her career suffered.
Unfortunately, the woman did not file a formal complaint to the HR department, which explains why NBC did not hear about it until now.
She did, however, inform her fellow co-workers about what was happening. She also claims that a senior executive in NBC also made unwanted passes at her, which only made things worse.
As part of her NDA, the former employee says that she is not allowed to sue NBC.
The network, of course, stated that such an agreement does not exist and that none of its employees are forced to remain silent when it comes to Matt Lauer or misconduct in the workplace.