What We Learned About Disney's 'Frozen' on Broadway From Nina West and Alexis Michelle's DragCon Panel
This year, a touch of Disney magic made its way to RuPaul's DragCon in New York City. RuPaul's Drag Race alumni, Nina West and Alexis Michelle moderated a panel entitled "Disney On Broadway: Serving Hair, Face, and Looks for 25 Years." There, fans got an inside look at some of Broadway's most popular musicals, including Frozen. Here's what we learned from Anne Ford-Coates, Tyrel Martori, David Brian Brown, Alyssa Fox, and other cast members of the musical.
Anne Ford-Coates, Tyrel Martori, David Brian Brown, and Alyssa Fox visited DragCon in New York City
At a drag convention, of course, some emphasis is going to be on hair, makeup, and costumes. For one DragCon panel, experts and performers from one of the biggest stages shared their secrets with the audience — the magic of Disney's Frozen on Broadway. After speaking with Alyssa Fox, the stand-by actress who portrays Elsa, moderators Alexis Michelle and Nina West brought in makeup designer Anne Ford-Coates.
Ford-Coates stated that as the makeup designer and as a makeup artist, she often gives actresses the color palettes of their respective roles. However, it is ultimately up to the lead actresses in Frozen to make their Anna and Elsa unique, yet true to the character. One tip that the makeup designer shared is that hydration and skincare is the key to professional makeup.
"One of my big things that I emphasize a lot is that when you're doing a serious full face of makeup eight shows a week, you actually really need to focus on your skincare," said Alexis Ford-Coates. "If you want that makeup to last in your performance, then season to season you need to be on top of keeping your skin hydrated, keeping it balanced. Because even if you follow — and you all know the steps, right? You got to do your primer, and then you do your base, your powder, and then your setting spray, right? So, you need to follow those steps every time, that's what waterproofs us."
"The best primer is water, ladies and gentlemen," replied Alexis Michelle. Then, the moderators brought out Tyrel Martori and David Brian Brown, the masterminds behind Elsa's iconic wig and icy gown.
Tyrel Martori and David Brian Brown discussed making Elsa's hair and costume
There's a lot that goes into Disney behind the scenes to make the magic happen. From the flying carpet in Disney's Aladdin to Elsa's transformation during "Let It Go," there are plenty of cast and crew members that make sure performances go as smoothly as possible. That includes costume designer David Brian Brown and hair and makeup supervisor Tyrel Martori.
During the DragCon panel, both David Brian Brown and Tyrel Martori discussed how they designed Elsa's hair and "ice gown." (Spoiler alert: it's a lot of Swarovski crystals." Additionally, they revealed that the department nicknamed "Hairendelle" oversees the dozens of wigs used by cast members. Anna alone has multiple wig changes throughout the show, including her bedhead hair and her wigs touched with silver strands after Elsa freezes her heart.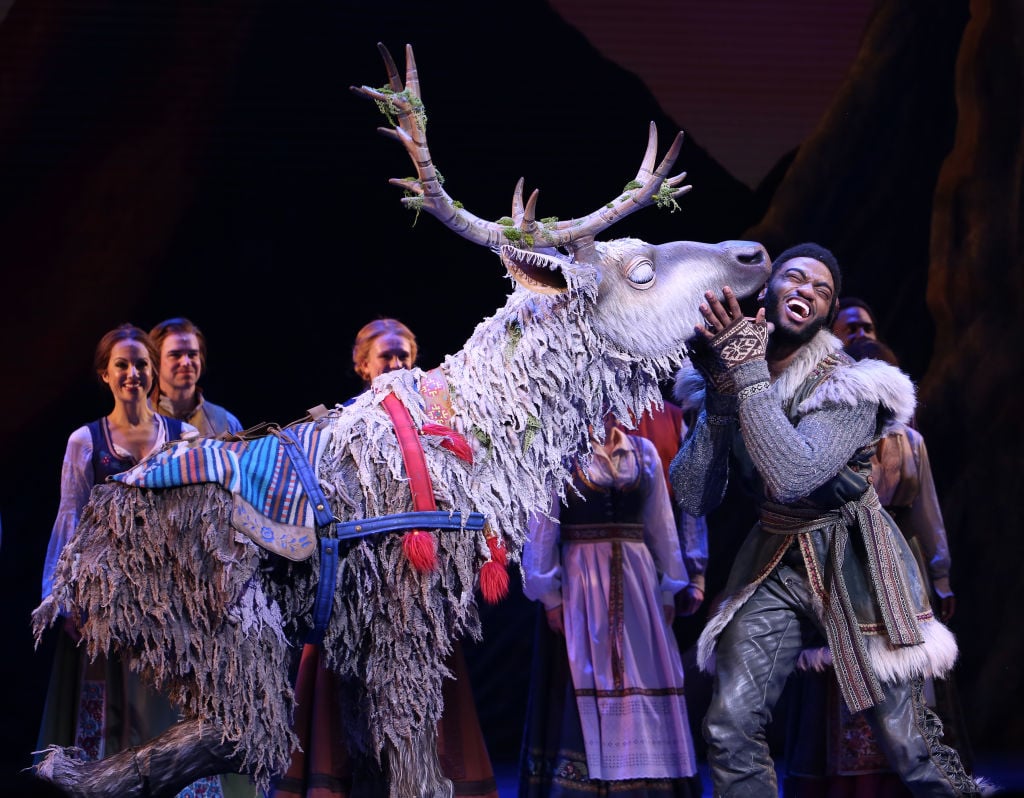 Noah J. Ricketts discussed the diversity and inclusion in Disney broadway musicals
During the panel, Noah J. Ricketts, who portrays Kristoff in Frozen, spoke alongside actors like Bradley Gibson and Michael James Scott. The actor spoke about his first time seeing a Disney musical and the impact that had on him as a child.
"My first show that I saw, Disney show that I saw was actually on tour. I used to be obsessed with theater as a kid and, we used to get those subscriptions to the, you know, the Broadway tours so, The Lion King was mine, as well," said Ricketts. "I remember the animals coming from the back of the house all the way up to the stage and my mind being completely blown. And also I had a very similar moment [of realization] when I saw young Simba, and I was like 'that's gonna be me!' So, that was it. Lion King definitely changed my life and that 'He Lives in You' it just gets me every time."
Tickets for Disney's Frozen on Broadway are available for purchase online and at the box office.