'Dispatches From Elsewhere' Star Sally Field Gave One of the Top 5 Oscar Speeches Ever
AMC's new original series, Dispatches from Elsewhere, premiered with lots of fanfare. The network kicked off a 2-night premiere event on Sunday, March 1. AMC's strategy to quickly follow up with the second episode on March 2 could be the ideal way to hook viewers. Another surefire way to attract eyeballs is to load up the cast with Hollywood heavyweights like Oscar winner Sally Field.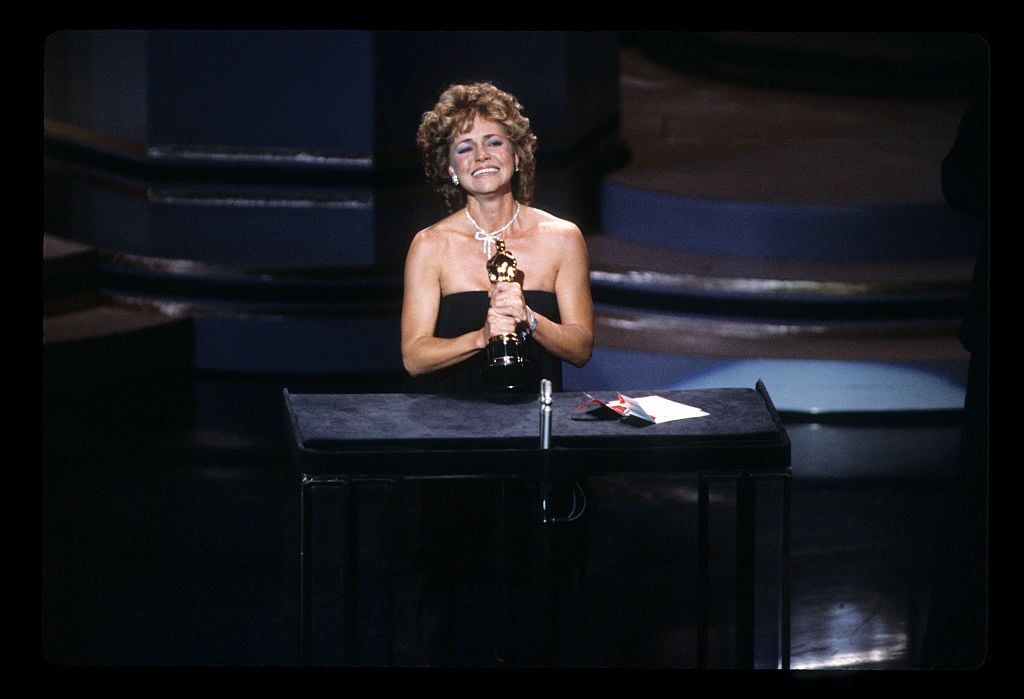 Sally Field has played some of TV's most memorable characters
Before her movie career took flight, Sally Field captured hearts in the TV shows, Gidget and The Flying Nun. Both shows resonated with audiences during first-run airings and grabbed new fans in syndication in later years.
By 1977, Field was a TV veteran and a major award-winner. The actress scored an Emmy for Outstanding Lead Actress in a Drama or Comedy Special for her performance in Sybil. She portrayed the title character, who suffered from dissociative identity disorder — or multiple personalities, in layman's terms.
Field's part in Sybil remains one of her most iconic roles today. The character has been analyzed, spoofed, and imitated by critics and fans. Field brought authenticity to the role and can be credited for making Sybil a household name. The actress continued to influence pop culture through her dynamic performances, and she snagged more high-profile awards to boot.
Field gave one of the most quotable Oscar speeches of all time
There is a lot of talent packed into Field's 5-foot-2 ½ inch frame. To the delight of critics and fans, she breathes life into her on-screen personas, evoking emotion, empathy, and belief. It's no wonder that Field has collected multiple awards for her big-screen and small-screen performances.
Field's award-count is impressive, to say the least. The actress has racked up multiple creative awards including Academy Awards, Primetime Emmys, and Golden Globes. She has also added a Screen Actors Guild Award and a People's Choice Award to her collection. IMDb.com houses a complete list of awards that Field has earned throughout her career.
When Field received her second Oscar for Best Actress in a Leading Role, which she earned for her performance in Places in the Heart, she gave one of the most famous Oscar acceptance speeches to date. The speech has been quoted and parodied in the media over the years and remains an enduring nugget of pop culture trivia.
USA Today named Fields' acceptance speech one of the top five Oscar speeches of all time. Field began the speech by addressing the writer and director of the film, "Oh, Benton, what you did for me; you changed my life, truly."
She went on to say, "This means so much more to me this time. I don't know why. I think the first time I hardly felt it because it was all so new." Field continued the speech with heartfelt thanks to her co-stars, friends, and loved ones.
At the end of the speech, she gushed the famous line, "You like me!"
Who else stars in Field's new show, 'Dispatches from Elsewhere'?
Indeed, we do like Field. She draws audiences in with her genuine portrayals and will do so again in her new show, Dispatches from Elsewhere.
The show boasts a star-studded cast, including Jason Segel, who also created and produces the show. Hip-hop and fashion icon André Benjamin and newcomer Eve Lindley round out the cast.
Read More: Before' Dispatches from Elsewhere,' André Benjamin Won 7 Grammys and Ran 2 Clothing Lines