DJ Steve Aoki Reveals He's Scored an 'Epic' Opportunity to DJ a Virtual Prom
Superstar DJ Steve Aoki sounded almost more thrilled to DJ the first-ever virtual prom than the lucky kids who will get to attend it.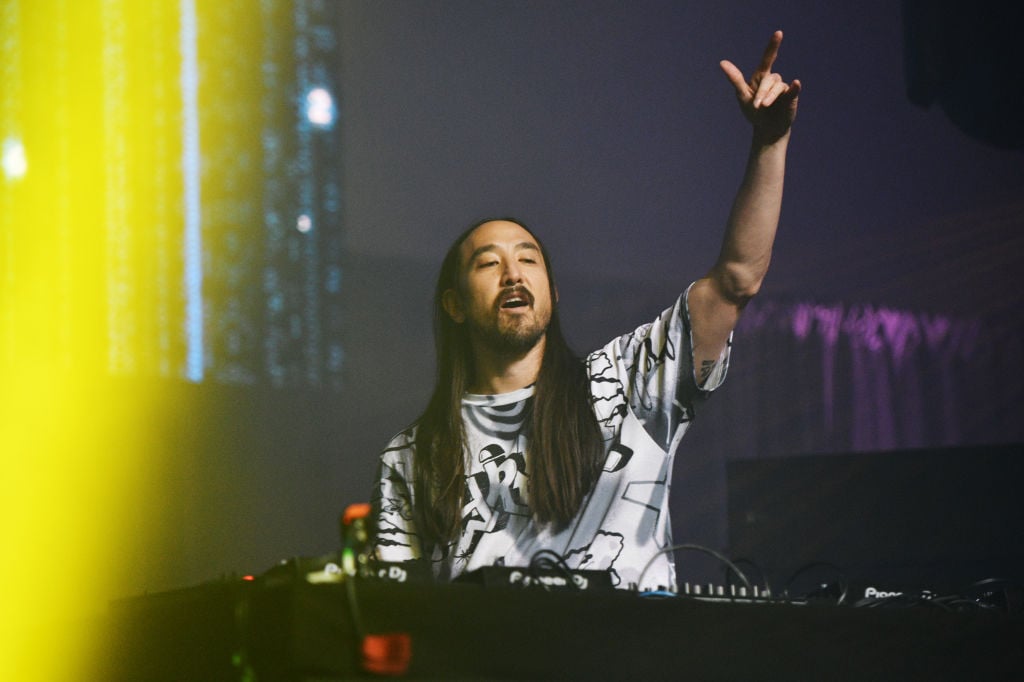 Aoki shared his enthusiasm with Showbiz Cheat Sheet, revealing that he's always wanted to DJ a prom but has never had the opportunity. Now that COVID-19 has thrown a bucket of ice-cold water on teens' plans to celebrate, Chips Ahoy! and Sour Patch Kids have teamed up with Aoki to host the Sweetest Prom Ever, a virtual prom party, on Saturday, May 23 at 9 p.m. ET.
"Chips Ahoy! and Sour Patch Kids reached out to us and it was such a brilliant idea because, for one, I've never DJ'd a prom because I'm just so busy," he shared. "But it's the kind of thing I've always wanted to do, but have never had the opportunity. So I was like, 'What? I can DJ a prom?' That's pretty epic."
Aoki recently got a taste of virtual parties
Fans may have gotten a sweet taste of Aoki's performance on Fortnite recently, which he said was pretty amazing. "I got a taste of [DJing virtual parties] during the Fortnite set," he says. "It's pretty wild because I am DJ'ing in front of a green screen in my living room but at the same time, when I'm looking at the camera, I know there's millions of people playing while I'm DJ'ing. It's kind of crazy."
RELATED: 'Club MTV' is Back Tonight With Keke Palmer, Liza Koshy, Pauly D, Downtown Julie Brown and More
"It's like you have a few people in your room and then you look out in the camera and there's millions of people watching this as we speak," he remarks. "It's so wild."
With that experience in mind, he's going to dive into prom full throttle, hyping up the crowd and promising an unforgettable experience. "And mixing in a set that I know [the kids at prom] are going to love," he says. "I'm going to raise the energy. I just want them to be dancing and be feeling it. You know, everyone wants to go out, everyone wants to do these things. But this is the best way to do that now."
Enter now to win a spot at prom
Aoki said that students can enter to win a spot at virtual prom. To win one of the 1,000 spots in the exclusive viewing platform, students ages 17-20 can sign up at SweetestPromEver.com.
RELATED: Another BTS Collaboration with Steve Aoki Is Reportedly in the Works
Then on May 23, head over to Aoki's YouTube channel, plus Chips Ahoy! and Sour Patch Kids YouTube, Instagram, and Twitter channels to party. One eligible student will also win a prom "do-over" as the grand prize. Eligible students must be between the ages of 17-20 and share a "promposal" on Instagram or Twitter, follow @ChipsAhoy and @SourPatchKids on that social platform, and include @ChipsAhoy, @SourPatchKids, #SweetestPromEver and #Sweepstakes in their caption. The deadline to enter is Saturday, May 16 at 11:59 p.m. ET.
Students are encouraged, but not required to dress up. But what's Aoki going to be rocking for the event? Thus far he's not sure.
"Maybe I'll have to go on one of those teenybop TV shows and see what the prom DJs usually wear," he laughs. "Maybe I'll come off with something they'd never expect!"