Do Adam Levine and His Wife Behati Prinsloo Want To Have More Kids?
It looks like Adam Levine and his wife Behati Prinsloo are looking to grow their family sooner rather than later.
The celebrity couple currently has two young daughters but they're considering welcoming a few more children in the upcoming years.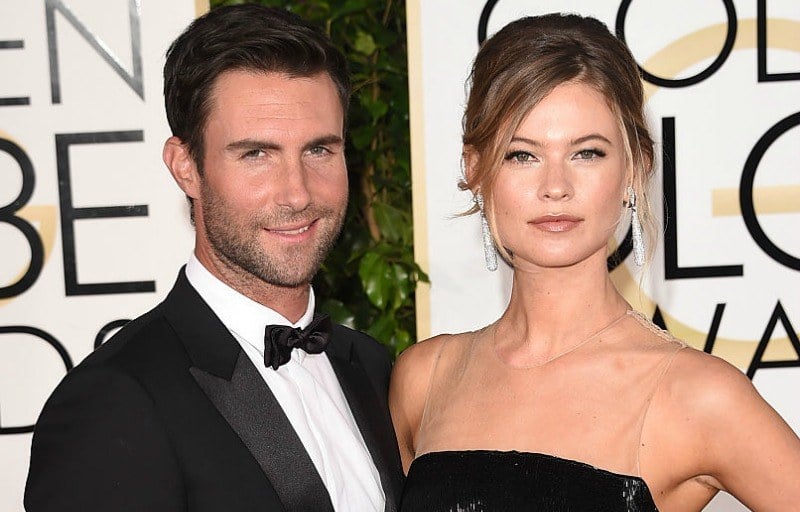 Now that Adam Levine has left The Voice and has a little bit more time on his hands, could this mean a newborn baby could make an appearance in the next few months?
They can't agree on how many kids they want
It is no question that Adam Levine and Behati Prinsloo absolutely love being a family of four, but the couple has recently been considering having more kids.
The singer and Victoria's Secret model are already the proud parents of daughters Gio Grace, 15 months, and Dusty Rose, 2½, but are ready to start expanding their family.
While appearing on The Ellen DeGeneres Show, Prinsloo revealed her and Levine's plans to have more kids but shared how they are not agreeing on how many to have.
"[Adam] wants five," the model told DeGeneres but added that she would like fewer children than her husband, 40.
"I thought I wanted five, but now I think maybe three or four would be good. I'm backing [up], but just by one," she explained then joked, "Adam can't have everything. I'm carrying them!"
Behati has always wanted a big family
This ins't the first time Behati Prinsloo and Adam Levine have expressed their desire to have more children.
Back in March, the model shared with PEOPLE that she's always wanted a big family and definitely see her and Adam Levine having one.
"I think so. It's not out of the question," Prinsloo said. "I grew up an only child, so I always wanted a big family."
Adam Levine has even shared that he would love to more babies, but maybe not as many as his wife would like.
"[Behati] was an only child, so she wants like 100 babies. I don't know if I can do that. That's a lot of babies," Levine shared with Ellen DeGeneres back in November 2017.
Now that Adam has officially left The Voice after 16 seasons, he can now spend more time at home with his family and hopefully soon, welcome another baby with Behati.
The Victoria's Secret Angel has said that Levine is a very hand-on father and is great with their kids.
"He's almost the stricter [parent] and I thought I'd be the stricter one," she admitted to PEOPLE. "He kinda took it, and I'm okay with it. He's so dedicated, he's so excited. He's on tour right now and he's so sad to be away from them."
Adam and Behati have adjusted to parenthood
With both Adam Levine and Behati Prinsloo having very successful careers of their own, it was hard at first for them to find a balance between that and being hands-on parents to their two daughters.
"Just trying to always do your best and feeling like you can always do better," she said about the biggest challenge of motherhood. "We put so much pressure on ourselves. I think to get over that and be like, 'You're exactly what they want, you're exactly what they need, you're doing okay and you're enough.' "
Now that the couple has found what works better for them and their family, they can now take on the task of caring for more babies.
"That, and trying to balance work and motherhood is a challenge too," Prinsloo admitted. "I remind myself of my parents and how incredible they are as my parents, and all they can do is their best so all I can do is my best too."
Though they aren't pregnant just yet, it will only be a matter of time before Adam Levine and Behati Prinsloo welcome their third little bundle of joy that will make them a family of five.