Do Florence Pugh and Harry Styles Sing in the 'Don't Worry Darling' Teaser?
Don't Worry Darling is an upcoming thriller directed by Olivia Wilde. The movie is set to be released in 2022 and stars Florence Pugh and Harry Styles. On Sept. 13, Wilde shared the first teaser trailer for Don't Worry Darling. Throughout the brief teaser, the teaser's music captures fans' attention due to the song's vocals. After the teaser was released, some fans began to suspect the singing voices are Pugh and Styles.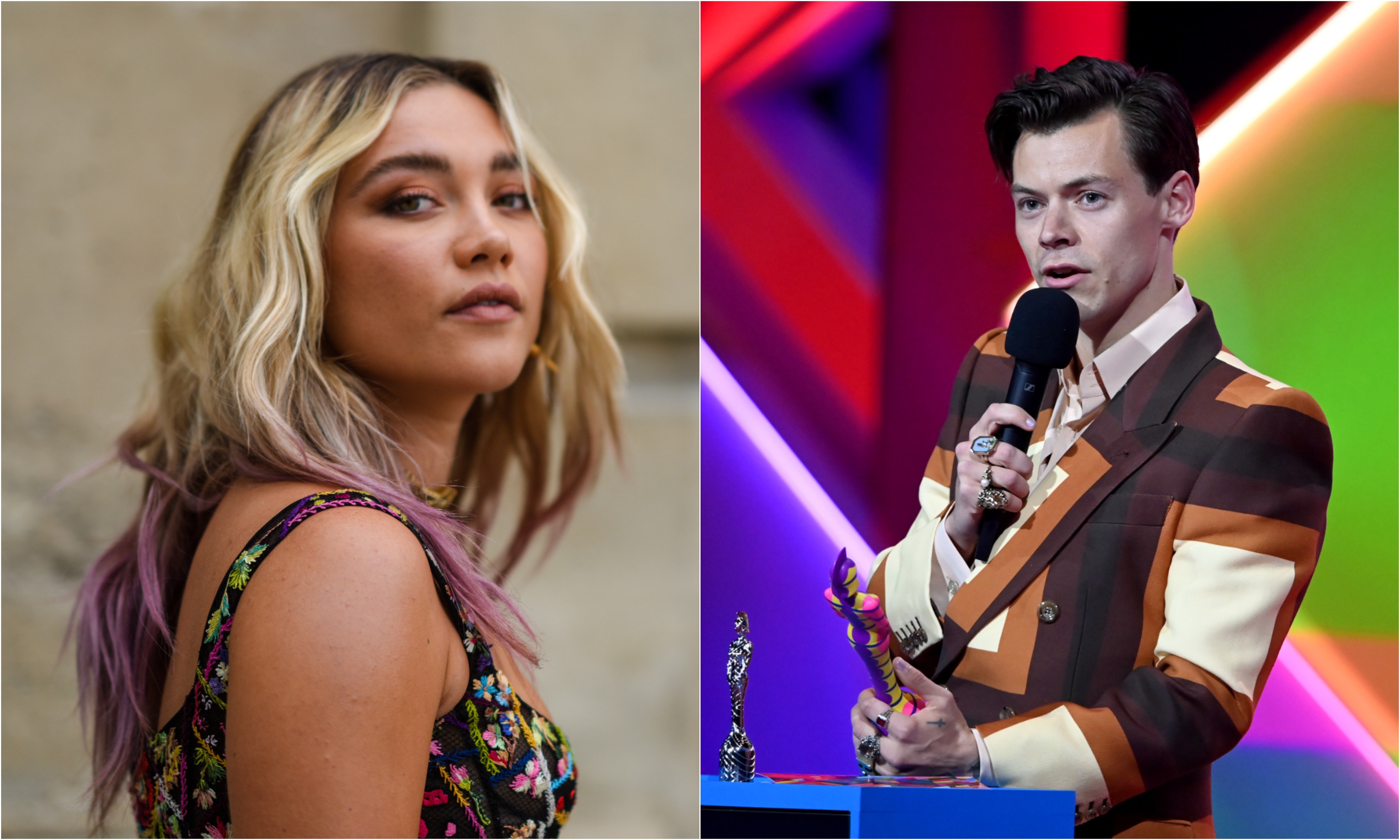 Florence Pugh and Harry Styles star in 'Don't Worry Darling'
So far, not much is known about Don't Worry Darling besides the fact it is a thriller centered around a married couple in the 1950s.
According to Deadline, "Don't Worry Darling centers around a 1950's housewife living with her husband in a utopian experimental community who begins to worry that his glamorous company may be hiding disturbing secrets."
Because the new teaser is only 11 seconds long, not much is given away about the upcoming film.
At the start of the trailer, Pugh's character sits on a pool chair while an unknown figure sets a drink down beside her. In the next scene, a hand traces along a model street. Styles and Pugh are then seen kissing. The final scenes of the trailer show Pugh struggling while in water and attempting to take plastic off of her head.
RELATED: Olivia Wilde Praises Harry Styles in Instagram Post: He 'Blew Us Away With His Talent'
Some fans think Florence Pugh and Harry Styles sing in the 'Don't Worry Darling' teaser
As the brief scenes flash across the screen during the Don't Worry Darling teaser, a woman's mysterious voice can be heard singing. At certain parts, it sounds like a man's voice is providing background vocals and humming.
"I've heard that it's an original song performed by Florence. Not sure though," one fan speculated on Reddit.
"It's definitely something Flo and Harry recorded for the movie. (If you put headphones in/turn volume up, you can hear him as well, especially on the word 'time' :)," another fan wrote on Reddit.
After the teaser was released online, Buzzfeed confirmed it is Pugh's voice singing in the teaser, writing, "Also, the teaser is set to Florence Pugh singing, just in case you weren't already on the floor like me."
Capital FM then confirmed that the voices in the trailer are indeed Styles and Pugh.
"But after we got over the kiss we realised it actually sounds like the two main stars providing the eery vocals over the top," Capital FM wrote. "Florence is singing while it sounds like Harry is the one – rather creepily – humming."
RELATED: Harry Styles' 'Watermelon Sugar' Is Actually Not About Watermelons or Fruit at All
Florence Pugh is also a talented singer
It comes as no surprise that Styles would lend his voice to the soundtrack for Don't Worry Darling. The singer got his start in the acclaimed band One Direction and recently won a Grammy Award for Best Pop Solo Performance for his song "Watermelon Suger."
While Styles' career kicked off thanks to his music, Pugh is more well known for her acting. Still, Pugh is a talented singer. In May 2021, Pugh was featured on her brother Toby Sebastian's song "Midnight."