Do Khloé Kardashian and Tristan Thompson Get Along?
Khloé Kardashian and Tristan Thompson's relationship is a work in progress after his cheating scandals.
By the looks of things as of writing, Khloé Kardashian and Tristan Thompson are officially donezo. The couple had been together for more than two years before calling it quits in 2019 after the NBA star got caught up in a series of cheating scandals.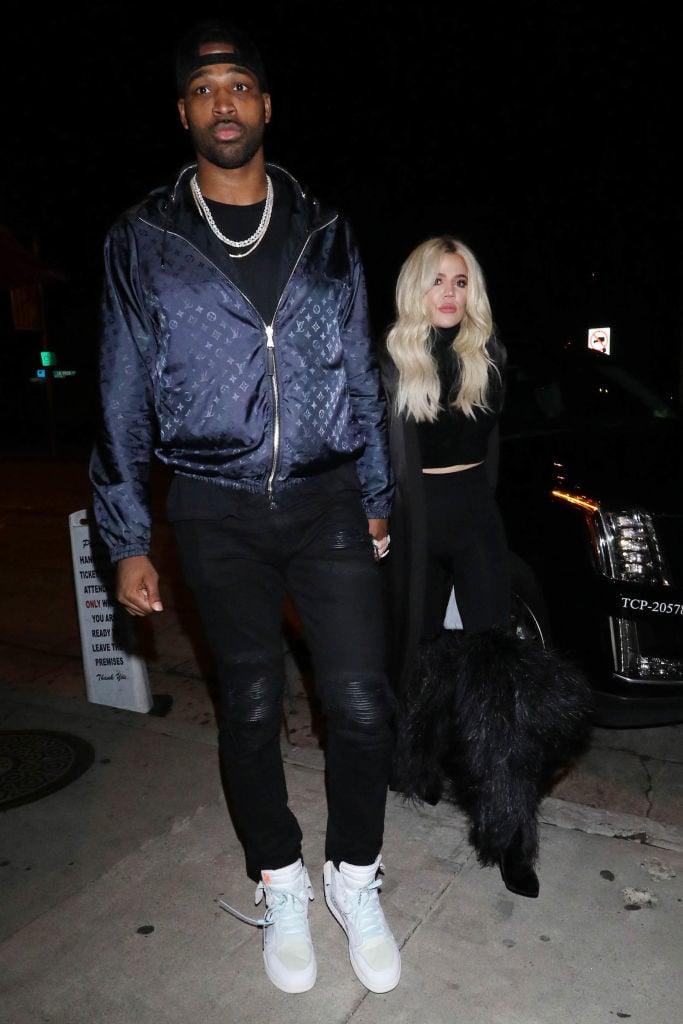 While the relationship has ended, the two are still in each other's lives because they have a child together. With that, you've probably found yourself wondering on one occasion or two whether the former lovers get along. If so, here's a bit on the state of their relationship.

There's been some tension between Khloé Kardashian and Tristan Thompson

The cheating scandals really did a number on these two. The pair bounced back after videos surfaced in April 2018 allegedly showing Thompson kissing and flirting with other women. But Thompson hooking up with Kylie Jenner's BFF Jordyn Woods in February 2019 was a hard pill to swallow.

Following Woods' tell-all interview on Red Table Talk, in which she claimed that nothing happened between her and Thompson outside of a kiss, Kardashian took to Twitter with a scathing message. "You ARE the reason my family broke up!" she tweeted to Woods.

She later backpedaled on the remark, though, placing the blame on Thompson. "Jordyn is not to be blamed for the breakup of my family. This was Tristan's fault," she tweeted.

Khloé Kardashian has had a hard time coping with Tristan Thompson's cheating scandal

Kardashian and Thompson reunited roughly two months after the scandal for their daughter True's first birthday party. A source told People that they took a few photos with the birthday girl, but "otherwise had very little interaction."

"Khloé seemed a bit nervous about having him there," the insider continued. But she apparently put those feelings aside so True could have the best day ever. "It's super important to Khloé that True spends as much time with Tristan as possible. Khloé wants True to have a great relationship with Tristan," the source added.

She's had 'moments' over Tristan
Kardashian herself opened up about her feelings in May 2019 on Laura Wasser's podcast Divorce Sucks!, saying that while she has her emotional moments, she tries to stay cordial with Thompson for the sake of their daughter.

"There's moments, because our personal emotions are still in there, and for me, you know, Tristan and I broke up not too long ago, so it's really raw," the reality star said. She added that she tries not to bring the negativity around their daughter, who she says "feels energy."
Khloé Kardashian is moving on

Kardashian couldn't have appeared more unbothered when more of Thompson's transgressions surfaced in June 2019. In court documents obtained by Radar Online that month, Jordan Craig, Thompson's ex and first baby mama, said the NBA baller had cheated on her with Kardashian and eventually left her for the reality star.

Kardashian later denied that Thompson had cheated on his ex with her, but apologized if he actually did. "I really don't know what to believe," she wrote on Instagram. She didn't really harbor on the matter after that, perhaps because she's simply over it.

The former couple is focused on co-parenting their daughter
A source told Us Weekly that Kardashian "has moved past all of her drama with him." The source continued, "They are still co-parenting and she doesn't have ill will towards Tristan. Khloé is so happy with True it's like nothing else matters."

So, it appears that Kardashian can keep the peace when it comes to their baby girl. But you probably don't want to hold your breath for a reconciliation. Just sayin'.