Do Kim And Kourtney Kardashian's Kids Get Along?
Kim Kardashian and her older sister, Kourtney Kardashian, have always had a close relationship. Now, as the two women get older, they're starting to watch their own children grow up together, too. Kim and Kourtney's kids are often featured on Keeping Up With the Kardashians — but do the two sisters' children get along?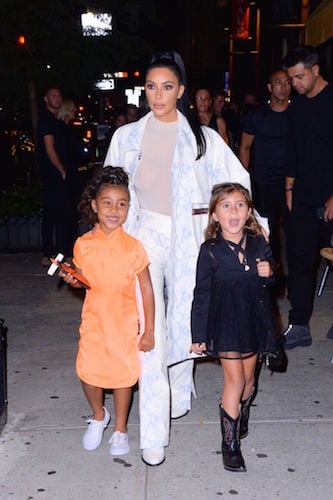 Kim and Kourtney have been close since they were young
Kim and Kourtney are the two oldest daughters of Kris and Robert Kardashian, and they've had a close relationship since they were young. The sisters are only about a year and a half apart, but their younger siblings are more than four years younger than the two of them. This meant that for the better part of their childhood, the two women spent most of their time with each other. Both of them frequently post throwback photos from their childhoods wearing matching outfits or just enjoying each other's company. And now, the new generation of Kardashians is in full swing.
Kim and Kourtney's kids are now growing up together in California
Both Kim and Kourtney live in the Los Angeles area in California, and this means their kids are always in close proximity. Kourtney has three children; Mason, who is nine; Penelope, who is seven; and her youngest son, Reign, who is four. Kourtney's kids are with ex-boyfriend Scott Disick. Kim has three kids, North, who is five; Saint, who is three, and Chicago, who is one. Kim's children are all with her husband, Kanye West. Altogether, Kris Jenner has nine grandchildren, but the others are too young to have much of a bond with their cousins. Only Mason, Penelope, North, and Saint are old enough to talk and play with their families.
The kids all appear to have a very strong bond on the show
The show highlights the lives of the Kardashians, but it also shows how close the family members are. And now that some of the kids are getting older, they've been able to develop strong bonds as well. The kids are often seen playing with each other on the show, and they appear to have very close relationships. Penelope and North are only about one year apart, and it's already clear that they've developed a strong bond. The family often takes trips together as a whole, and the kids seem to enjoy time spent away with their cousins.
Kim recently posted two photos of North and Penelope  
This week, Kim posted an adorable photo with Kourtney and their two daughters outside of their school. The girls were sitting on their mothers' laps in matching school uniforms, and fans — including many other celebrities — commented on the photo noting how adorable it was. Kim later posted a throwback of the two girls from a few years ago, showing that they've been close since they were born. Right now, Mason doesn't appear to have the same bond with the girls, but as his cousins get older (specifically, Saint and Mason's younger brother, Reign), the boys will probably end up being just as close as the girls.
Check out The Cheat Sheet on Facebook!