Do the Co-Hosts of The View' Actually Like Each Other?
How well do 'The View' co-hosts actually get along?
The View is one of those talk shows that everyone loves to talk about. And that's mostly because once these women start talking politics, things can get extremely heated. All of the women have worked together for some time now, but it's hard to tell if they actually get along in real life, since it doesn't always look that way on the show. Here's what the relationship between the women is actually like.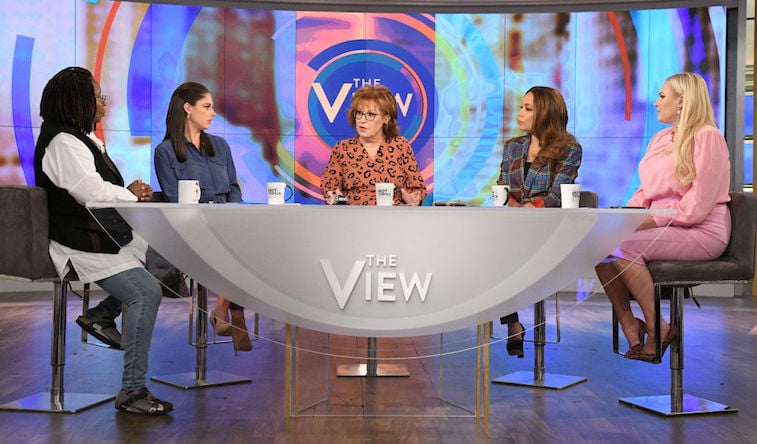 Cohosts of 'The View' come from very different beliefs and backgrounds
The View is a show that discusses trending topics and current events among several women on national television. The show is designed to pit various points of view up against one another. But as political tensions have risen throughout the country, the show has begun to focus a lot of its energy on politics — a topic that must be approached with caution to avoid getting out of hand. Cohosts of the show include Whoopi Goldberg, Joy Behar, Meghan McCain, Abby Hunstman, and Sonny Hostin.  
Tensions are always high when the women discuss politics
Although the show touches on various current events, the political discussions tend to get the most input. The View's cohosts have varying political views, and with the divisive political climate the country is in today, it makes sense that things could heat up on air. McCain and Hunstman both lean conservatively, while Goldberg, Behar, and Hostin all lean more liberally. Although the cast can discuss politics professionally most of the time, things sometimes get out of control, which makes us wonder how high tensions are outside of filming.
Joy Behar and Meghan McCain have gotten in some major arguments on the show
There are no two co-hosts who have had more arguments on the show than Behar and McCain. They're very opposite when it comes to political views, and things have gotten out of hand between the two of them more than once. Behar once made a comment about Christianity being a mental illness, targeting those in the White House and the conservatives supporting them, after which she realized her insensitive words and apologized both on television and to Vice President Mike Pence. And McCain has refused to back down in tearing apart the democratic political agenda on many occasions. (The same could be said for the democratic co-hosts.)
The women don't see eye to eye, and they frequently jump at each other's throats during political discussion. Hostin and Huntsman have argued back and forth in the past too, since their views differ greatly as well. Goldberg tries to remain the most calm of the co-hosts, but she tends to side with Huntsman and Behar.
There have been rumors of feuds between cast members — but sources say the cast members are very friendly behind the scenes
Although the women definitely have their issues on the small screen, they reportedly all get along well outside of filming. According to People, McCain and Behar are entirely professional off-screen. While their political views do tend to get the best of them mid-discussion, a source close to the co-hosts said the women are paid to discuss their political views, which explains the heated debates. Tensions might be present during filming, but backstage, everyone gets along well. "Two women can disagree and not be in a catfight," the source told the magazine. The co-hosts vary in age, political view, and just generally where they are in life, so they don't necessarily all hang out outside of filming, but they all keep up a very professional relationship with one another and get along well.
Check out The Cheat Sheet on Facebook!