Does Adrienne Bailon Want Kids? TV Host Reveals She's Trying for a Baby During the Coronavirus Quarantine
With her warm personality and interpersonal sensitivity, Adrienne Bailon seems like she'd be one of the best celebrity moms ever. But despite being in a longtime relationship with singer Israel Houghton, she does not have any children, which raises the question: Does Adrienne Bailon want kids? To answer, the former 3LW star definitely does — and she's apparently started to try for one amid the coronavirus quarantine.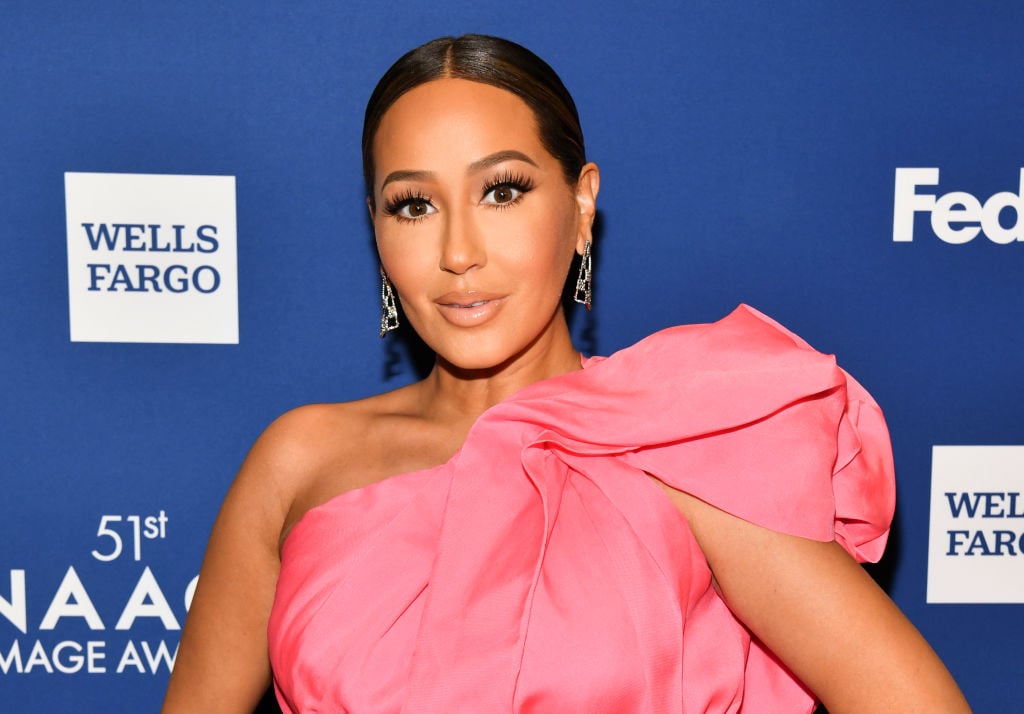 Adrienne Bailon's recent comments about having a baby
During an episode of The Real at Home that aired during the week of April 12, Bailon announced that she and Houghton are trying to have a baby while they're stuck at home amid the coronavirus outbreak.
"Ya'll, let me let you know, we are — pause — hard at work to make it happen," she told co-hosts Jeannie Mai, Amanda Seales, Loni Love, and Tamera Mowry-Housley. "That just sounded crazy coming out of my mouth. But yes, you guys, I'm taking this quarantine thing very seriously."
Adrienne Bailon has already started to prepare
Bailon noted that she has ordered both pregnancy and ovulation tests from Amazon in hopes for a baby, prompting cheers from her co-hosts. She also told Hola! USA in November 2019 that she dropped a bunch of weight and started getting into shape to start a family.
But with the virus continuing to spread and patients packing into hospitals, Seales questioned whether Bailon had any concerns about health care. The singer told her that she has already taken that into account and is currently thinking about having her baby at home.
"I've tried to read and educate myself to prepare for a home birth, a water birth in the tub, how I would possibly get a mid-wife — have them tested…," she continued.
While she admitted that she is kind of scared to give birth in such times, she went on to say that "if God allows me to get pregnant during this time, then it's in his will."
Adrienne Bailon has struggled to get pregnant
In a 2018 episode of the show, Bailon candidly spoke about their struggles to conceive.
"It isn't what I thought it would be," she said in response to a question from Love, who asked how her attempts to have a baby had been going. "I think so many people are very insensitive to that, in the sense [that] I know you guys are like, 'Is she pregnant?' 'Her face is fuller'— FYI I've always had a really chubby face so that's not what it is."
"I think that as an audience we should be sensitive to the fact that everybody doesn't get pregnant right away," the host continued. "I think for myself I thought it would happen so easily for me and it just hasn't happened that way."
"I've had to come to peace with that it'll happen when it's God's timing and I believe in that and I have faith in all of that," Bailon added. "But it can be really discouraging and it can be really frustrating."
Although she doesn't have any children of her own, she is stepmom to Houghton's four children, whom he shares with his ex-wife Meleasa Houghton.
In a 2016 interview with Latina magazine, Bailon admitted that she has an "awesome" relationship with the foursome.
"They are wonderful people and I just think they are phenomenal little human beings," she continued. "Some of them not so little so I get to hang out with them and try on clothes. They are so much fun and I think it's just a testament to how their parents raise them. They have phenomenal parents."
From the looks of things, it seems they would say she's just as amazing.
Read more: 'The Real': Fans Can't Get Over How Amanda Seales Looked While Listening to Jeannie Mai's Engagement Story