Does Ariana Grande Get Along With Her Former 'Victorious' Cast Mate Victoria Justice?
Everyone knows that before Ariana Grande reached ultimate success as a chart-topping singer, her career began on a hit Nickelodeon show, Victorious.
Since the show's ending in 2013, Grande has maintained close relationships with most of her cast mates, except for one.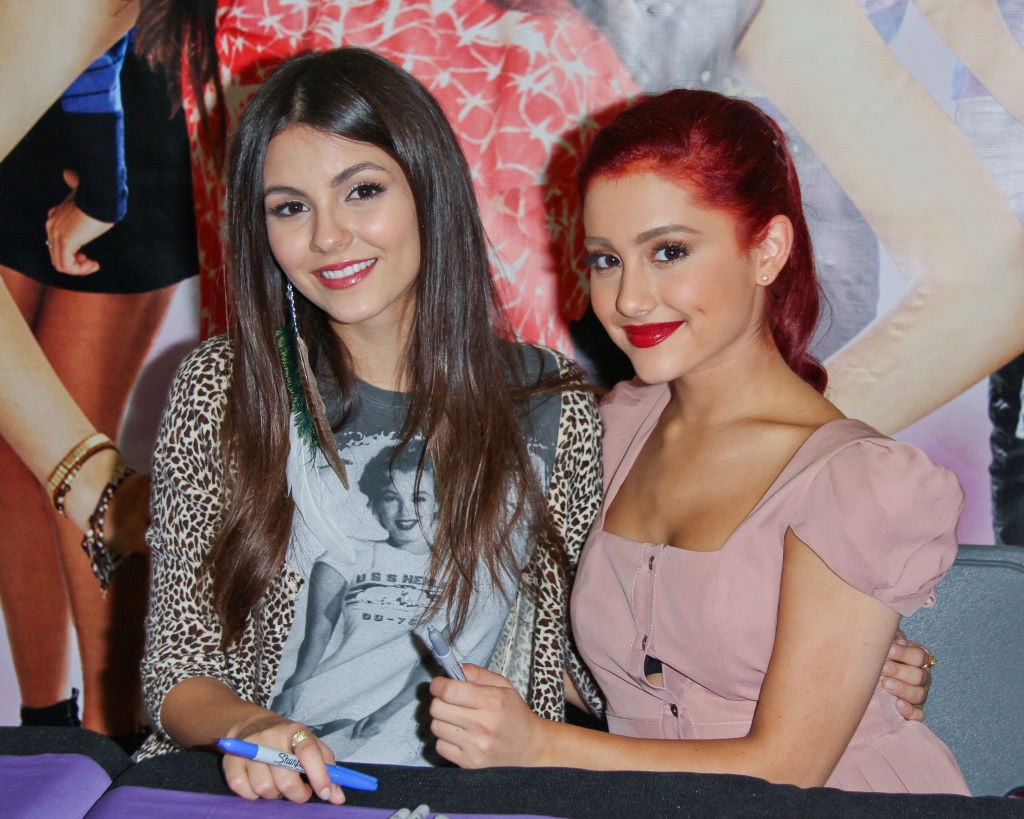 Victoria Justice and Ariana Grande have had a rocking relationship since starring on Victorious, and over the years, the friendship has essentially become non-existent.
Ariana and Victoria have been feuding since 2010
Though it hasn't been confirmed, many alleged that Ariana Grande and Victoria Justice have never gotten along, even while on the set of Victorious.
In 2010, the girls of Victorious, Liz Gillies, Ariana Grande, Victoria Justice, and Daniella Monet) did an interview with Popstar! and revealed that Grande likes to sing a lot while on set.
"She sings everything," Liz says in the video as Victoria looks very annoyed. "And it's a good thing because she has a beautiful voice, but it's awesome. She sings absolutely everything, she never stops."
Daniella Monet then chimes in and says that Liz also sings a lot, but she is soon interrupted by Victoria.
"I think we ALL sing," Justice said, rolling her eyes.
That alone made fans certain that Victoria Justice had some ill feelings toward her fellow cast mate Ariana Grande.
The moment wasn't a big deal at first but after it resurfaced in 2017, Victoria Justice spoke up against the feud rumors.
"I think we ALL have better things 2 do than dredging up 7 yr old non-existent drama," she wrote. "That said, I'm kind of excited to finally be a meme."
Once Victorious came to an end in 2013, Ariana Grande alleged put the blame on Victoria Justice for the show coming to an end.
On her ask.fm account, Ariana Grande wrote, "Sweetheart the only reason Victorious ended is because 1 girl didn't want to do it."
The singer continued, "She chose to do a solo tour instead of a cast tour. If we had done a cast tour Nickelodeon would have ordered another season of Victorious while Sam & Cat filmed simultaneously but she chose otherwise. I'm sick of this bs."
Fans can probably recall Victoria Justice going on a tour in the summer of 2013, which made them believe that she was the one Ari was referencing.
Ariana has maintained a relationship with everyone except Victoria
Anyone who follows Ariana Grande on social media knows that she is still really good friends with her Victorious cast mates Liz Gillies, Matt Bennett, and Daniella Monet.
The three actors have been spotted on many occasions hanging out with the hitmaker in her New York City Penthouse, going out to dinner, and just being silly together whenever Ariana Grande has some down time.
Gillies, Bennett, and Monet even appeared in Ariana's hit music video "Thank U, Next" that it doubled as a Victorious reunion.
Fans quickly pointed out that Victoria Justice was missing and assumed the actress was just not asked to participate.
Victoria made sure to leave before Ariana's Coachella set
Though the two celebrities have never full-out said they do not like each other, many fans felt as though Victoria Justice made it pretty clear this past weekend.
While Justice spent the weekend living it up at Coachella, the actress left the festival right before Ariana Grande's headlining set on April 14 and made sure everyone knew.
"Until next time Coachella. Sorry I have to leave early, but I'm sure we'll be seeing each other again soon," she wrote on Instagram.
Later that night, Victoria Justice took to her Snapchat to share her reason for leaving Coachella early.
"There were so many artists I wanted to see, and, of course, I wanted to see Ariana tonight, but I know she's going to have an amazing show and she's going to kill it."
It obviously wasn't any skin off of Ariana Grande's back since the singer literally dominated her performance.
Who can say if Ariana Grande and Victoria Justice really do not like each other or they just never had a chance to really click?
All in all, both woman are doing amazing things in their careers and are not worried in the slightest about establishing a relationship at this point.