Does Beyoncé Still Identify As Alter Ego Sasha Fierce
Beyoncé is one of the most powerful women in music today. Known to her fans as Queen Bey, she has received 70 Grammy nominations and 24 wins. With a successful career spanning three decades, Beyoncé has sold 118 million records worldwide, and six of her studio albums have debuted at number one.
Beyoncé's compelling lyrics convey a personal message to her millions of fans about hope, peace, justice, and understanding.
In 2008, the pop diva unleashed her alter ego, Sasha Fierce, to create an aggressive and provocative on-stage persona. Now, more than a decade later, the pop diva performs on her own terms, abandoning the self-bestowed image that she once hid behind.
Who is Beyoncé?
Beyoncé was the lead singer for the popular all-girl group, Destiny's Child, which formed in 1996. By the early 2000s, they had become one of the most successful female musical acts, selling more than 60 million records worldwide.
In 2003, Beyoncé launched a solo career with the release of her debut album, Dangerously in Love. It skyrocketed to number one, winning five Grammy Awards and selling over 11 million copies. Her first single from that album, "Crazy in Love" is considered to be one of the best-selling singles of all time. It was Beyoncé's first collaboration with her now-husband rap artist Jay-Z. The couple went on to marry in 2008 and now share three children.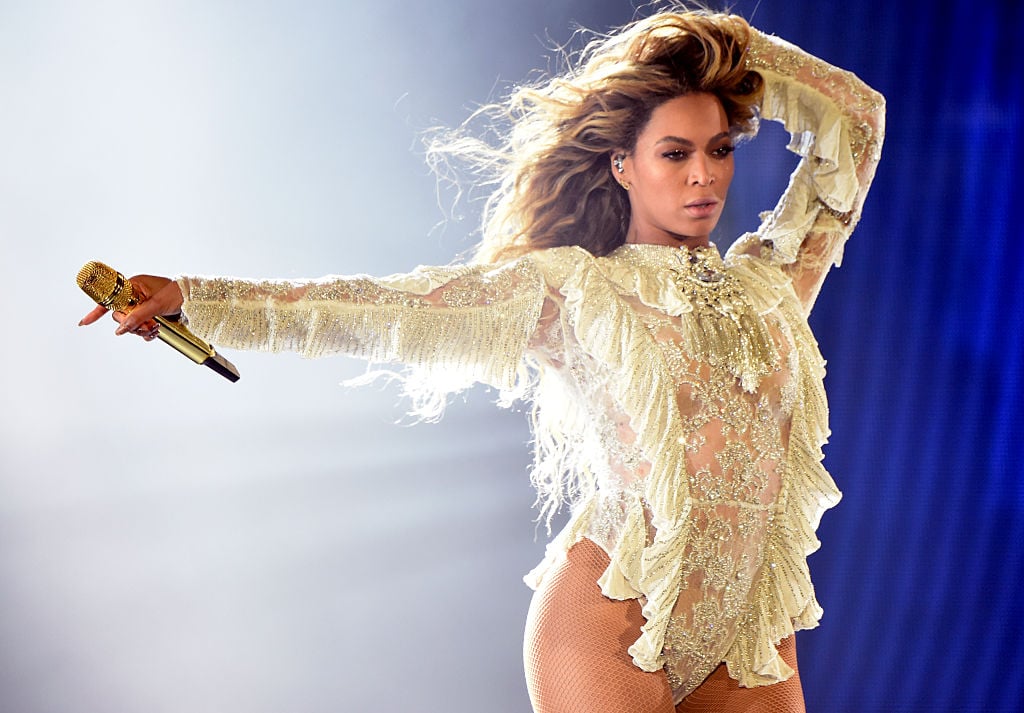 The inspirational artist was the first black woman to headline Coachella. The Grammy Award winner's halftime performance at the 2013 Super Bowl reunited her with Destiny's Child, becoming one of the most-tweeted-about moments in history, with 268,000 tweets per minute.
In 2016, Beyoncé released her most personal album to date, Lemonade. The visual album was an autobiography that told stories of her life through volatile images and lyrics. Amidst widespread critical acclaim, the provocative album debuted at number one, selling 485,000 copies in the first week. 
Most recently, Queen Bey voiced the character of Nala for the animated feature The Lion King. She has also set herself up for another Grammy win with a collaboration with Megan Thee Stallion: the number one hit "Savage."
What is Sasha Fierce?
The unstoppable icon released the number one album "I Am… Sasha Fierce" in 2008. This became the catalyst for Beyoncé to create an alter ego that would allow her to experiment with her sexuality on stage while keeping her wholesome ladylike image intact.
Beyoncé released a statement explaining that Sasha Fierce "is the fun, more sensual, more aggressive, more outspoken side." The pop diva explained, "I have someone else that takes over when it's time for me to work and when I'm on stage, this alter ego that I've created kind of protects me and who I really am."
The flawless performer once told Rolling Stone, "When I perform, this confidence and this sexiness and this whatever it is that I'm completely not just happens."
Beyoncé's choreographer said that when Beyoncé lets her Sasha Fierce out: "She's fearless. Something powerful takes her over, and in that time on stage she's gone."
Why Beyoncé retired her alter ego
With an estimated net worth of $500 million, it's become abundantly clear that Beyoncé no longer needs to lean on her Sasha Fierce persona.
In 2010, the R&B sensation released her self-titled album, Beyoncé. She enthusiastically shed her alter ego, embracing her own black feminist sexuality. The number one album allowed the queen of pop to stop hiding behind a fake persona, letting the world see the real her. Explicit images filled her music videos and Beyoncé's lyrics addressed her newfound exploration of gender and power.
Killing off Sasha Fierce was Beyoncé's boldest move and proved to be one of her best decisions. By being true to herself, she crushed the stereotypes of black women and turned male desire into a celebration of womanhood.
Beyoncé continues to express her feminist views in her music and fights for the equality of all. No longer owned by the need to be the good girl, the award-winning artist tells her stories by fighting stereotypes. Beyoncé told The Washington Post that she's a grown woman and can do whatever she pleases. Billboard claims that her soul-infused pop music has "an increasing focus on what it means to be black and female in America."