Does Billie Eilish Have Tattoos?
Celebrity tattoos aren't uncommon but does Billie Eilish have any?
She's been dominating the music industry ever since she uploaded her song "Ocean Eyes" to Soundcloud in 2015. Not long after the track became her first single, and in the years since the teenage singer-songwriter has won five Grammy awards.
Eilish isn't only famous for her musical talents she's also recognized for her signature style that includes wearing oversized clothes and lots of jewelry. Another accessory to her look? Tattoos. While she's been seen sporting tattoos, fans have wondered whether or not the ink is actually permanent. Ahead, we investigate whether or not the "Bad Guy" singer has tattoos.
Billie Eilish has been spotted with temporary tattoos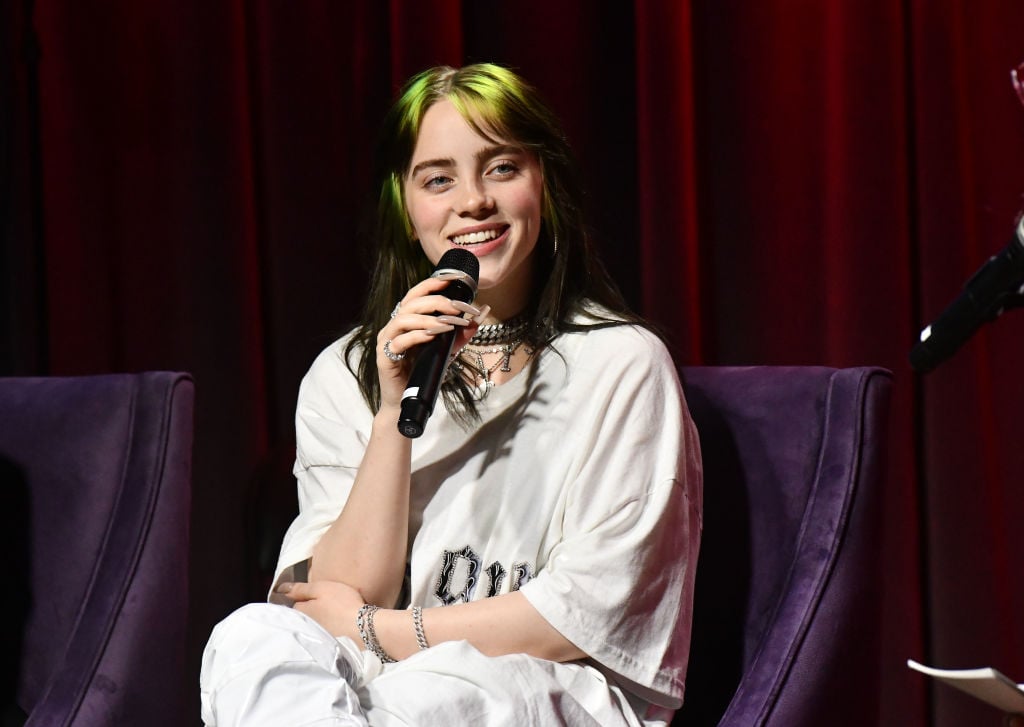 RELATED: Billie Eilish Just Increased Her Net Worth by $25 Million Thanks to This
While Eilish is no stranger to Instagram controversy, she's also used the platform to provide glimpses of life which may or may not include tattoos. According to Seventeen, Eilish has shown off what appears to be temporary tattoos on her Instagram Stories. The word "Bad" appeared on her neck in one post but in other photos and videos of the star, the neck tattoo had been nowhere to be seen suggesting it had been only temporary.
On another occasion, Eilish shared a close up of the side of her neck featuring a spider tattoo. But as the publication pointed out, her neck looked bare and free of tattoos at red carpet events and in other social media photos. Eilish may have disguised the tattoos with makeup but given her age at the time — she'd been all of 16 — she'd likely been sporting temporary tattoos.
Fans once thought she may have gotten permanent ink
Jonboy, a New York City-based tattoo artist to the stars tagged Eilish in a May 2019 Instagram post suggesting the singer-songwriter had gotten her first permanent tattoo. Jonboy shared a picture of what many thought to be Eilish's foot with the artist's signature inked on the arch of her foot.
RELATED: The 1 Heartwarming Reason Why Billie Eilish Didn't Want to Win Her 4th Grammy Award
Some reports claimed the "Everything I Wanted" singer had gotten her first tattoo but others weren't so sure. Upon closer inspection, it seemed as if it wasn't Eilish after all. On Billie Forum, fans remarked that the tattoo artist had simply been "suggesting" the tattoo to Eilish because they captioned the post, "@billieeilish get a Jonboytattoo."
'Tattoos are on the way' for Billie Eilish
The post from Johnnyboy came only a few weeks after Eilish made a comment about wanting to get permanent ink. In a Noisey interview published on May 6, 2019, the singer-songwriter answered questions about her life. Among them whether or not she planned on someday getting tattoos.
RELATED: How an Inside Joke Between Billie Eilish and Her Brother Made It Into a Song
At the time Eilish had been a minor at 17 years old and only able to get a permanent tattoo with the permission of a parent. She explained upon turning 18 and legally becoming an adult, she'd get some ink.
"I am turning 18 this year and the tattoos are on the way," she said. "I don't have any yet as I am too young but I would love tattoos and I do have a lot of ideas for them."
Eilish turned 18 on Dec. 18, 2019. Since then she hasn't confirmed the existence of any permanent tattoos but based on her comments one (or more) could be on the way soon.
RELATED: What is Billie Eilish's Net Worth?