Does Carmen Electra Regret Marrying Dennis Rodman?
ESPN's 10-part documentary The Last Dance may mostly focus on the exploits of Michael Jordan, but Dennis Rodman got plenty of shine during a recent episode. The eccentric NBA big man-made headlines in 1998 thanks to a sudden marriage to supermodel and Baywatch beauty Carmen Electra. Although the marriage did not last long, Electra had some kind words for her former husband. 
Who is Dennis Rodman??
Rodman is one of the most unique players in NBA history. While his wild hair, crazy exploits, and overall strangeness helped feed this notion, it doesn't just exist off the court.
On the court, where most make their names scoring baskets, Rodman was an elite rebounder and defender who did not need to score. At his peak, Rodman grabbed nearly 19 rebounds a game.
He was often viewed as a distraction, but he was also a two-time All-Star, seven-time rebound leader, two-time defensive player of the year, and a five-time NBA Champion with the Detroit Pistons and the Chicago Bulls. While many players fit the mod set by generations before them, Rodman personified somebody who was truly unique.
Wearing wedding dresses at publicity events, starring in films with Jean-Claude Van Damme, and a love for partying that was no secret in the NBA, Rodman's exploits are legendary. He's remained in the spotlight after his career, with a high-profile friendship to North Korean dictator Kim Jong Un being his most recent publicity stunt gone awry. None of this, however, may be as legendary as his marriage to Electra.
Who is Carmen Electra?
Electra got her start as a dancer at Kings Island in Ohio, but in 1991 she moved to California to become a singer. Although several attempts at this musical career never went anywhere, Electra still found fame in other ways.
After several years working as a model, Electra gained attention after posing for Playboy. Eventually, this led to acting work, including a stint on the popular syndicated show Baywatch. Electra became a household name. She became a fixture on television and in movies, as well as a popular target of the tabloid press.
One specific area where she gained the most attention was in her love life, and although she has had several memorable relationships, none are as memorable as her relationship to Rodman.
A wedding in Vegas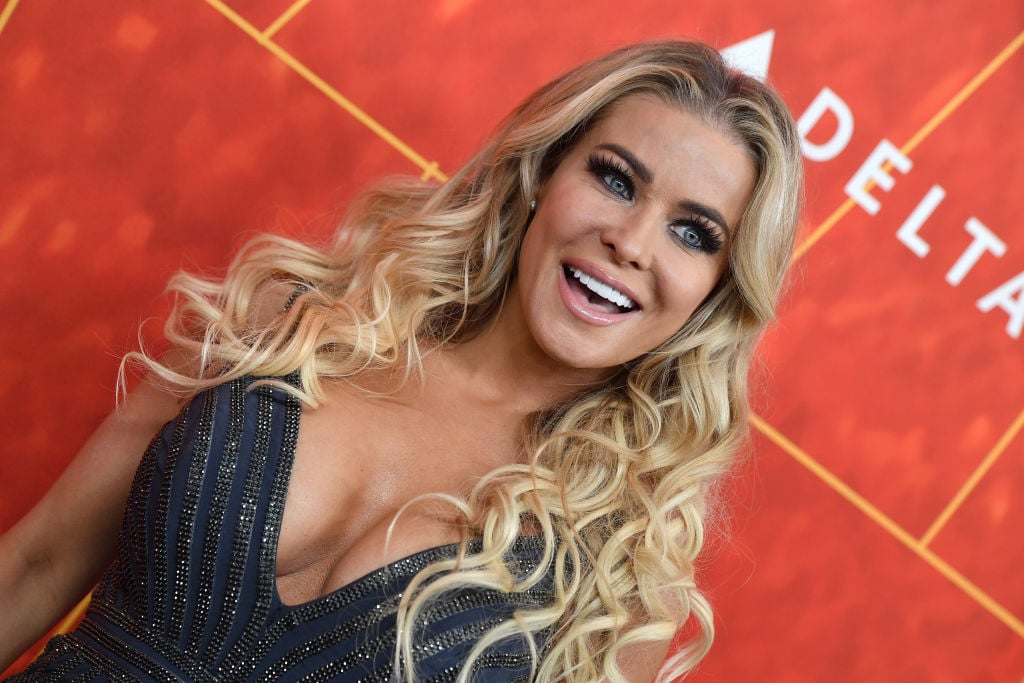 Near the beginning of the 1997-98 NBA season, Rodman asked for some time off to refuel from the NBA season. After going missing for several days, the news came out that Rodman had married Electra and the pair had been seen wandering around Las Vegas and partying. Eventually, Rodman was found by Jordan a few other teammates.
The newlyweds were inseparable, with Electra claiming that they even got intimate in the Chicago Bulls practice facility. Alas, the marriage was short-lived.
By December, however, the pair were seen apart and rumors of divorce began. The pair called it quits in March 1998, but it doesn't mean that their relationship was ugly.
Is Carmen Electra bitter?
Rodman has been candid with his demons. From partying to anger issues, he has four himself in just as many negative headlines as he has ones about his basketball prowess. This was part of the undoing of the pair's relationship, although Electra says she does not regret their time together.
"I have no regrets at all," she told The Los Angeles Times. "I saw all these different sides of Dennis. He would always say, 'No one understands me. No one gets me.' He was very emotional at times. Then there was the sweet romantic side and the fun, eccentric guy who loved to go out and drink and wear feathered boas."
Rodman and Electra had their moments of joy, but the hard lifestyle on top of being in the middle of the NBA season proved to be too much. The pair might have been the butt of many jokes, but they were also in love. Despite that love eventually ending, however, it proved to be a valuable lesson to them both.