Does Duff Goldman Really Get the Tattoos 'Kids' Baking Championship' Winners Pick?
Duff Goldman, who looks more like a biker than a baker, has become a cooking show phenomenon on the Food Network. The bald and burly pastry chef gained notoriety on the show Ace of Cakes.
In 2014, the fun-loving cake maker joined the Kids Baking Championship television series. His combined passion for making cakes and working with children helped create a hit show with a cult-like following.
Goldman's enthusiastic personality allowed him to establish a great rapport with the program contestants. Whenever he loses a challenge, the kids encourage him to get a new tattoo. Fans of the baking competition often wonder if the ink is permanent. We are here to set the record straight.
Duff Goldman: The baker from Baltimore
Charm City Cakes is where it all started for Goldman. He instantly became a success after starring on Ace of Cakes, where millions of viewers tuned in to learn new techniques and listen to his brilliant recipe ideas. Known for pushing baking boundaries, the jovial chef uses cooking utensils that are more akin to what is found in a repair shop.
The successful Food Network television personality studied at the Culinary Institute of America after graduating with a degree in History and Philosophy from Maryland University in Baltimore.
In 2017, Goldman opened another Charm City bakery location and the following year debuted cake mix studios where customers can come in and decorate their own cakes.
According to Celebrity Net Worth, the 46-year-old baker has an estimated net worth of $5 million and recently welcomed his first child, a daughter, with his wife, Johnna.
'Kids Baking Championship'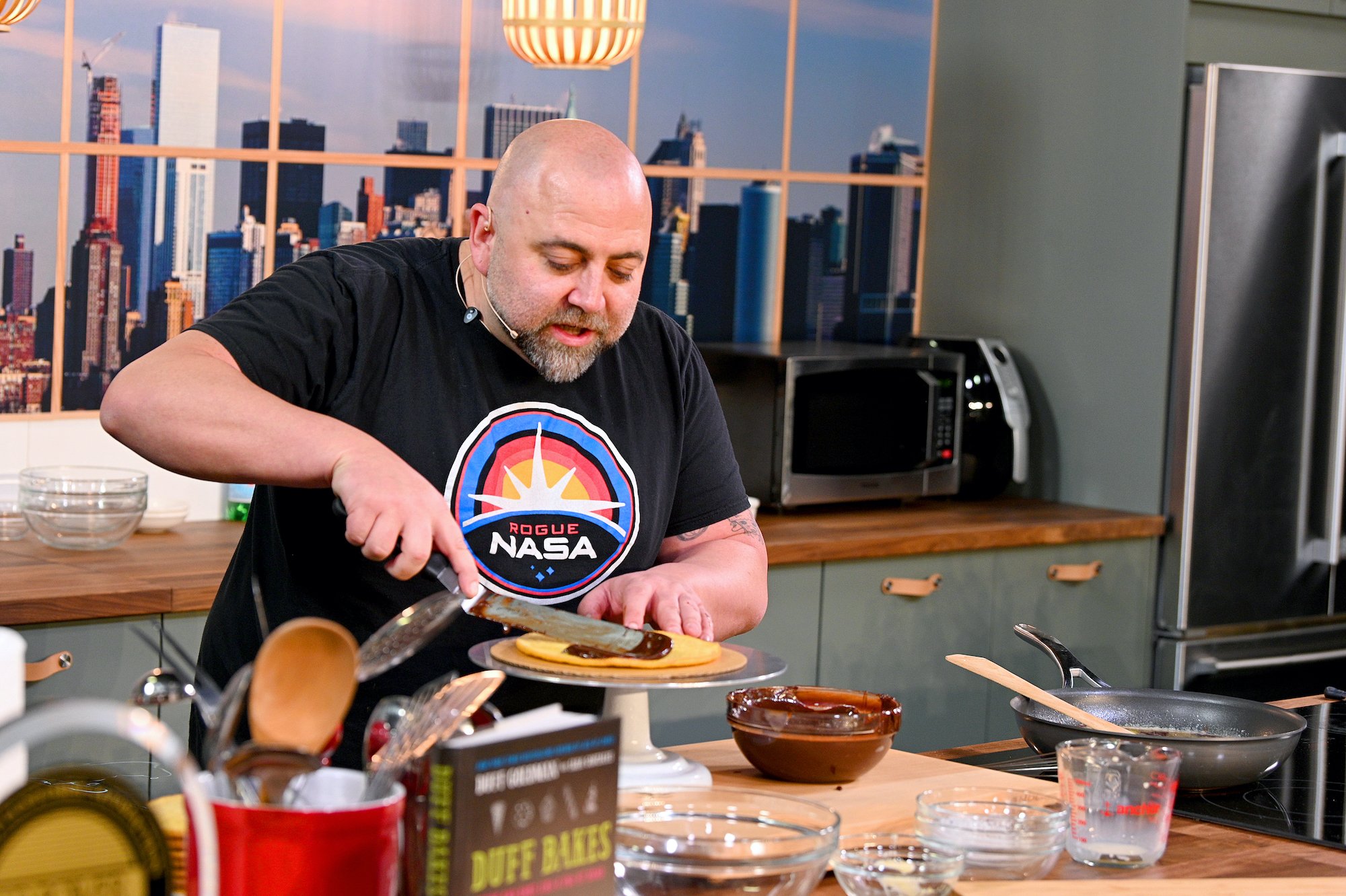 Goldman is best known for his role on Kids Baking Championship that he co-hosts with Valerie Bertinelli. The success of the popular television series has inspired a new generation of bakers.
His mass appeal to the 10-year-old crowd is evident in his heavy social media presence. Goldman's Instagram account, filled with photos of incredible cakes, is where he stays in touch with fans keeping them informed and inspired.
Part of Goldman's appeal is his childlike enthusiasm that shines through on the show with every challenge that is put before him. He recently told The Daily Beast, "kids think about food in ways that excite them, so do chefs." Goldman has a knack for making cooking fun, saying that baking "is never not cool. It's never not interesting."
He explains: "Still to this day, when I put a cookie in the oven and if it puffs up like it's supposed to, I'm like 'f*** yeah.""
Tattoos inspired by children
The Food Network star is known for his tattoos that seem to match his bigger than life personality. On his left bicep, Goldman sports a large whisk. He has said that it helps him with people who have a hard time believing that he is a cake decorator.
According to Famous Chefs, Goldman's first tattoo was inspired by stories his mother used to read him about The Little Prince. The beloved chef also has a tattoo transcribed in Hebrew that reads Avashalom, which means "Bringer of Peace." Fans on Twitter were quick to respond, "the Duff Goldman cakes do bring peace."
When kids on the popular baking show encouraged him to get a tattoo, he didn't back down. After losing the challenge, he got a waffle tattoo under his right elbow. For those non-believers, the ink is real, and the waffle is there to stay.
Goldman doesn't have much luck when it comes to betting. During the Sochi Winter Olympics, he ended up with a maple leaf tattoo after losing a bet to a friend about the United States vs. Canada ice hockey game.
He recently was challenged once again by the participants on Kids Baking Championship. They asked him to get a tattoo of a unicorn. True to his word, he got the ink done and now proudly wears a chubby little unicorn right about his waffle.
The kids loved that he accepted the challenge and now want him to get a taco tattoo. Fans are eagerly waiting to see if Tuesday's favorite food makes it to Goldman's arm.