Does Katie Holmes Still Talk To Her 'Dawson's Creek' Cast Mates?
From 1998 to 2003, actor Katie Holmes starred on the WB's hit teen drama series Dawson's Creek alongside fellow Hollywood newcomers James Van Der Beek, Joshua Jackson, and Michelle Williams. While working on the show together, Holmes grew to be great pals with her castmates and maintained a close friendship with them throughout the show's six-season run.
However, after Dawson's Creek ended, the actors went the separate ways to focus on their own lives and careers, ultimately losing contact with each other. So we wonder: Are the stars of Dawson's Creek still out of touch with each other, or have they reconnected in recent years? Here's everything we know.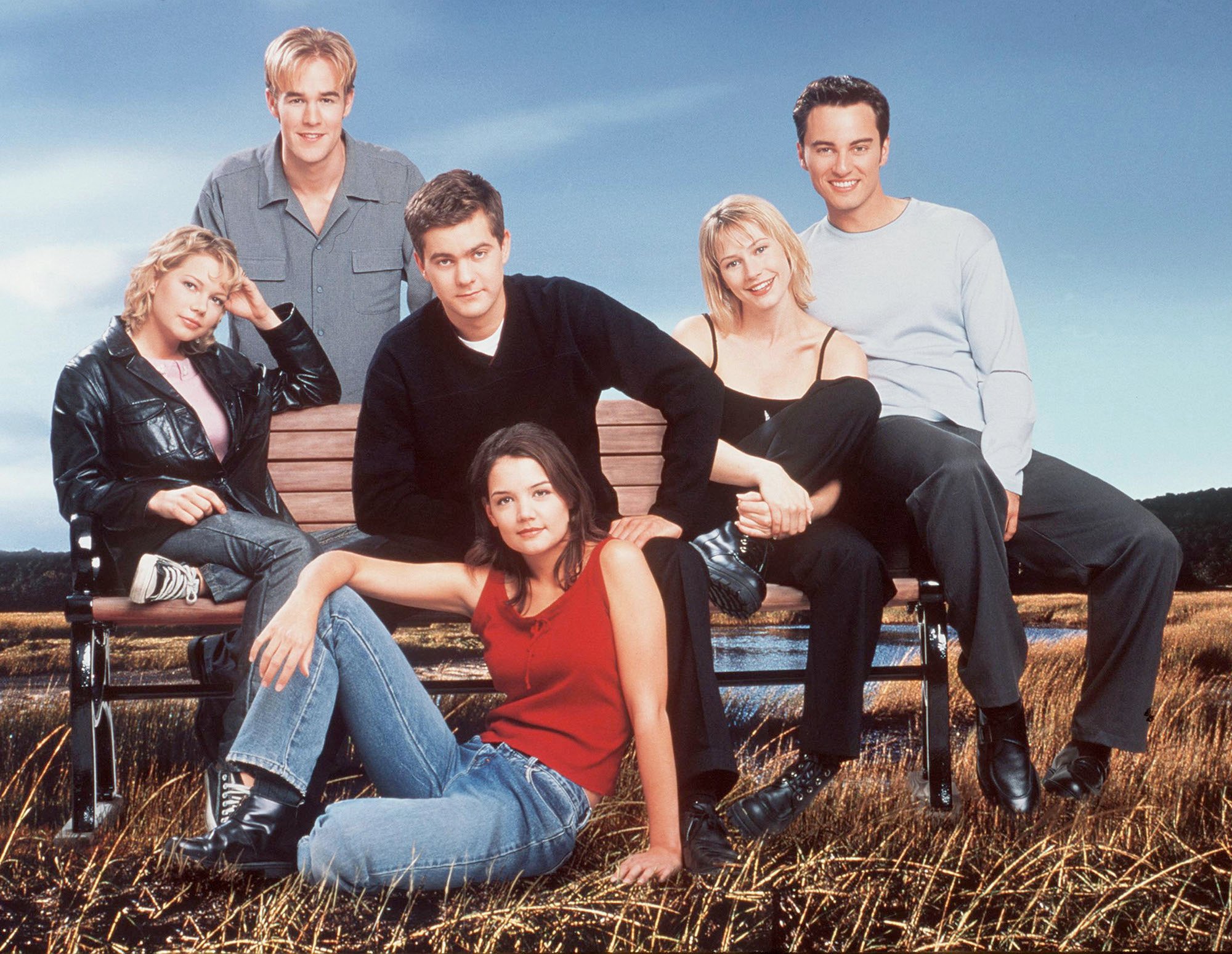 The 'Dawson's Creek' cast members were close friends off-screen
Holmes' rise to superstardom came in 1998 when she was introduced as the female lead in the teen drama series Dawson's Creek.
The series followed a group of teenagers living in the fictional town of Capeside, Massachusetts. Holmes played Joey Potter, a hard-working student who is in love with her best friend, Dawson. Throughout the series, she graduates high school, attends college, and goes back and forth between Dawson and their fellow best friend, Pacey Witter.
Though the show focused a lot on Joey, Dawson, and Pacey's love triangle, it also followed the complicated relationship Joey had with Dawson's on-again, off-again girlfriend, Jen, played by Michelle Williams.
But despite the ongoing drama that was showcased in the series, the cast's behind-the-scenes relationship was nothing like that of their characters.
While starring on the show, Holmes told Rolling Stone that working with her fellow castmates was "so much fun," saying, "We hung out all the time, and we just had a blast. We were new to television and had no idea what we were in for."
The profile, published in 1998 ahead of Season 2, described the "deep bond" Holmes, Williams, Van Der Beek, and Jackson forged that year.
"We'd all go out to dinner just about every night," Jackson told the publication, "And then whenever a new kid would come in town, we'd feast on the new blood, take them out to dinner."
Katie Holmes and Joshua Jackson lost touch after the show ended
After Dawson's Creek ended in 2003, the show's cast went their separate ways to focus on their own lives and careers.
But despite moving on from the show that made her a household name, Holmes stayed in touch with her former co-stars years after the beloved show ended.
"You know, we all still keep in touch and support each other," the Batman Begins actor revealed at an event in 2014, per Us Weekly. "And luckily, we all have been able to stay busy. We had a really wonderful time. It was six years of our lives, and we were all really passionate about making it the best it could be. We really believed in ourselves."
Though she remained in contact with most of her fellow Dawson's Creek stars, there's one person Holmes lost contact with after the show ended.
According to E! News, Holmes and Jackson fell out of touch in 2003. However, the former co-star and lovers (the pair dated from 1998-1999) reconnected in 2012 following Holmes' divorce from actor Tom Cruise.
Jackson revealed the details during an appearance on the Canadian talk show George Stroumboulopoulos Tonight, sharing that Holmes was the one who reached out to him.
"Yeah, actually, like any old friend, it was like, 'Oh, hi how are ya? What's going on?' 'I had a kid,'" he said. "It was very nice, actually."
Today, the show's cast stay in contact with each other in a completely modern way
Though the cast stayed in touch years after Dawson's Creek ended, they recently came together for the show's 20th anniversary in 2018.
After their feature photoshoot in Entertainment Weekly, actor Meredith Monroe, who played Andie McPhee on the show, gushed about reuniting with her former co-stars.
She also shared that thanks to the reunion, the cast decided to start a group text so that they can stay in constant communication.
"James, Josh, Katie… we're all in a group text," Monroe told Entertainment Tonight. "We reconnected and now we have a group text going again, so that's been nice."
Monroe continued, "It was like we didn't even skip a beat and a day hadn't even gone by. It was a blessing. Throughout the years we would go in and out of touch [depending on] whatever was going on with people's lives, but we definitely did reconnect with the reunion, so it's been great."