Does Kendall Jenner Favor Kylie Over the Rest of Her Sisters?
The KarJen family tree is complicated. Even from the outside, the family has an interesting dynamic. First, even though they're often mentioned all together, Kylie and Kendall Jenner are actually half sisters to Kourtney, Kim, Khloe, and Rob Kardashian. Their momager, Kris Jenner, married Bruce Jenner (now Caitlyn) after divorcing her husband Robert Kardashian Sr.
Blended families are a great thing. Many blended families get along great. However, fans don't think that's the case for the KarJens. Some people have noticed that Kendall and Kylie treat each other differently than their other siblings.
Fans think Kendall Jenner looks down on the Kardashians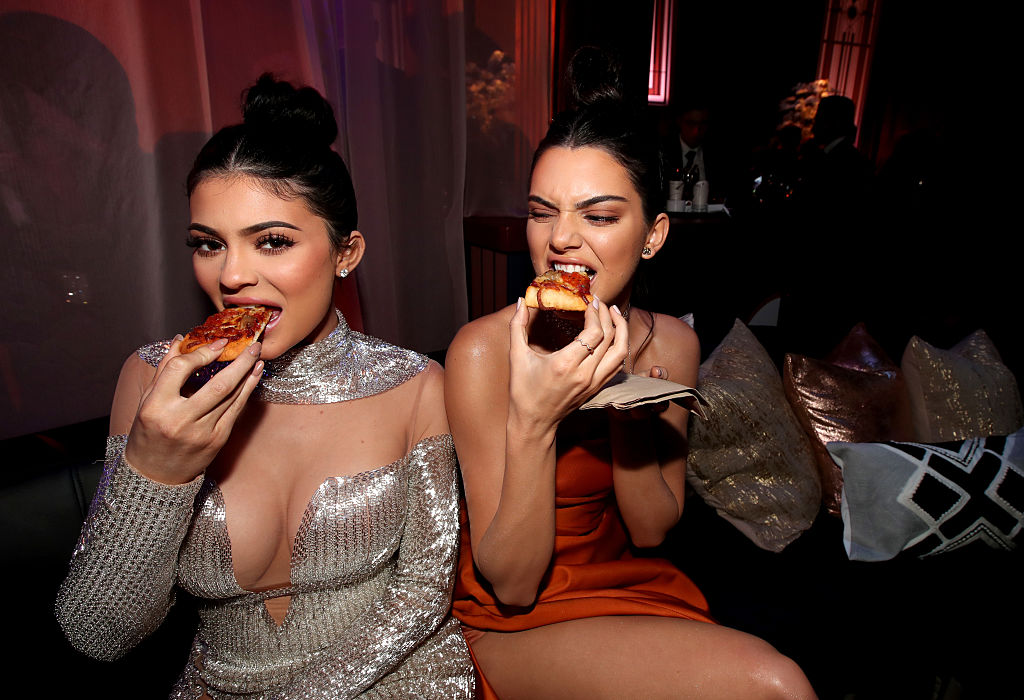 In a recent reddit thread, fans had a lot of feelings about Kendall. They ranted about how she acts entitled, and about how even though she's a model, she doesn't really live like one. She seems to coast on her fame, and refuses to walk the runway, which is basically what being a model is all about.
She also has said some things that make fans think she looks down on her Kardashian step siblings. Recently, Kendall announced a collaboration with Kylie's company on Ellen. All of the Kardashian girls have done projects with Kylie Cosmetics, but Kendall thinks that hers is more important. "It's cool. I feel like we're really going big because I'm her full-blood. We're taking it seriously."
Yes, Kendall really said that she was going to have a better makeup collab with Kylie because they are full blooded sisters. It's a weird thing to say. Aside from being insulting to her half siblings, non-related people collaborate on makeup lines all the time, and they don't turn out worse because there's no blood shared. Business is business, and while business ventures with family can be fun, in the end blood doesn't have much to do with it.
Even though Kendall said what she said, there have also been hints she doesn't prefer Kylie. 
Kendall Jenner doesn't think Kylie is a great mom
Although Kendall may feel closest to Kylie, she doesn't think she's a great mom, at least not compared to her other siblings. When Kendall appeared on The Late Late Show with James Corden, she was forced to rank her siblings in order from best to worst parent, or drink a glass of 1,000 year old eggnog.
Kendall chose to anger her siblings over the inevitable food poisoning she would have gotten from the drink. Out of five, Kendall ranked Kylie fourth best parent. That's kind of harsh. Kylie didn't seem to mind, but if Kendall really preferred Kylie over her other siblings, she may have ranked her higher.
Kendall and Kylie Jenner have other half siblings
There are some out there who think that Kendall treats Kylie better because she's a Jenner.
Honestly, it doesn't seem likely that Kendall prefers the Jenners either. She has other half siblings from her father's previous two marriages. Caitlyn also came into her marriage with Kris with four children. She has two children from her first marriage. Both of them are out of the public eye.
Then, Caitlyn married again and had Brody and Brandon Jenner. Brody is well known for his own reality TV escapades. Brandon is in the music industry, although he has yet to make it big.
Brody has been vocal about the fact that he never felt welcome by the Kardashian-Jenner clan. He did have a relationship with his step and half siblings at one point, but it seems things have soured. He blames Kris for getting in the way. Brody says that thanks to her, his relationship with Kendall and Kylie has never been great.
So if Kendall does prefer Kylie over her other siblings, it's probably because they're full blooded sisters, not because Kylie is also a Jenner.