Does Michael Jordan Have Children?
Find out how many children, if any, NBA superstar Michael Jordan has.
Michael Jordan is a legendary name in the NBA. Throughout his 20 years in the league, Jordan earned himself countless awards and titles, leading him to be recognized as one of the best basketball players in NBA history.
While many fans are familiar with Jordan's career on the court, not a lot of people know much about his personal life. As such, fans might no doubt have questions about whether Jordan is married or not. Additionally, does he have children? Here's what we know about the former NBA star.
Michael Jordan married his first wife in 1989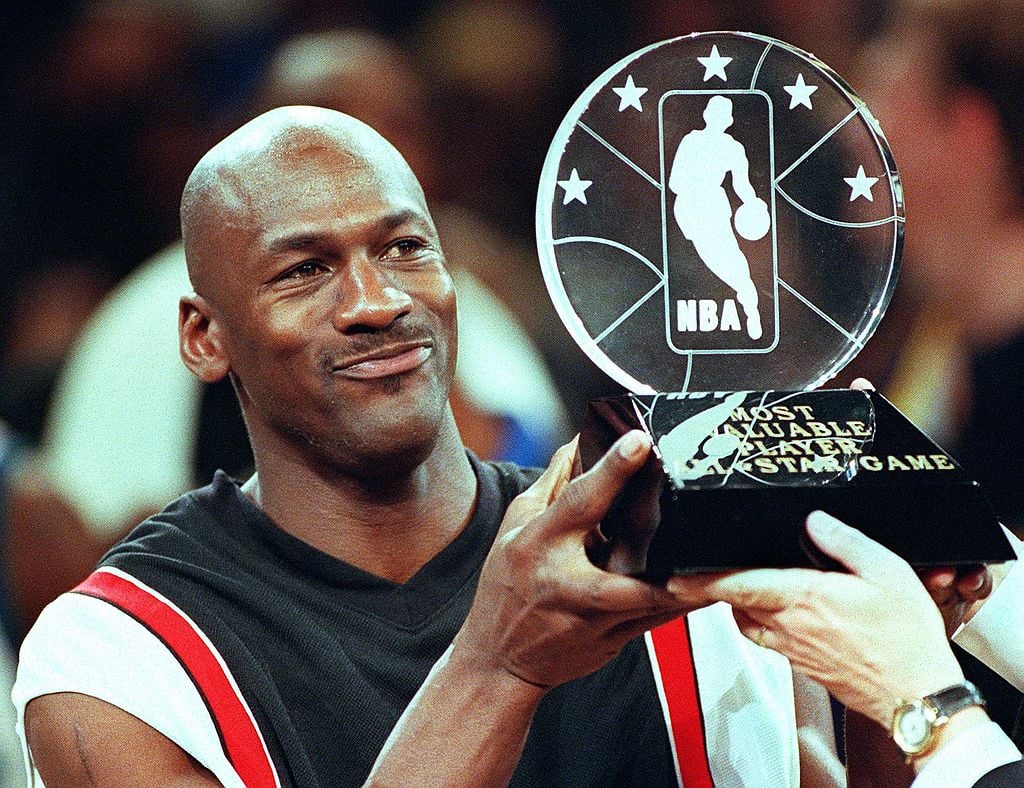 When Jordan was in his 20s, he got married for the first time. He tied the knot with then-girlfriend Juanita Vanoy in 1989 at a chapel in Las Vegas.
The couple first met at a restaurant near Chicago, where Jordan was playing back then. Jordan said in his 1992 biography that he was initially attracted to Vanoy because of the fact that he approached her instead of the other way around.
However, the couple's marriage did not last. They announced their divorce in 2002.
Jordan and Vanoy eventually got back together for a bit, but they parted ways for good in 2006. Vanoy cited "irreconcilable differences" as the reason in her divorce papers.
Vanoy later received a divorce settlement of $168 million, which is the largest amount on public record at the time.
Michael Jordan married his second wife in 2013
In 2008, Jordan met model Yvette Prieto at a nightclub, and the pair began dating soon after.
Prieto actually was already in the public eye before she and Jordan got together. Prieto used to date singer Julio Iglesias. The two exes seem to be on good terms as well, with Iglesias once describing her as a "fantastic girl" and a "loving, simple and very good person."
Jordan and Prieto moved in together in 2009. He proposed to her two years later.
Jordan and Prieto wed in 2013 at Bethesda-by-the-Sea Episcopal Church in Palm Beach, Florida. Then, they held their reception at Bear's Club in Jupiter, Florida, filled with "amazing floral arrangements with tulips, roses, peonies, crystal candelabras, [and] private cigar rooms," according to JeffRealty.com.
Their wedding reportedly cost $10 million and was attended by famous faces like Tiger Woods, Scotty Pippen, and Spike Lee.
Jordan is the owner of the Charlotte Hornets, so he and Prieto currently live 30 minutes away in Cornelius, North Carolina.
Michael Jordan has five children in total
Jordan has five children total from both of his marriages.
Jordan and Vanoy have three children together: Jeffrey (b. 1988), Marcus (b. 1990), and Jasmine (b. 1992).
He also has kids with his current wife, Yvette. The couple welcomed twin daughters in 2014 named Victoria and Ysabel.
Both Jeffrey and Marcus played college basketball, though neither of them went on to play in the NBA like their father. However, Marcus is now a business owner. In 2016, he opened a shoe store called Trophy Room in Orlando, Florida. Its website describes it as "an elevated retail boutique expression, inspired by the trophy room within the Jordan family residence."
Michael Jordan also has one grandchild
Jordan can now call himself a grandfather.
In 2018, his daughter, Jasmine, announced that she was expecting a child with former Syracuse basketball star Rakeem Christmas. The two of them met while attending Syracuse University, where she studied sports management and he was on the basketball team.
Jasmine gave birth to a baby boy in 2019. The couple has not revealed the name of their son. They often use the initial RMC and sometimes call him Baby Rakeem.