Does MTV Pay Cast Members to Be On Its Reality Shows?
MTV has plenty of reality television shows. From the iconic Jersey Shore to the years-long runs of The Real World and The Challenge, the network is easily one of the most reality-driven networks on television. But does MTV pay its cast to be a part of their season of a show? If so, how much do they make?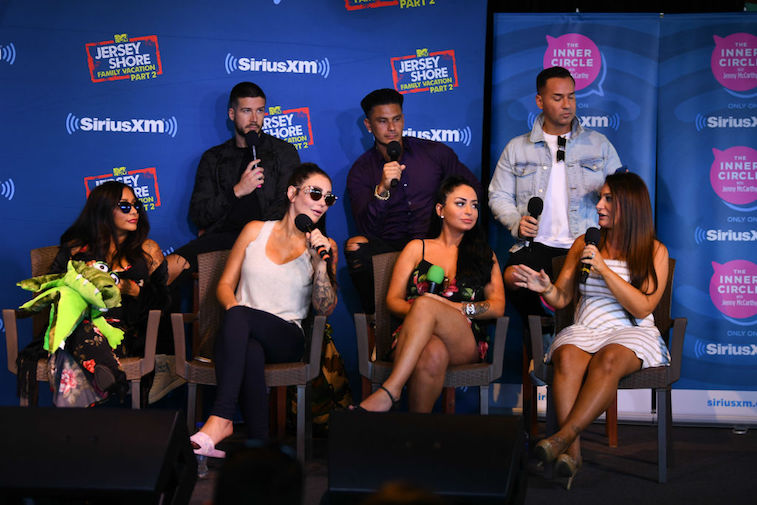 The cast of 'Jersey Shore' made only $200 per week during season 1
Though the Jersey Shore cast is worth a lot now, when the show first started, they hardly made any money. When the show premiered, the cast wasn't even receiving an actual paycheck. Nicole "Snooki" Polizzi, one of Jersey Shore's most well-known cast members, revealed that the stars only received a $200 gift card to the Shore Store each week as compensation for being on the show. Today, though, the cast makes a lot of money for their appearance on Jersey Shore: Family Vacation. Snooki is worth an estimated $4 million. Her wealthiest co-star, Pauly D, is worth an estimated $20 million.
Reports say Farrah Abraham was paid $300,000 to appear on 'Ex on the Beach'
Although reality stars don't make much on the network, if they become well known, that can definitely change. Just ask Farrah Abraham, who first graced our televisions back in 2009 on the set of 16 and Pregnant. Abraham hardly made anything for appearing on the show, but the follow-up series, Teen Mom, made her millions. She also has had a successful career in the entertainment industry, which has made her plenty of money. But the former Teen Mom star was reportedly paid $300,000 to appear on the last season of Ex On the Beach.
Jenelle Evans earned $400,000 from 'Teen Mom 2' in 2018
Jenelle Evans, another former reality star, had a good thing going on Teen Mom 2 before being fired from the show in 2019 after controversy surrounding both her husband, David Eason, and her life at home. According to court documents, Evans made a whopping $400,000 from MTV in 2018. Her husband, who was fired from Teen Mom in February 2018, still made $60,000 for the year. Evans is no longer on the show, but it can be assumed that her cast mates are making the same amount of money. And the women of Teen Mom OG are probably pulling in even more.
'The Real World' cast members are reportedly paid $5,000 for their season
The reality shows that feature recurring cast members have a very different payout from shows where cast members only appear once. The Real World reportedly pays its stars $5,000 to film one season on the show. Since The Real World has a different cast each season, the payout is much smaller. Certain shows, such as Ex On the Beach and Are You the One? don't see repeat cast members the way Teen Mom OG, Teen Mom 2, and Jersey Shore do, so the cast doesn't make nearly as much. But if you're popular on the network, you can bet they'll pay you a pretty penny.