Does Pete Davidson Still Have His Cazzie David Tattoos?
While dating ex-girlfriend Cazzie David, Pete Davidson had several ink pieces added to his body in her honor, which makes us wonder: Do those tats still live on his body?
When Pete Davidson broke up with Ariana Grande in 2018, he began the long and painful process of removing the many tattoos he inked on himself in her honor. Though people questioned why the comedian didn't take it slow in the realm of tattoos when it came to his romance Grande, it turns out Davidson was getting body art inspired by his significant others long before he met the pop singer.
While dating ex-girlfriend Cazzie David, the comedian had several ink pieces added to his body in her honor. Though it's been a few years since their breakup, we wonder: Do those tats still live on Davidson's body?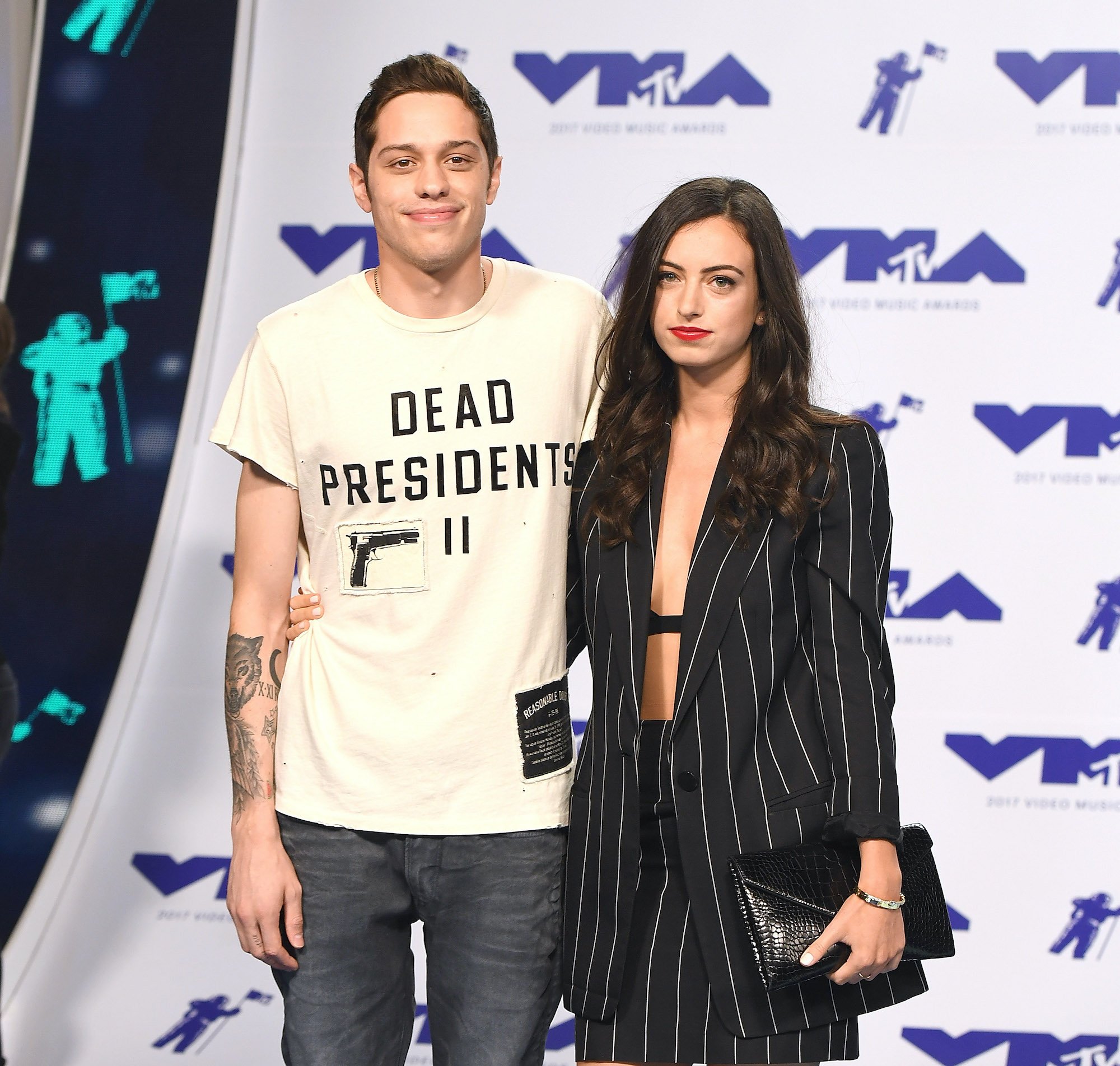 Pete Davidson has over 100 tattoos
Davidson has a lot of tattoos. Over the years, the comedian has added many ink pieces, all of which have different meanings, to his body.
From art pieces honoring his late father to ones he just got inked on himself for fun, Davidson has proven that he's a tattoo connoisseur.
Though most of the tattoos he's had added to his body were just for kicks, Davidson revealed during a February 2020 interview with Charlamagne Tha God that his experience with self-harm is the reason he started getting tattoos in the first place.
"I cut my chest," Davidson shared. "That's why I started getting tats on my chest, to cover them. It's just a release, if you can't get a tattoo… When [I'm] so manic and upset, sometimes that's the only thing that will work for me."
Though going to rehab has taught him healthy ways to cope with these feelings, Davidson has found that tattooing is a way for him to exchange emotional pain with physical pain, which explains why he's gravitated toward replacing tattoos with new ones following his breakups.
Pete Davidson covered up his Ariana Grande-related tats
When Davidson started singer Ariana Grande in 2018, they didn't waste time making their love permanent by getting tattoos in each other's honor.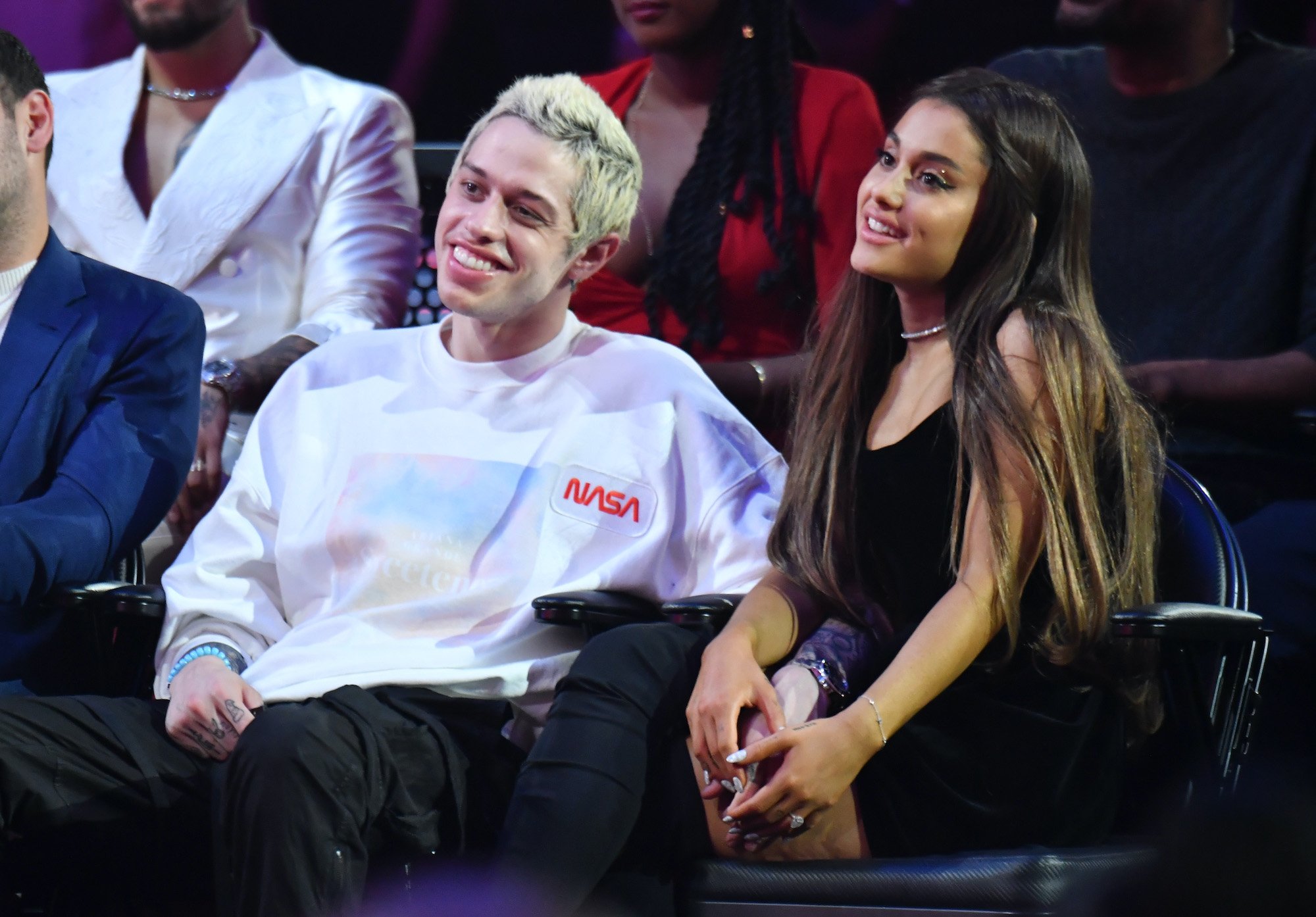 Not only did the pair get the same "mille tendresse" script tattooed on the backs of their necks, but they also had matching tiny clouds inked on their fingers as well as "H2GKMO" (Ariana's phrase for "honest to God, knock me out") added to their right thumbs.
In addition to all of that, Davidson also had a bunny-eared mask tattooed behind his ear, reminiscent of the mask Grande wears on the cover of her Dangerous Woman album.
Though he was initially advised not to get tattoos inspired by the "Positions" singer, Davidson clearly didn't listen. So, when he and Grande broke up in Oct. 2018, he had to endure the long and painful process of covering the tats linking him to the pop star.
In place of the "mille tendresse" tattoo on the back of his neck, Davidson now has the word "cursed" in thick black text, completely covering up the old writing.
He also had the Dangerous Woman bunny ears turned into a black heart, and the "H2GKMO" tattoo turned into a thick black arrow.
Pete Davidson's had the ink dedicated to his ex, Cazzie David, covered up as well
Like his relationship with Grande, Davidson has also gotten tattoos to celebrate his romance with his ex-girlfriend, Cazzie David.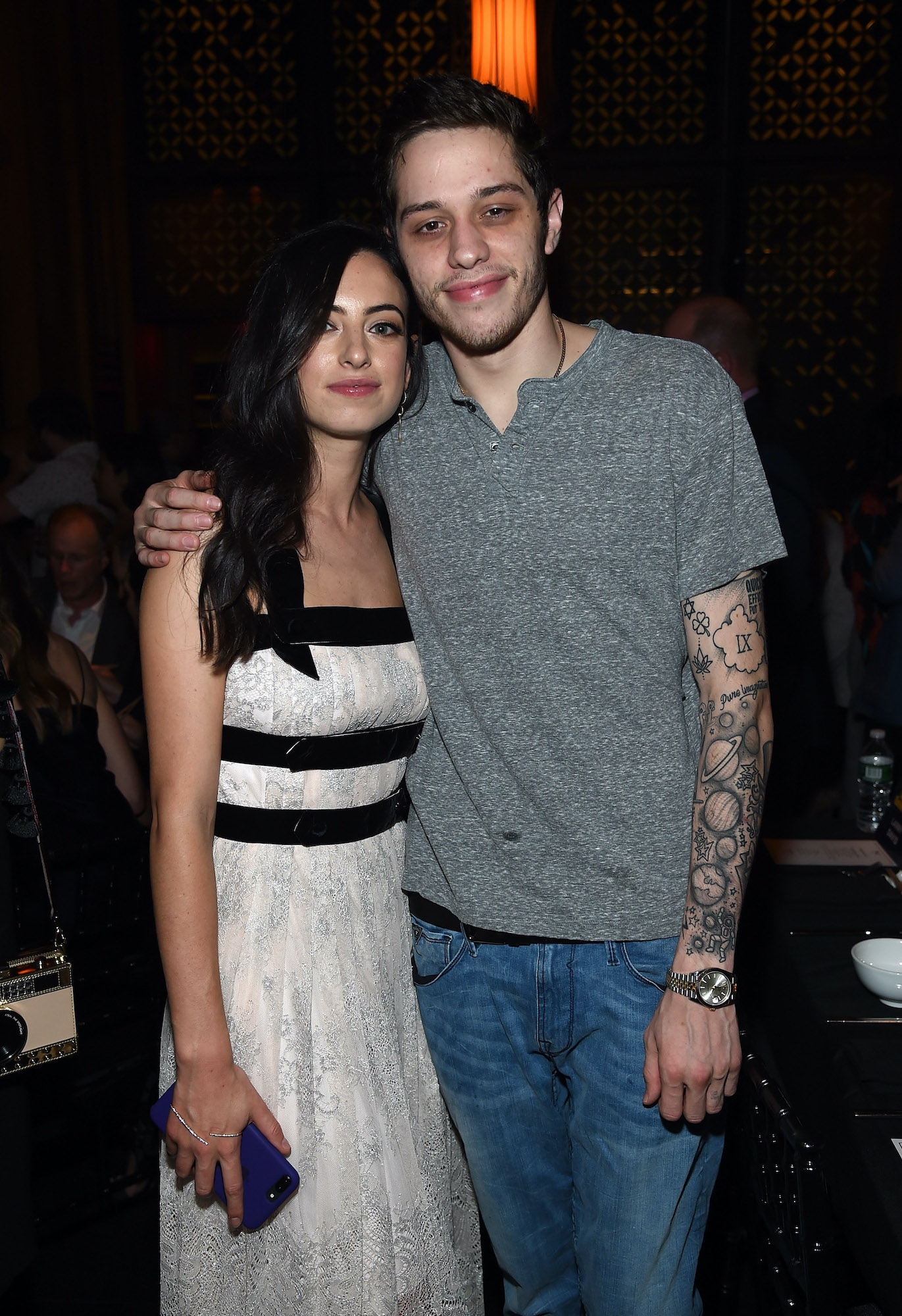 The pair dated from 2016-2018, and during that time, the comedian had a few Cazzie-inspired ink pieces added to his body.
Not only did he get a caricature of her face tattooed on his inner right arm, but Davidson also had David's name inked on his ring finger, her favorite emoji added to his neck, and a "WE BABIES" tattoo inked on his wrist.
After calling it quits from David in May 2018, Davidson had those tattoos covered up, leaving zero traces of the writer on his body.
In an attempt to cover the caricature and the "WE BABIES" tattoo, Davidson had a forest, covering almost his entire forearm, inked on him. While it's unclear if he still has the tattoo of David's name on his finger, it's likely he covered that ink up as soon as his relationship with Grande began.
How to get help: In the U.S. and Canada, text the Crisis Text Line at 741741 to reach a crisis counselor for support.