Does Queen Elizabeth II Have Servants? Who Works in Her Household?
When you live in a residence like Buckingham Palace or Windsor Castle, you definitely don't do all your chores yourself. But does Queen Elizabeth II have servants? Who works in her household? Here's what you need to know.
Life as a member of the British royal family sounds pretty glamorous. Queen Elizabeth II and her family live in palaces and castles. Many members of the family travel extensively, and they can even go by private train. Plus, they often wear expensive clothes, and other people prepare delicious meals for them not only on special occasions but on normal days, too.
But how does everything get done in a royal household? Does Queen Elizabeth II have servants? Does she ever do any household chores herself? Here's what you need to know.
Does Queen Elizabeth II have servants?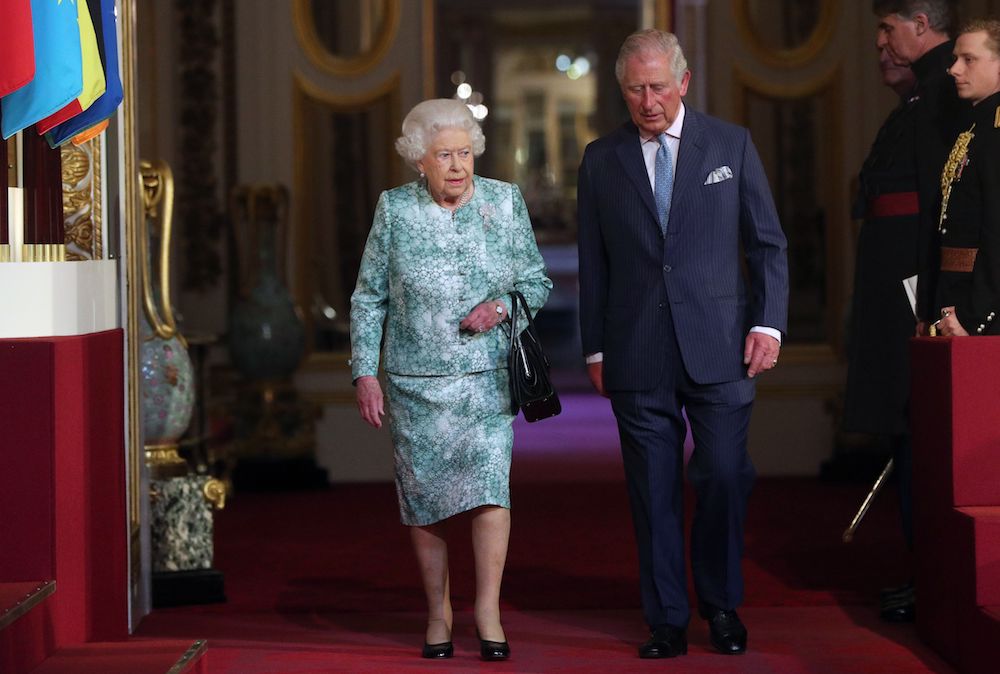 Though most people probably don't refer to household staff as "servants," Queen Elizabeth II does employ a variety of staff members. Express reports that in recent years, the royal household has hired housekeeping assistants, a butler, a dishwasher, a groom and a liveried helper for the stables, a telephone operator, a communications manager, a social media specialist, a master of the household, and a private secretary for the queen. As Express notes, the royal household has a kitchen staff, pages, footmen, and a housekeeping staff.
As Forbes reports, "'servants' of all levels are those who make things happen in a royal household, and the best of them are neither seen nor heard." The publication explains, "Discretion is paramount." Scandal usually ensures when royal servants decide to talk to the press about what they've seen or heard while attending to the most famous royal family in the world. That's why every new hire has to sign a document promising secrecy.
How many staff members does she have?
Forbes estimates that there are more than 1,000 "servants" working for the queen. According to numerous reports, "being hired to work in one of her palaces is not as difficult as it may seem," Forbes explains. However, "it's well documented that they are generally poorly paid, work long hours, live in small quarters, and many times deal with jealousy and resentment from fellow staff." In fact, the queen only recently began paying servants a "Living Wage."
It's common for household staff to live on the premises of the palaces where they work. Buckingham Palace, for instance, has 188 staff bedrooms. According to a job posting by the Royal Household, staff members who live and work onsite "actually eat and sleep, full-time, at Buckingham Palace." Some of the jobs offer perks such as phones and bicycles, Forbes reports. Other positions offer free staff lunches. And if you live in one of the palaces, all meals are free.
Does the queen hire servants herself?
Forbes notes that even though a flurry of headlines claim that "the queen is hiring" each time the royal household has an opening, "the queen has nothing to do with the signing of a new butler or a ladies maid. It's all handled by secretaries, the Royal Household office and employment agencies that count on the favor of the crown."
The Daily Beast reports that despite the paltry pay, many people would love to work for the queen. "There are plenty of people out there prepared to take a whopping pay cut for the pleasure of cutting the grass and cleaning up for royalty in the hope that one day they might just get blessed with a smile from Her Majesty," the publication reports. People who work in the royal household have a chance not only of meeting the queen, but also of running into other royals, from Kate Middleton to Prince Harry.
Why are staff members not paid more?
Queen Elizabeth II could decide to pay her household staff more generously. (After all, she's quite wealthy.) But The Daily Beast reports that "Pay-wise, the royals are merely continuing a long tradition — historically speaking, the posher the family, the less they have paid their servants." While domestic staff might not get paid a lot to work for the queen, they often do get to live at a palace, and the job sets them up for more lucrative employment later.
The Daily Beast reports that if you work for the royal family for a few years, you can typically "take your pick of any other job." But some find another way of making money after leaving the royal household: selling secrets to the press, like Princess Diana's butler Paul Burrell or Prince Charles's valet Ken Stronach.
Read more: Sensational Secrets of Working for the Royal Family
Check out The Cheat Sheet on Facebook!