Does Ryan Seacrest Get Along With Kelly Ripa's Husband, Mark Consuelos?
Ryan Seacrest and Kelly Ripa have been hosting Live with Kelly and Ryan together since 2017. Anyone who has watches an episode of Live can tell that the pair is clearly very close with each other.
But when they are not working, how often do they really hang out? And does Seacrest get along well with Ripa's husband, Mark Consuelos? Read on below to find out.
Ryan Seacrest and Kelly Ripa are friends in real life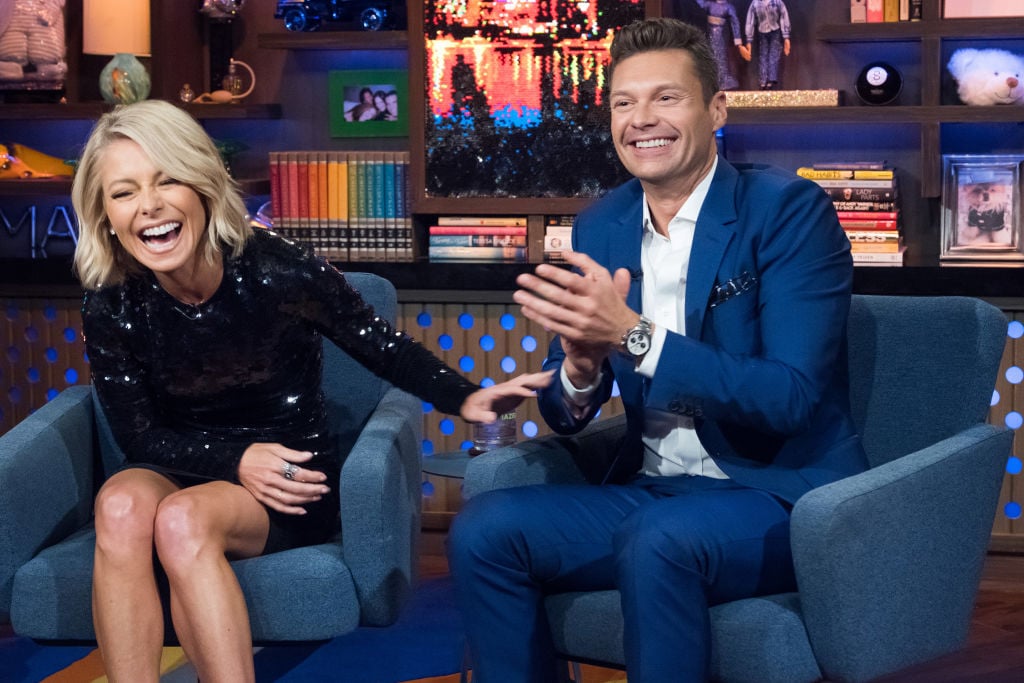 Seacrest and Ripa have good chemistry in front of the camera, and that is due to the fact that they are actually friends in real life. When Ripa's previous co-host, Michael Strahan, left in 2016, she requested Seacrest to be her partner. Ripa called Seacrest a "close friend" and Seacrest called Ripa a "dream broadcast partner."
A source told Closer Weekly that the two of them "are very in sync with each other" before adding: "You put them together, and it's one plus one makes 10."
Ripa and Seacrest reportedly even hosted a Halloween party together once, and in general, they are often talking to each other about their lives behind the scenes of Live.
Ryan Seacrest also gets along well with Kelly Ripa's husband Mark Consuelos
Seacrest and Ripa are good friends, so it probably does not come as a surprise to hear that Seacrest gets along with her husband, Consuelos, as well.
In fact, back when Seacrest was still dating Shayna Taylor, the couples liked to go on double dates. On a 2017 episode of Live, Seacrest and Ripa discussed a particular date night they had.
The dinner started out with Seacrest ordering wine, which Ripa teased him about because he requested something "young, white, French and dry."
"Mark turns to me and says, 'I think Ryan just ordered wine — I think,'" Ripa recalled. "The wine was so nice… I just learned that I like dry, young, white and French wine."
Seacrest also had something to say about Consuelos after their dinner. "Mark had two of the quarters [of the burger] and still has 0 percent body fat," he marveled.
All in all, both couples seemed to have a fun time together. Seacrest said that he definitely told Ripa that they "should definitely do that again."
Meanwhile, Ripa shared that her husband "loves" Seacrest. "It gives him such a sense of satisfaction to just chill with another dude," she revealed.
Kelly Ripa also really liked Ryan Seacrest's ex-girlfriend Shayna Taylor
On Ripa's end, she also got along well with Seacrest's ex-girlfriend, Taylor. Seacrest and Taylor broke up earlier this year, but before then, Taylor actually appeared a few times on Live, mostly to showcase recipes.
Ripa also made it no secret that she really liked Taylor and, especially, how pretty she is. "She sometimes hurts our eyes. Like she looks so good," Ripa once said. "One day she'll stop by and I'll be like, 'She's like everything.' She's like the sun."
In fact, rumor has it that Ripa and Consuelos really wanted Seacrest to marry Taylor. According to a source who told Closer Weekly in 2018, Ripa and Consuelos had been urging Seacrest to pop the question already.
"Kelly and Mark not only adore her, they also don't want Ryan to lose her," the insider revealed. "Ryan is scared, but he trusts Kelly. He loves what she and Mark have and is slowly warming up to the idea of marriage."
However, Seacrest and Taylor eventually broke up. Reportedly, the breakup was due to Taylor wanting to settle down but Seacrest not being on the same page.