Does the 'Blue Bloods' Cast Film The Dining Scenes Around Dinner Time?
In every episode, the Reagans are seen having dinner together on Blue Bloods. It's full of dinner favorites like rolls, potatoes, vegetables, and more. But is the cast eating the foods around dinner time? This is what Sami Gayle, who plays Nicky, had to say about filming.
'Blue Bloods' dinner scenes take a long time to film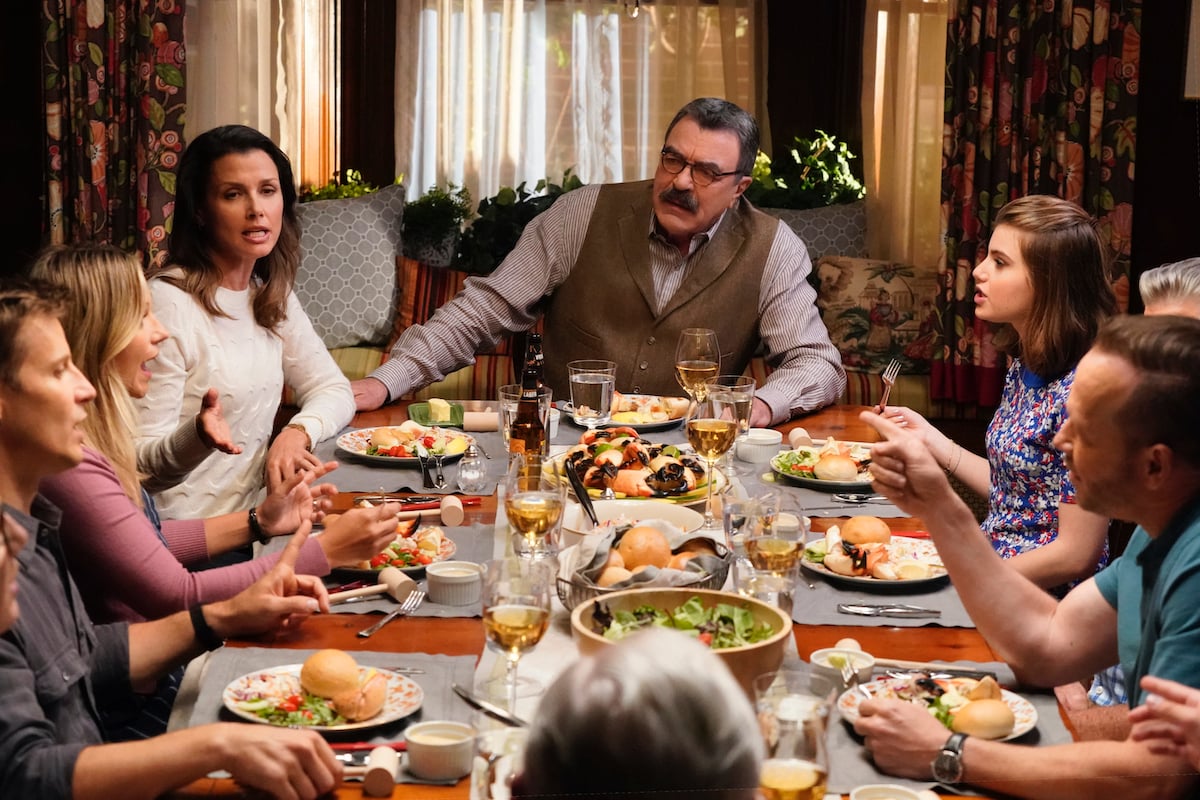 Every episode has a scene of the Reagans coming together for dinner. They're usually short, but in real life they take about six hours to make.
"We have to shoot everybody not just in a wide shot but in close-ups, but it's still my favorite part of the show," Tom Selleck, who plays Frank Reagan told TV Insider. "I sound like the fans, but it's mainly because I get to see my friends. The Reagans are close, and we're close. With a cast this big, I might not see Donnie for a month. This format is like a weekly reunion."
The time it takes to film might be longer because of the cast. "We drive directors nuts because they want to get the shot done and we're joking around…a lot," Selleck admitted.
However, actors still have to be smart with how they eat the real meals while filming. Selleck said he only eats when the cameras cut to him.
They're really eating breakfast
Selleck isn't alone when it comes having a plan on what to do at the table. Gayle also talked about what it's like to film the beloved scenes with CBS Miami.
"We usually shoot the dinner scene actually really early in the morning," she said. "We call it family breakfast actually. And if we get there and we're really hungry and we eat a lot that first take, then every other take we actually have to match that amount of food that we take in."
This makes sense given how long it takes to film. The actor said the cast is her "second family" who is invested in her personal life as well. Her appearances on the show will be less frequent because her character made a big move.
Season 11 dinners with the Reagans will look different
Nicky revealed in season 10 that she's moving from New York to California. That's because she got a job in San Fransisco helping minority start-ups and green initiatives in urban areas.
The photo for Season 11 showed the Reagans at the dinner table, but Nicky wasn't included in the picture. But she is going to be in a few episodes according to IMDb.
It sounds like there is a lot of hard work that goes into making the family dinner scenes look as realistic as possible. That includes the actors having to eat the same things for hours. But now fans know the "dinner" is really breakfast for the actors.