Does the Cast of 'Queer Eye' Get Along?
Can you believe there was once a time when Karamo Brown, Tan France, Jonathan Van Ness, Antoni Porowski, and Bobby Berk weren't changing lives for their reality show? On and off the screen, the cast of Netflix's original series is making a difference in their world. Still, some fans are wondering if the Fab Five members are actually friends. Does the cast of Queer Eye get along? Here's what we know about these experts and their friendship.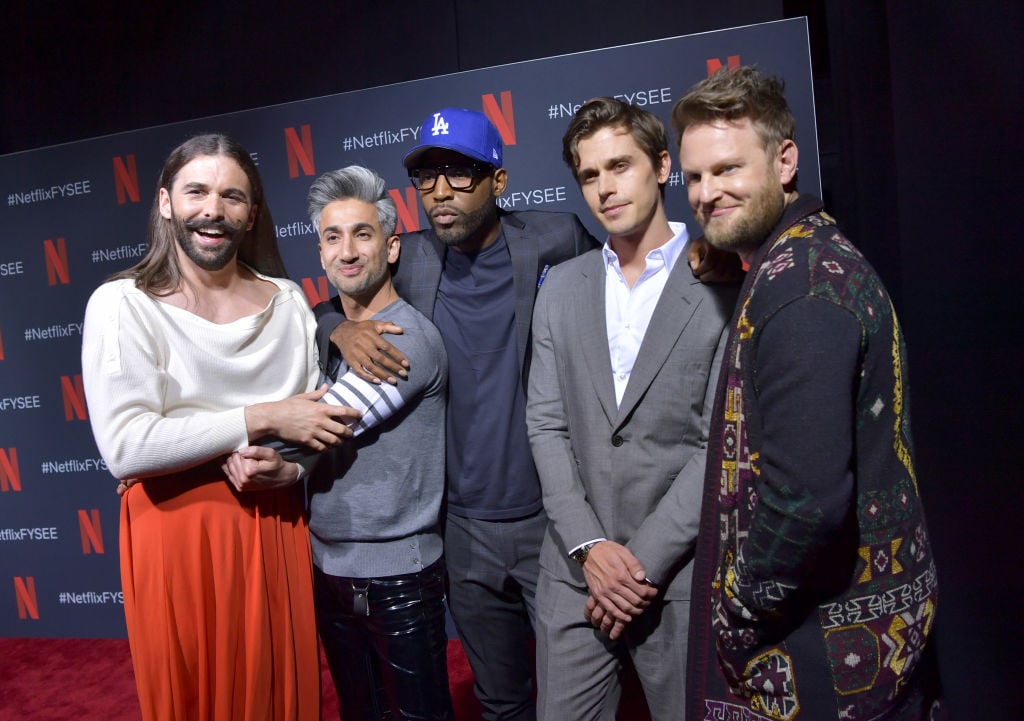 The first season of 'Queer Eye' premiered in 2018
This Netflix original series, first premiering in 2018, featured five fabulous cast members. Together, Tan France, Bobby Berk, Jonathan Van Ness, Karamo Brown, and Antoni Porowski spread their message of self-love and positivity.
Since its premiere, Queer Eye launched four seasons and a special mini-season, entitled Queer Eye: We're in Japan. Each of the Fab Five members earned millions of followers on social media. But are the members of the Fab Five actually friends?
Since 'Queer Eye's' premiere, about 40 episodes starring the Fab Five appeared on Netflix
Fans saw the Fab Five transform lives from Kansas City, Miss. to Toyko, Japan. The series earned multiple Emmy nominations and wins, including the award for "Outstanding Structured Reality Program."
Outside of the show, members of the Fab Five promote their own personal endeavors, from Tan France's memoir to Antoni Porowski's New York City restaurant. They even spend time together, spreading their love for each other on social media. Jonathan Van Ness and Antoni Porowski even created a "couple" Instagram account as a joke.
The cast members from Netflix's 'Queer Eye' are considerably close
Although there's no way of knowing how close these cast members actually are, fans can catch a glimpse into their friendships from interviews and on episodes of Queer Eye. It's safe to save the Fab Five members are pretty good friends.
"I am very close with Jonathan," Tan France said during an interview with Glamour. "He enriches my life. Sometimes he ruins my life when he calls me 70 times a day. Kidding. But he does call me around five or six times a day. That's no joke. He just calls to say he misses me and I love that. We often do shower time together on FaceTime. It sounds [weird], but it's not!"
In Tan France's memoir, Naturally Tan, the fashion expert discussed his first impressions of each of the Fab Five members. Whether or not it was a good first impression, France detailed his relationship with castmates Jonathan Van Ness and Antoni Porowski.
"Antoni is obviously incredibly handsome, but he just really wasn't my type," Tan France wrote. "He seemed like a nice guy, and I wanted him to get the job, but he had a nervous, shy energy about him and seemed way too sweet and angelic. I couldn't picture us being friends, as I usually gravitate to folks who are a lot more outgoing than I am."
"It's so ironic that was my first impression of him, because of course, now he is my favorite person on the planet (besides my husband), and I love him more than life itself," the author continued. "He is my brother for life, who is definitely not as sweet and innocent as he seemed at that first encounter."
Episodes of the original series Queer Eye, including the recently released season, Queer Eye: We're in Japan are available for streaming on Netflix.