Does the Dixie Chicks' Natalie Maines Regret Bashing President Bush?
It has been 17 years since Dixie Chicks' lead singer Natalie Maines openly criticized President George W. Bush for invading Iraq. The leader slammed Bush during a concert in 2003, heavily condemning him for the decision to go to war. The comments sparked outrage at the time and led to album burnings, protests, and even death threats. With a new album in the works, how does Maines feel about bashing Bush?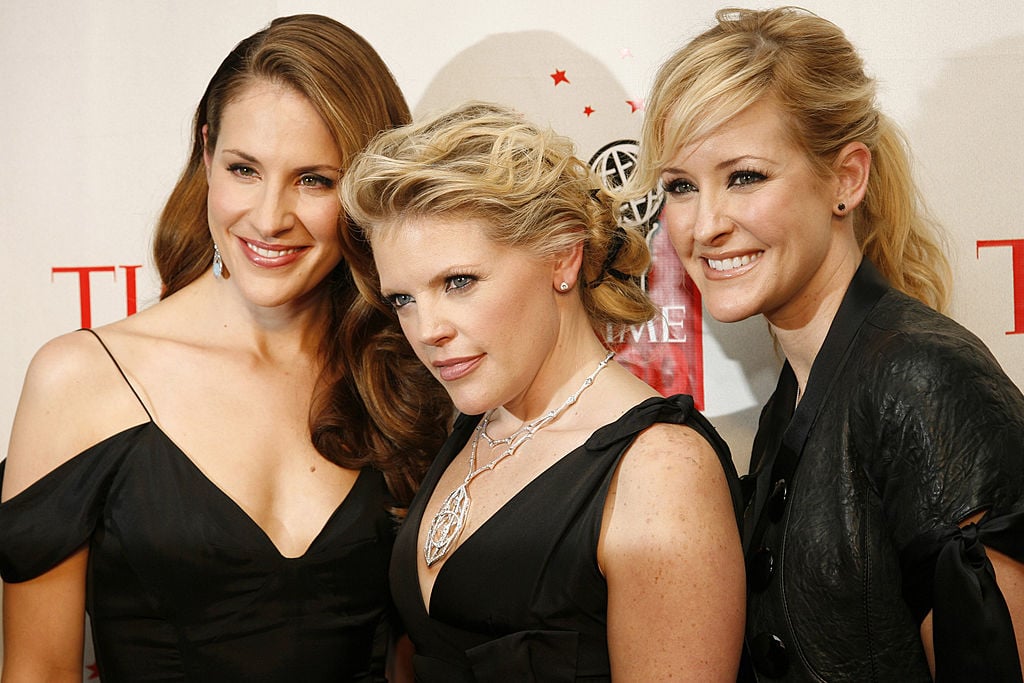 The Dixie Chicks take a stance against Bush
As fans will recall, Maines was a very outspoken opponent of Bush's decision to invade Iraq and depose the country's leader, Saddam Hussein. But she took things to the next level during a concert in the UK in 2003, blasting Bush and his ties to Texas.
"We do not want this war, this violence. And we're ashamed the president of the United States is from Texas," she stated.
According to Too Fab, the comments sparked intense backlash around the country. People burned Dixie Chicks albums, sent death threats to Maines, and organized protests to hurt ticket sales.
The country music industry pretty much blacklisted the group, who released a follow-up song in 2006 called "Not Ready to Make Nice." Considering everything that happened, it is possible that the backlash Maines and her band faced was unlike anything music had ever witnessed.
Fast forward to 2020 and the Dixie Chicks — comprised of Emily Strayer, Martie Maguire, and Maines — are looking to come back in a big way.
Does Maines regret bashing Bush?
The Dixie Chicks are coming off the release of their popular single, "Gaslighter," and are set to release a brand new album this year. While promoting their new project, the trio was asked about the comments Maines made about Bush in 2003.
All three of the women revealed that they have no regrets about what unfolded, though Maines did admit that she would like to go back and think of something a bit smarter to say about Bush.
"Well, I always wish I had said something smarter!" Maines stated. "But when I think back, it's like that movie Sliding Doors, right? Where would we be today if I hadn't said that? That's interesting. I really don't know if I would take it back."
That said, all three women confessed that the backlash they received was not good and that the entire ordeal was a bad situation. They also revealed that they still do not consider themselves to be a part of the country music scene anymore, despite their roots in the genre.
The Dixie Chick's 2006 album, Taking the Long Way, won five Grammys (though it did not get much playtime on country music stations). The trio also collaborated with Beyoncé in 2016 for a song titled "Daddy Lessons" and Taylor Swift in 2019 for the track, "Soon You'll Get Better."
The Dixie Chicks are back
Although they have cut ties with the country music industry, the Dixie Chicks have continued to make music over the years. Their latest song, "Gaslighter," is inspired by a man who keeps lying to his wife.
"Gaslighter, denier, doing anything to get your ass farther," the lyrics read. "Gaslighter, big timer, repeating all of the mistakes of your father."
The lyrics tell the story of a woman who relocates to California so that her husband can start a career in Hollywood. The film industry welcomes the man with open arms, but the constant demands takes a toll on their marriage.
The pair in the song ultimately get divorced and there is no love lost between them. The track is a part of the band's upcoming album, Gaslighter, which drops later this year.
Maines opens up about the new album
The new album was partially inspired by Maines' divorce from Adrian Pasdar. According to Too Fab, Maines opened up about her split during a podcast called Spiritualgasm in 2019.
"When I started getting a divorce, I had a lot to say. That sparked me being ready [for new music]," she explained. "Songwriting is really hard for me, and I think for many years, I didn't want to analyze my life or my relationship. I was just in it and dedicated and devoted, and if I had started writing songs about it, that might not have been good."
Maines added that the Dixie Chicks' new album is one of the most personal projects she has ever produced, which is saying a lot considering the last album she released.
Maines and Pasdar ended their marriage back in 2017. The two engaged in a bitter custody battle in the wake of their divorce, with the main sources of contention being child and spousal support. They finalized their divorce this past December.
As a side note, all three members of the Dixie Chicks have gotten divorced. The only one who has gotten remarried is Strayer, who is currently with Martin Strayer.
Fans can get their hands on the Dixie Chicks' latest album, Gaslighter, when it hits stores and streaming services on May 1.