Does the 'Supergirl' Cast Get Along Off-Camera?
Off-camera drama between on-camera co-stars can often snowball into epic Hollywood feuds. High-profile disputes often gain considerable media attention that on-set comraderies rarely enjoy. With that in mind, here are a few social media posts featuring the Supergirl cast, proving that castmates can get along even after the cameras stop rolling.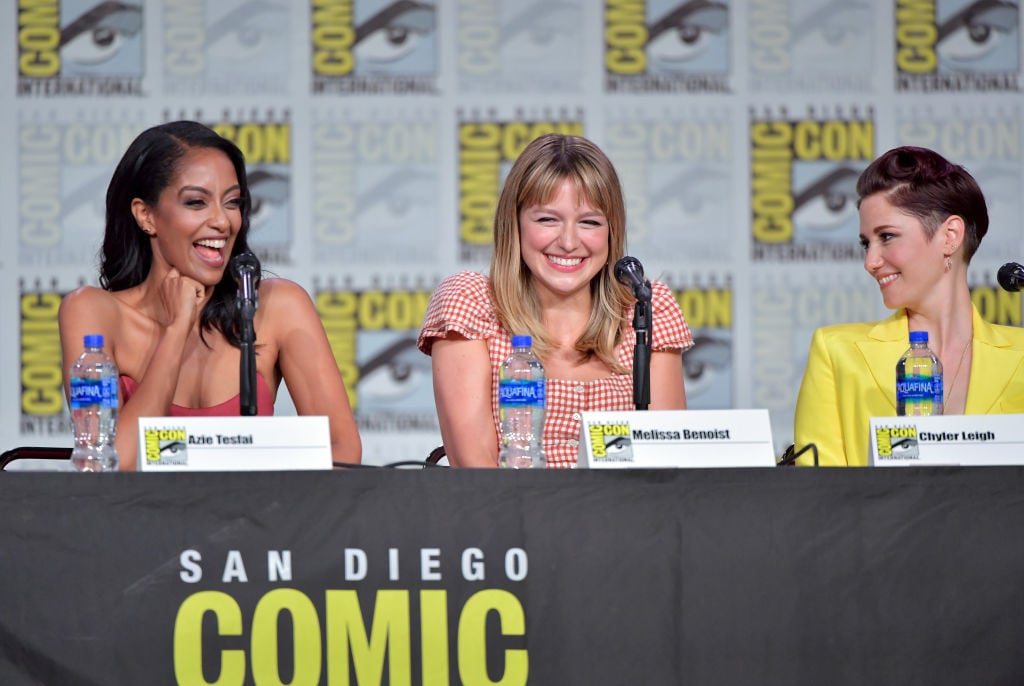 David Harewood played a part in Melissa Benoist and Chris Wood's wedding
Martian Manhunter, played by David Harewood, often acts as a moral influence and impartial sounding board for other Supergirl characters. It seems that his kind and caring demeanor on-camera also extends to Harewood's co-stars outside of work.
Harewood revealed in an Instagram snapshot that Melissa Benoist and Chris Wood, who portray Kara Zor-El, aka Supergirl, and Mon-El, chose him to officiate their wedding.
The photograph that was taken at a prenuptial celebration, as well as the caption he wrote, speaks to the affection Harewood feels for both Benoist and Wood. In Harewood's post, he divulged this:
When they asked me to marry them, I secretly conspired with Melissa Benoist to turn up to the pre-wedding dinner the night before dressed as a priest as a surprise for Chris Wood! His face, when he saw me, was a picture! I was there when they met, I was there when they married and I can't wait to hold their new arrival! I have so much love for this pair it's impossible to comprehend. We are all so very happy!

@davidharewood on Instagram
Harewood has posted a string of on-set Instagram photos indicating the positive working relationship he has with his creative partners. About his gig, he said, "Couldn't wish to spend my days with finer people. Crew and all." 
Along with Harewood, other Supergirl cast members such as Azie Tesfai and Chyler Leigh have weighed in on social media about their experience working on the show.
'Supergirl' cast newcomer Azie Tesfai amps up the off-screen fun
Tesfai joined Supergirl in Season 4 in the recurring role of Kelly Olsen and was bumped up to regular starring status in Season 5. Her character adds emotional depth on camera, and Tesfai adds fun to the mix off camera. She recently partnered with Batwoman's Camrus Johnson to host an after-hours crossover event in the form of a game night. They invited cast members from various Arrowverse shows and other shows that are not a part of the shared television universe.
Johnson tweeted about the shindig and revealed that stars from Supergirl, Batwoman, Arrow, and The Flash got together with fellow thespians from Nancy Drew, The 100, Chilling Adventures of Sabrina, and Motherland. According to Tesfai, Elizabeth Tulloch, who plays Lois Lane in the Arrowverse, came away as a winner.
Chyler Leigh shows love to the 'Supergirl' cast and crew
On Supergirl, Leigh plays tough cookie, Alex Danvers, but in the real world, she often posts warm and fuzzy messages about her colleagues. True to form, she recently took to social media to show her appreciation for Tesfai, who portrays Alex's love interest on the show.
In the post, Leigh gushed, "Me and this gorgeous gal, I struck gold with Azie Tesfai … I mean, how lucky are Alex Danvers & I ?? Watch tonight, you'll see."
The actress also posted a particularly sweet series of Instagram snaps surrounding the celebration of Supergirl's 100th episode. These are some of the touching words Leigh posted about her co-stars:
This Sunday marks 100 episodes and a million reasons how my life has become richer since day one. I love my Supergirl family with all my heart. I'm so, so grateful for everything I've learned from our cast and crew, every single person that has made what we do and how hard we work worth every second.

@chy_leigh on Instagram
About her on-screen sibling, Melissa Benoist, Leigh wrote this:
It certainly has been an amazing journey for the Danvers Sisters over 100 episodes! Melissa Benoist you are one of my most favorite people on this earth (now that all of them have been combined, that says a lot Sister). I love you and will keep loving you for the next 84 years.

@chy_leigh on Instagram
Leigh shared this about reuniting with former castmate and special guest star, Jeremy Jordan:
Me & my buddy Jeremy Jordan got to play together again!! I've always loved Alex and Winn scenes. And to be directed by our Space Dad, David Harewood ?? Old times were made new and so much better! Don't miss Supergirl's episode 5×11 this Sunday … it's a helluvah ride.

@chy_leigh on Instagram
There is a plethora of feel-good posts on social media from various Supergirl co-stars. It seems that any on-screen rivalries depicted are expertly acted and purely for entertainment because the Supergirl cast appears to really dig each other.
Read more: 'The Flash': Why Fans Think Grant Gustin is Feuding With On-Screen Love Interest Candice Patton