Does Vicki Gunvalson From 'RHOC' Resent Having to Pay Donn Gunvalson a Divorce Settlement?
Vicki Gunvalson from The Real Housewives of Orange County said she doesn't resent having to pay a divorce settlement to ex-husband Donn.
During her appearance on Watch What Happens Live with Andy Cohen After Show, Gunvalson was initially asked about her relationship with her ex. She gave a heartfelt answer, but host Andy Cohen wanted to dig a little deeper.
"Are you resentful of the fact that you had to pay him after the divorce," Cohen said, knowing that he could be wading into awkward territory.
Gunvalson says divorce settlements shouldn't be based on gender
Gunvalson was quick to answer Cohen's question. "No, because it's not gender-specific anymore," she said. "I was the primary breadwinner. And at the time, I was like, 'Dang, I don't want to pay you this much.' But my attorney sat me down and said, 'You are the breadwinner. You make more than him. And he deserves it.'"
She says after hearing from her attorney, she re-adjusted her thinking. "I thought I could fight in court," she remarked. "Or just fold and so … he's retired. I'm not," she laughed.
But Gunvalson adds she thinks highly of her ex-husband. "He's a great man," she says. "And we just got off course. And I couldn't get it back on track."
How did they ultimately settle?
Although Gunvalson ultimately walked away with more money in her divorce settlement, she was initially annoyed she had to pay her ex-husband anything at all.
"I wanted success in a man's world and I think I have seen what comes with that. I didn't understand why I had to pay spousal support or even a settlement to my ex-husband," she told the audience at "Tomorrow Belongs to You" Women In Business Tour in Milwaukee, Radar Online reports. She added, "I tell my audiences now if men have to pay spousal support, then we as women have to pay as well. If we as women want to succeed in a man's world, then we have to play by the rules."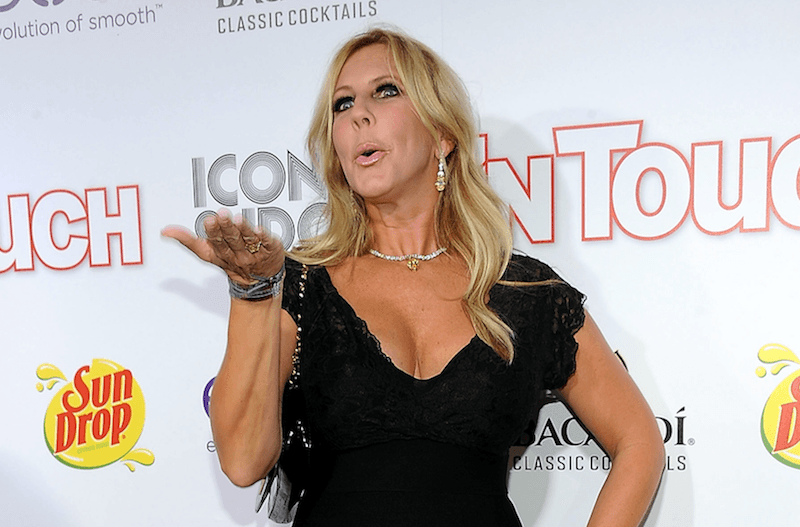 The Gunvalsons agreed upon no specific spousal support from either party so the couple divided their assets. Gunvalson received $886,459 from the couple's divided assets, whereas Donn ended up with $633,058. Gulvalson was later ordered to repay $95,000 to her ex after she "mistakenly" withdrew the money from his account.
She no longer has a relationship with Donn
A caller wondered if Gunvalson and her ex rebuilt their friendship. "No, there's no friendship, unfortunately," she says shaking her head. "I definitely have regrets on what I did. I hurt him and broke his heart."
She adds she was out of the marriage mentally. "He was not prepared for me to file for divorce. But you know, it happened. We're not friends. He sees Briana, and Troy and Owen and Ryan a lot. We don't talk. At all."
Gunvalson's son in law, Ryan Culberson has shared a number of Instagram images of Donn's visits. In March, Gunvalson's grandson's proudly posed with "Grampy D" after a soccer game. "When 'Grampy D' comes to town the boys really show off at their soccer game!" Culberson also reports that Donn was one of the first guests to their home in North Carolina too.