'Dolittle': Critics Are Saying Robert Downey, Jr. Intentionally 'Sabotaged' the Movie With Bad Acting
Just when you thought a movie review couldn't be any worse than Cats, along came Dolittle.
The film, which was released on Friday, Jan. 17. 2020, received extremely negative reactions from critics in advance of the opening for a variety of reasons. One of the worst aspects of the movie? They say the film's human star, Robert Downey Jr. is so exceptionally bad it's almost like he's trying to ruin the movie.
That seems like a strange move for Downey Jr., who most recently elevated his star status with his portrayal of Tony Stark in the Marvel Cinematic Universe. He obviously has the acting skills — so what went wrong with Dolittle?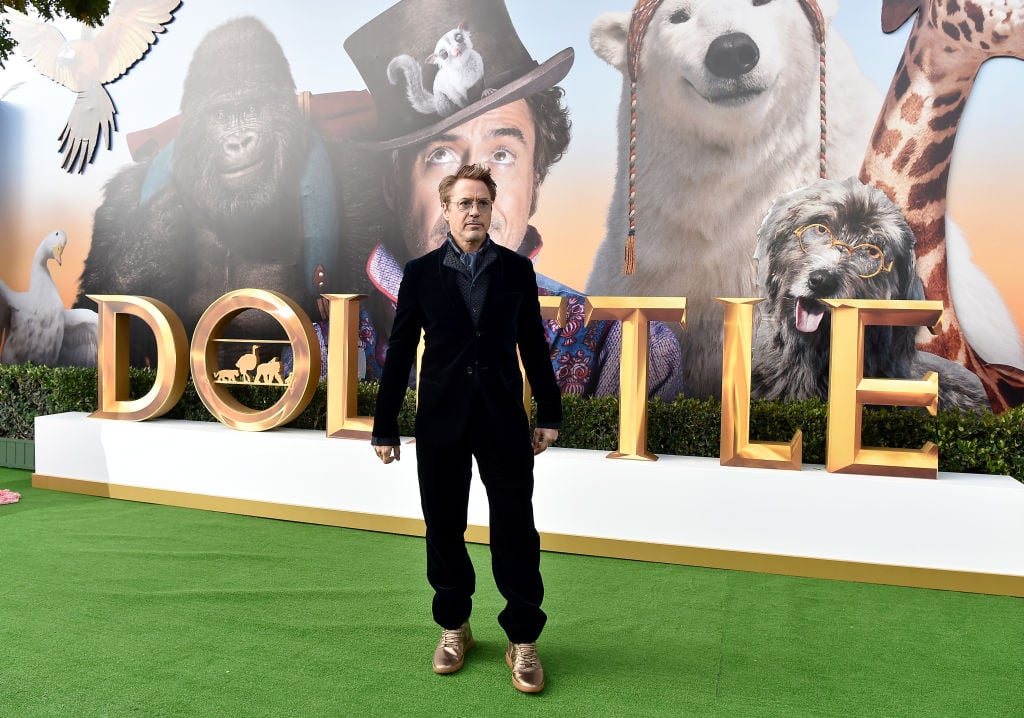 The movie 'Dolittle' was plagued by reshoots
It seems the studio knew they were dealing with a potential issue after seeing the first cuts of the film. They demanded multiple reshoots and tried to infuse more humor, but the result wound up being a confusing mess with too much crass, gross-out humor that was also tragically unfunny.
"Amidst what feels like the fingerprints of a thousand studio executives, it's also nearly impossible to nail down the original intentions of the director who actually made it," Entertainment Weekly mused.
"One of the alleged reasons behind the reshoots was a need for more comedy and while the film is filled with attempted comic moments, they're almost entirely lackluster, snappy one-liners failing to snap and an overreliance on tiresome contemporary phrases (at one point Queen Victoria's octopus warns that 'snitches get stitches')," The Guardian agrees.
And some of the scenes are just disgusting but not funny. A critic from Gizmodo warns, "Just when I thought Dolittle couldn't get any less funny or idiotic, Robert Downey Jr. sticks his arms up a dragon's a**hole. And I do mean that literally."
Downey Jr.'s performance is one of 'Dolittle's' main points of contention
You'd think the draw of Downey Jr. as Dr. Dolittle, the 1920's doctor who can communicate with animals, would be enough to save a mediocre film. But instead of inspiring delight, critics are saying the A-list actor is a huge detractor from the whole experience.
"Downey's characterization of Dolittle is utterly bizarre," Kevin Fallon from The Daily Beast wrote. "His accent is sort of Dick Van Dyke in Mary Poppins meets Captain Jack Sparrow with a leprechaunic lilt. Aside from being geographically unplaceable and often unintelligible, it is entirely different every time he speaks."
Vulture film critic Bilge Ebiri concurred, stating that Downey Jr. "seems determined to sabotage this movie."
"Downey's Dolittle is one weird creation — not in an inspired, Gene-Wilder-as-Willie-Wonka way, but in a baffling, Johnny-Depp-as-Mortdecai way. He's a bit of this, a bit of that: a fun-loving kook and surly recluse in a tie-dyed vest," Newsday reviewers wrote.
Critics claim the movie is confusing and strange
Though Downey Jr.'s acting is a huge part of the problem, it's not the only weak spot for Dolittle. The overall plot is confusing, even for adults, and never comes together to tell a cohesive story.
"Ultimately, Dolittle is not just a weak story, badly told, but a puzzling waste of talent. (The only silver lining? A relatively fleet running time.) Here's hoping the cast bought themselves something nice with the money they made," critics from the Washington Post said.
And finally, Vulture summed up the overall feelings about the movie with their scathing review. "The kind of movie whose incompetence boggles the mind and corrupts the soul. You go into this thing expecting silly insouciance and walk away from it questioning reality. It is anti-cinema." 
The final consensus? Only go see Dolittle if you have nothing better to do, or if you find humor in disasters.