Dolly Parton Admitted Her Real Hair 'Broke off' Before She Switched to Wigs
Dolly Parton relies on wigs for her big hair, but that wasn't always the case. She talked about how her former routine damaged her natural hair, which led to her changing her routine. 
How wigs became Dolly Parton's trademark
The country singer gained fame by performing on The Porter Wagoner Show. She revealed how she built her iconic image during that time in her book, Dolly Parton, Songteller: My Life in Lyrics.
"When I started with Porter's show, I started having my clothes custom-made," she wrote. "It's hard to fit me. I'm little in places and big in others, you know?" 
"It's hard to find stuff off the rack that fits, so my clothes have to be tailor-made," she continued. "I'm only big on top; I'm a tiny little person. But I wear my high heels and my hair as high as I can get it."
She eventually used hairpieces then wigs to get her look. But that wasn't until after her elaborate hairstyles had a negative effect on her hair.
 Dolly Parton admitted her real hair broke off before she switched to wigs.
The singer first used her natural hair for her iconic big hairstyles. But that later backfired.
"I used to try to keep my own hair teased, and as big as I liked it and having the bleach and all that, it just broke off," she said on the Hallmark Channel. "I thought, 'Why not just wear wigs?' That way I never have a bad hair day. I have a big hair day, but not a bad hair day."
Parton stands by the big hair look. But that doesn't mean she doesn't regret some of her wigs and hairstyles.
She talked about the one she wore while doing a duet album with Porter Wagoner. "That hair was bigger than me!" she said. "I look at myself sometimes in all of those pictures and think, 'Oh my Lord what was I thinkin'?"
Parton admitted her husband, Carl Thomas Dean, has teased her about her big hair. "It's a funny thing because when I wear this big hair because I'm so tiny, my husband always says I look like a Q-Tip," she said. "It's nothing but a big white wad on my head!"
Dolly Parton doesn't wear wigs in her daily life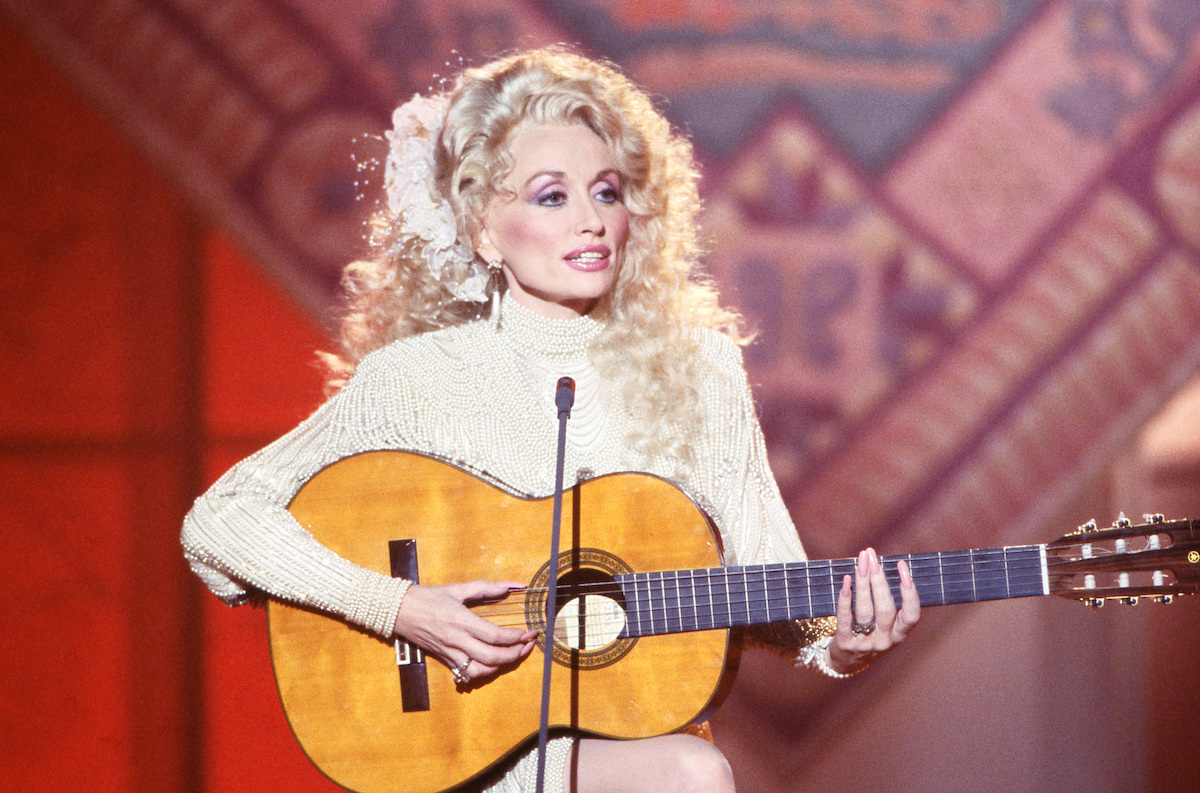 The country singer admitted she rocks a different look in her daily life. She doesn't wear a wig at home.
"I don't always wear them in my daily life, but I always still pouf up my hair," she told Elle. "I still like to have that flashy hair. When I'm around home, I wear my little scrunchies, but I always put on some makeup and fix my own hair as cute as I can fix it."
She noted that she keeps her natural hair the same color and length. She touches up her roots for her husband during her Hallmark Channel appearance. "I don't want to look good for everybody else and go home and look like terrible," she said.
So Parton likes the look of big hair but uses wigs to protect her hair. It's also a look that is more connected to her work since she doesn't wear her wigs at home.