Dolly Parton Didn't Mind if Her Band Drank and Did Drugs on the Road Under 1 Condition
Dolly Parton did an interview with Playboy back in 1978 where she discussed life on the road with her band. They were a close-knit group and had a lot of fun together. The "Jolene" singer didn't mind if they got up to trouble during their off-hours under one condition.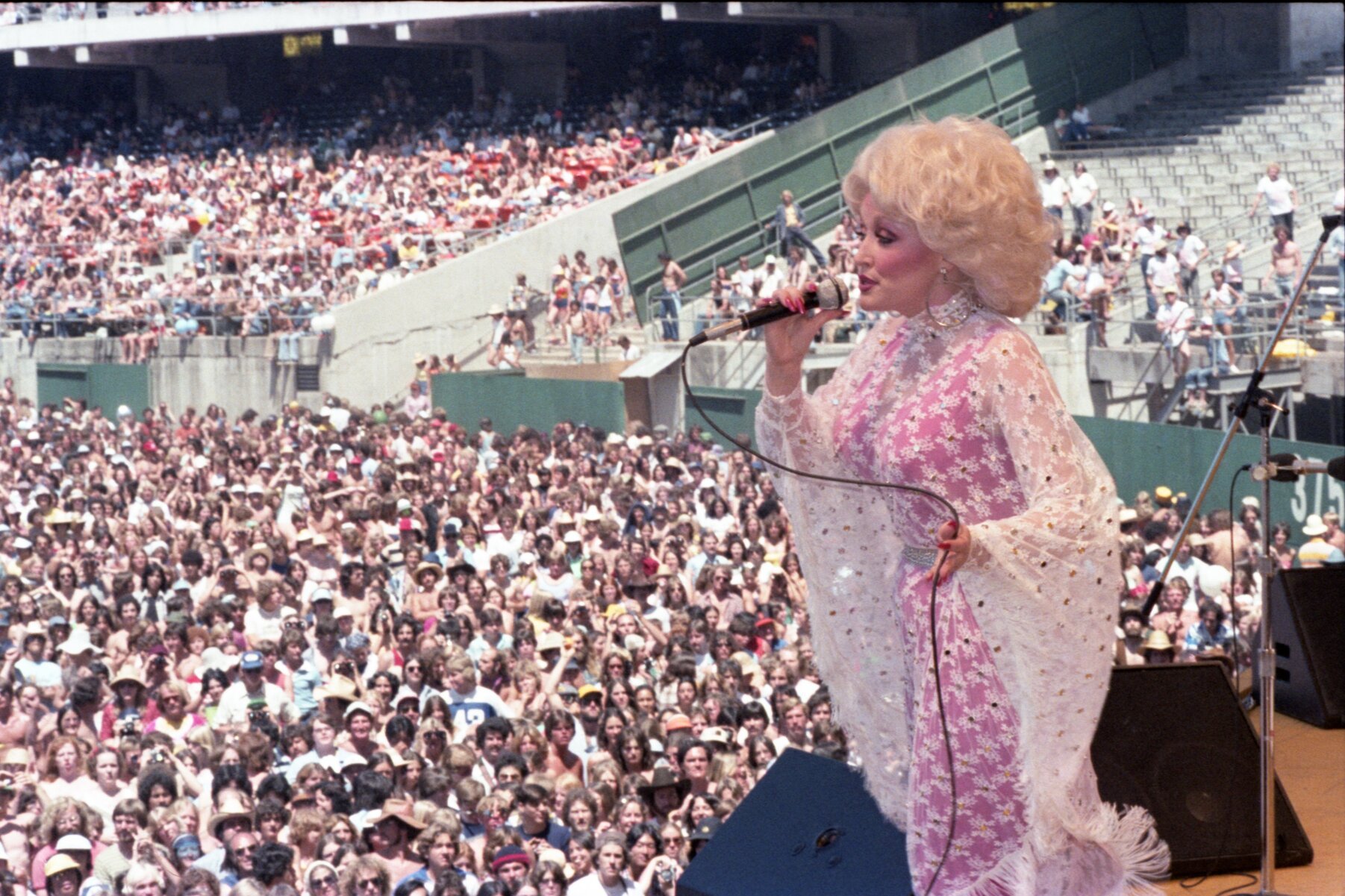 Traveling with the band on the road
When Parton took her act on the road, she lived right alongside the band. They all traveled together.
"I don't like to separate myself from my group," she told Playboy in 1978, as recorded in the book Dolly on Dolly: Interviews and Encounters With Dolly Parton, edited by Randy L. Schmidt. "In summertime, we take out the barbecue grill and travel by bus. We only fly when we have to."
RELATED: Dolly Parton Once Said She'd 'Dress Differently' if She Wanted to Be Sexy For Men: 'I Don't Want That Responsibility'
Parton and her band had a good time on the road. They made a party out of it.
"Rather than stopping at a truck stop or a restaurant, we get a volleyball net out, we stop along the side of the road and have a picnic," she said. "I cook, there's another girl in my group, we have a real good time. We have water fights, cake fights, food fights… like brats. It's like a family. When the day comes when I can't enjoy it or there's no fun doin' it, there's lots of things that I can find joy in, and I would."
Dolly Parton didn't 'mind drugs' or 'drinkin"
Parton considered herself one of the band, as opposed to the star of the show.
"I'm close to all the people in my band," she said. "I'm not above them just because I am the star. They are not sidemen to me. We are all musicians making a living for each other."
RELATED: Dolly Parton on the Sweet Secret to Her Happy 54-Year Marriage to Husband Carl Dean
The "Backwoods Barbie" singer went on to say that she was picky about who she worked with. And she didn't care what her group got up to when they weren't rehearsing or performing, so long as they were sharp when it came time for that.
"The way we travel, I couldn't work with a bunch of loonies, a bunch of squirrels," she said. "I don't mind drugs, I don't mind drinkin' in my group as long as it don't interfere with my show. We're together 24 hours a day, but that one hour onstage is mine. That's what I pay for. I don't care what you do after the show, I don't care what you do until four or five hours before the show. As long as everybody is straight, so if I want communication when we're on stage, I have it."
Dolly Parton and her band were like family
It's hard not to think of people you spend 24 hours a day with as family.
"People don't realize that when you work with a band on the road you are bonded like a family," she wrote in her 2020 book, Dolly Parton, Songteller: My Life in Lyrics. "And we were on the road so much."
Parton says her relationships with different bands through the years were always undoubtedly familial.
"It's just like when you're with your own family," she wrote. "When you're with somebody all the time, you love them one day, and you want to kill them the next. Because they get on your last nerve, and I'm sure you get on theirs, too. But you do get to know exactly who they are."